Discover more from Token Dispatch
Your daily new frontier-tech dispatch on blockchain and artificial intelligence. Handpicked and crafted with love by human bots 🤟
Over 12,000 subscribers
Adidas is launching its first digital fashion collection - "Virtual Gear"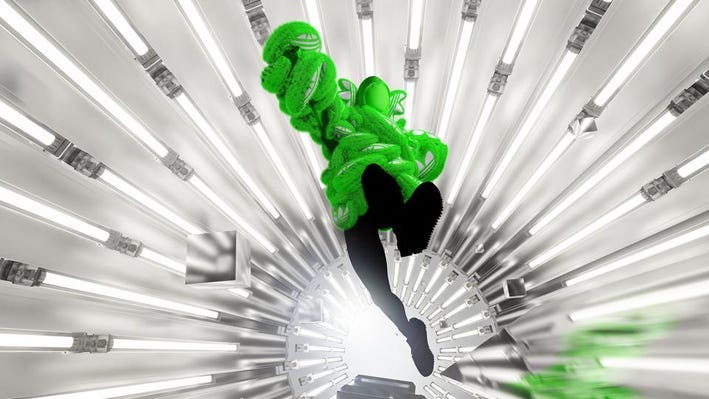 adidas Originals is releasing its first NFT digital wearables collection - A limited collection of 16 jackets, part of its new product category, "Virtual Gear."
The German brand launched a Capsule NFT Collection in May 2022 as part of one of the largest NFT Airdrops in history.
Things will be simpler for owners of Capsule NFTs as they will receive a free random item from the newest Virtual Gear collection in their wallet.
They can either "burn" their Capsule NFT to reveal and replace it with the new one, or if they're not too curious, they can sell it on NFT marketplaces without knowing which piece they've received. The current lowest price for a capsule NFT on OpenSea is around 0.3 ETH, or around $360.
Now, if you are not a HODLer, there's still hope. The new Virtual Gear collection will be available to purchase directly in the relevant NFT marketplaces from November 16th onwards.
The Virtual Gear collection features jackets and hoodies of various types, including:
The WALLRUNNER quilted jackets made of 3D layered toweling trefoils

Inflatable style PFD (Personal Flotation Device) puffers

NEOBONE tops inspired by the rubberized sole pattern of the Adidas Superstar sneaker.
And MOAR!
There are also three limited edition creator-led wearables in the collection, each representing the unique style of Bored Ape Yacht Club (BAYC), Gmoney, and Punks Comics.
It is designed for virtual avatars and NFT profile pictures to wear. And, interestingly, every piece of virtual gear is interoperable with other metaverse environments and is "ready for all frontiers of Web3."
Starting next week, the adidas Virtual Gear collection's first iteration will be available to PFP avatars from compatible partner collections. Bored Apes get to wear it first, along with Mutant Ape Yacht Club and Inhabitants.
Heroic Story secures $6 million to build Web3 tabletop RPG games.
With participation from Multicoin Capital, Polygon Technology, and Upfront Ventures, the Web3 game platform Heroic Story secured $6 million in a seed round.
The startup, established in 2019 at Y Combinator, offers multiplayer versions of well-known tabletop role-playing games, or TTRPGs, fusing technology and storytelling to create immersive experiences for players.
Legends of Fortunata, the company's first video game series, was released in 2021 and featured an immersive gaming environment that "eliminates the pain points of playing traditional tabletop games online, with no stress scheduling and an exciting virtual rewards system designed to broaden the reach and appeal of TTRPG to new audiences."
"The intersection of storytelling and technology has been the theme of my career, from my early years as a top online poker pro and entrepreneur to designing and directing one of the first adventure games for consumer VR," said Jay Rosenkrantz, CEO of Heroic Story
Gemini's Crypto Exchange Experiences $485M Rush of Outflows Due to Concerns About Contagion
The Winklevoss brothers launched Gemini, a cryptocurrency exchange and custodian. It has recently seen a surge in withdrawals as crypto companies deal with the fallout from the FTX-Alameda bankruptcy and the following contagion in the digital asset market.
Data from blockchain intelligence company Nansen reveals that Gemini saw the highest net outflows of all cryptocurrency exchanges on the last day, totalling $485 million. Gemini-branded cryptocurrency wallets' digital asset holdings decreased from around $2.2 billion a day ago to $1.7 billion.
Numerous exchanges made an effort to ease public anxiety by disclosing or offering to reveal their crypto holdings. Prominent industry leaders are pushing for the presentation of proof of reserves and routine independent audits of crypto holdings.