Discover more from Token Dispatch
Your daily new frontier-tech dispatch on blockchain and artificial intelligence. Handpicked and crafted with love by human bots 🤟
Over 12,000 subscribers
Bancor3 to make DeFi staking easier for DAOs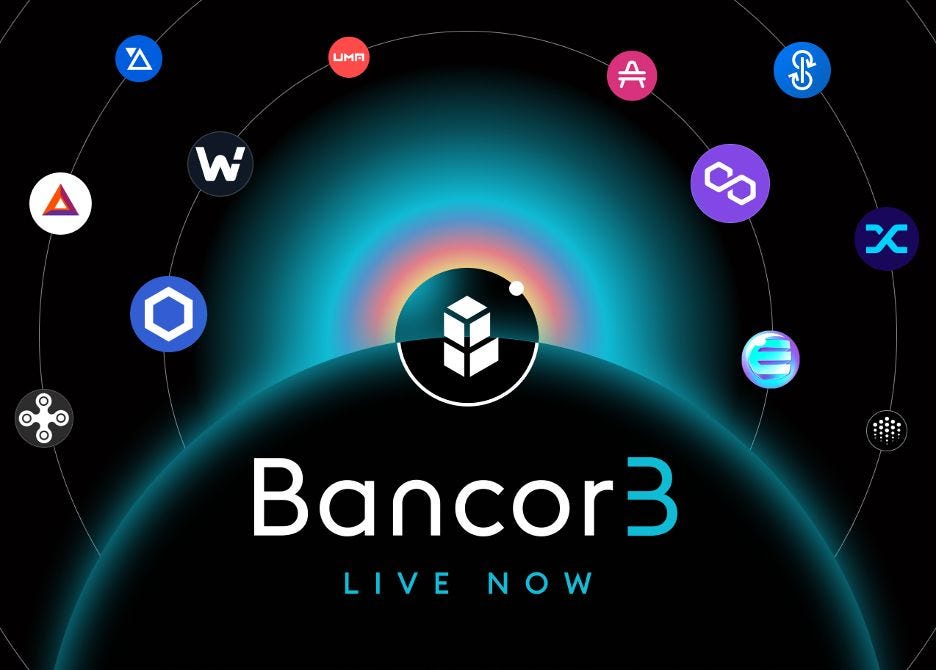 Liquidity pools are a crypto industry innovation with no direct counterpart in traditional finance. In addition to providing a safety net to a DeFi protocol's core activities, liquidity pools also serve as breeding grounds for investors who prefer high risk and high reward. Most token holders are currently hesitant to contribute their tokens to liquidity pools due to the risk of negative returns from volatile losses.
Bancor, the first decentralized finance protocol to implement liquidity pools, has released a new liquidity solution with the release of its v3, dubbed Bancor 3. Decentralized liquidity is the foundation of DeFi, but token projects' strategies for generating long-term liquidity have proven ineffective.
Bancor 3 went live with a pledge to provide liquidity providers with security against impermanent loss. The new architectural changes promise to provide long-term on-chain liquidity and make DeFi staking manageable for decentralized autonomous organizations (DAOs).
Token projects and DAOs can use Bancor to maintain their native token markets liquid, facilitating cheaper token trading, and allowing token holders to earn safer, better yields exclusively in their native token.
Bancor 3 introduces several new architectural changes and features Such as:
Omnipool: Omnipool is a single token liquidity virtual vault. It can use protocol-earned fees from one pool to compensate a user's impermanent loss in another pool. This should reduce transaction fee slippage and increase efficiency.
Single-Sided Staking: Unlike other DeFi pools that require users to deposit multiple tokens in a pool, which increases risk and exposure, single-sided staking involves earning yields on only one token provided by a user to a Bancor pool to maintain 100% exposure to that token. In exchange, users will receive a single-sided "pool token," with the value of these tokens rising or falling in relation to the prices of the underlying tokens.
Instant Impermanent Loss Protection: All deposited tokens are promised 100% Impermanent Loss Protection. The risk that liquidity providers take in exchange for the fees they gain from liquidity pools is known as impermanent loss (IL). If IL exceeds fees earned by a user when they withdraw, the user has made a loss compared to just holding their tokens outside the pool.
Auto-compounding rewards: Trading fees and rewards auto-compound with zero transaction fees and are simultaneously used as liquidity inside the pool from day one. Auto-compounding is optimized via integration with Chainlink Keepers.
Dual rewards: Third-party token projects can now use auto-compounding rewards free of Impermanent Loss to incentivize liquidity on Bancor.
Right now Bancor is the only DeFi trading and staking protocol that offers one-way liquidity and 100% impermanent loss protection. The protocol's mission is to bring DeFi into the mainstream by providing the easiest and most secure way to trade tokens and earn passive income in DeFi.
The launch has attracted token projects and DAOs, including Polygon (MATIC), Synthetix (SNX), Yearn (YFI), and WOO Network (WOO), among others, to partner with Bancor and offers dual rewards to users.
MLB, Sorare partner on new NFT baseball game
This summer, Sorare, an NFT fantasy soccer game creator, will release a Major League Baseball fantasy game. Sorare grew its Ethereum NFT-based fantasy soccer platform into one of the most renowned blockchain-based games on the market, along with a $4.3 billion startup valuation. Now Major League Baseball, MLB Players, Inc., and Sorare announced a partnership on Thursday to launch the first Major League Baseball NFT-based free-to-play game this summer.
The MLB game will offer digital trading cards of professional players as Ethereum-based NFT collectables that can be bought and sold. Users can place their own NFT player cards in fantasy lineups and earn points based on the pros' real-world performance in MLB games.
"MLB is, for many people—myself included—their first experience with fantasy sports," Sorare COO Ryan Spoon says. Sorare's MLB card artwork is still being made official, but Spoon stated it aims to keep the approach of current soccer NFTs with visible stats and edition numbers—while capturing the spirit of baseball.
BVNK raises $40m in Series A round led by Tiger Global
BVNK, a crypto-powered payments and banking platform for businesses, has raised $40 million in Series A funding to fuel growth as it integrates traditional finance and crypto.
Tiger Global led the round, which also featured digital asset custodian Anchorage Digital, token sale platform Coinlist, and TrueLayer CEO Francesco Simoneschi.
The investment will support BVNK's entry into new markets, including the United States, the acquisition of regulatory licences and the expansion of product capabilities.
BVNK launched in October of last year with the aim to attract businesses looking to offer crypto services that are not currently well served by existing payment and settlement providers.