Discover more from Token Dispatch
Your daily new frontier-tech dispatch on blockchain and artificial intelligence. Handpicked and crafted with love by human bots 🤟
Over 12,000 subscribers
Beeple to bring 'Immersive 3D NFTs' to Solana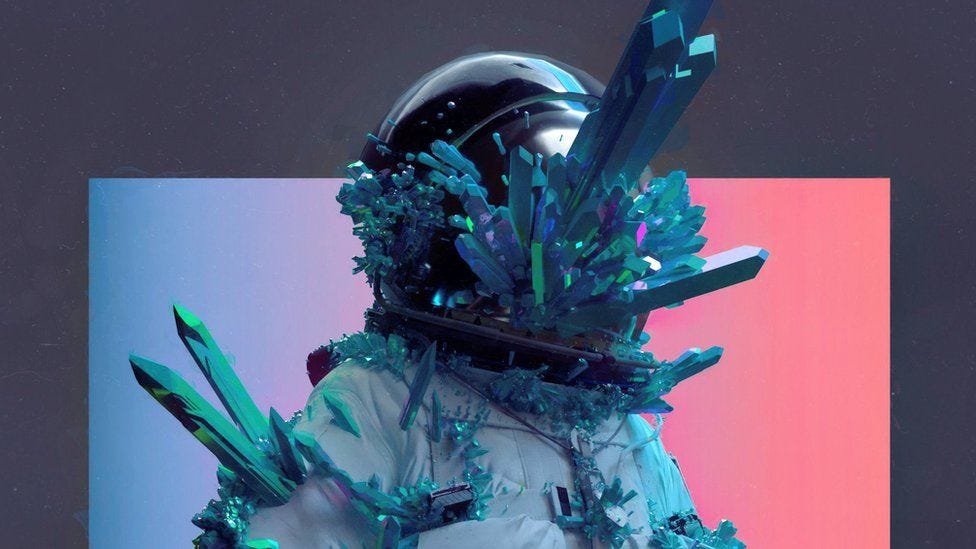 Beeple, the guy behind the most famous NFT sale of $69.3 million, is now bringing 'Immersive 3D NFTs' to Solana.
Several announcements were made by Stephen Hess, CEO of Metaplex Studios, during Solana SOL's Breakpoint conference in Lisbon, Portugal. The most important one was bringing Beeple on board.
Through the Render Network, the American digital artist will be joining the Metaplex and Solana ecosystems.
Beeple will be "debuting the future of streaming and immersive 3D NFTs."
Users will also be invited to create their own unique NFTs using a 'Beeple Everyday' - that is, the images that comprise his infamous 'Everydays: the First 5,000 Days' collage NFT, which sold for $69 million last year.
To enable the new feature, Metaplex has partnered with Render Network, a Web3 platform that allows users to access remote rendering powers via a decentralized peer-to-peer network.
Having previously served as an advisor to the platform, Beeple is already friends with Render Network.
This is all we know for the time being, but further announcements are scheduled to be made on Monday. Let's see what happens...
Since his hugely successful sale last year, Beeple has expanded into tokenized physical artwork with a "kinetic video sculpture" paired with an NFT. He has also begun working on a digital art studio to host work by himself and other creators. The space will be used to create and share digital artwork, with a goal of bringing NFTs mainstream
According to on-chain data, the Metaplex network is the most extensive NFT protocol on the Solana blockchain. Metaplex has been steadily expanding its ecosystem to help Solana gain more users. Also, the network has recently announced the launch of an NFT compression feature to help reduce running costs.
Binance to liquidate its entire position in FTX tokens
Changpeng "CZ" Zhao, the CEO of cryptocurrency exchange Binance, said that his business would completely sell its holdings in FTX Token' FTT'. The decision was made in response to weeks of criticism of Sam Bankman-Fried, the founder and CEO of FTX, for regulatory ideas he put up in a blog post that suggested limitations on DeFi.
As part of its withdrawal from an early equity investment in FTX that it had held since 2019, Binance received the funds in FTT last year. Zhao said that FTX had acquired Binance's stake in the company for $2.1 billion using a combination of FTT and BUSD, the stablecoin exclusive to Binance's exchange.
According to CoinGecko, FTT has nonetheless dropped 9.5% in the last day from $25.55 to $23.03.
Zhao had told Forbes at the time of Binance's exit, "We've seen amazing growth from them, and we're very happy with that, but we've exited completely."
OpenSea launches on-chain tool to enforce NFT royalties
While other players in the market have been adopting their strategies over the past few months, OpenSea, the NFT marketplace, which controls 66% of the market share in NFT marketplaces, has been mostly mute on royalties and enforcement. It is now enabling creators of new NFT collections to impose royalties on-chain. The code will allow creators to sell NFT only on platforms that impose creator royalties.
"It's clear that many creators want the ability to enforce fees on-chain; and fundamentally, we believe that the choice should be theirs to make — it shouldn't be a decision made for them by marketplaces," Finzer said.

The business is thinking about a variety of strategies. These may include enabling creator fees to be optional. Off-chain fees might also continue to be enforced for select subsets of collections.
According to Finzer, specific existing collections' smart contracts may already support OpenSea's update, which would impose royalties on-chain. However, changing other contracts would be more difficult.