Discover more from Token Dispatch
Your daily new frontier-tech dispatch on blockchain and artificial intelligence. Handpicked and crafted with love by human bots 🤟
Over 12,000 subscribers
NFT Artist Beeple's Twitter account was hacked and phishing links to a fake Louis Vuitton site posted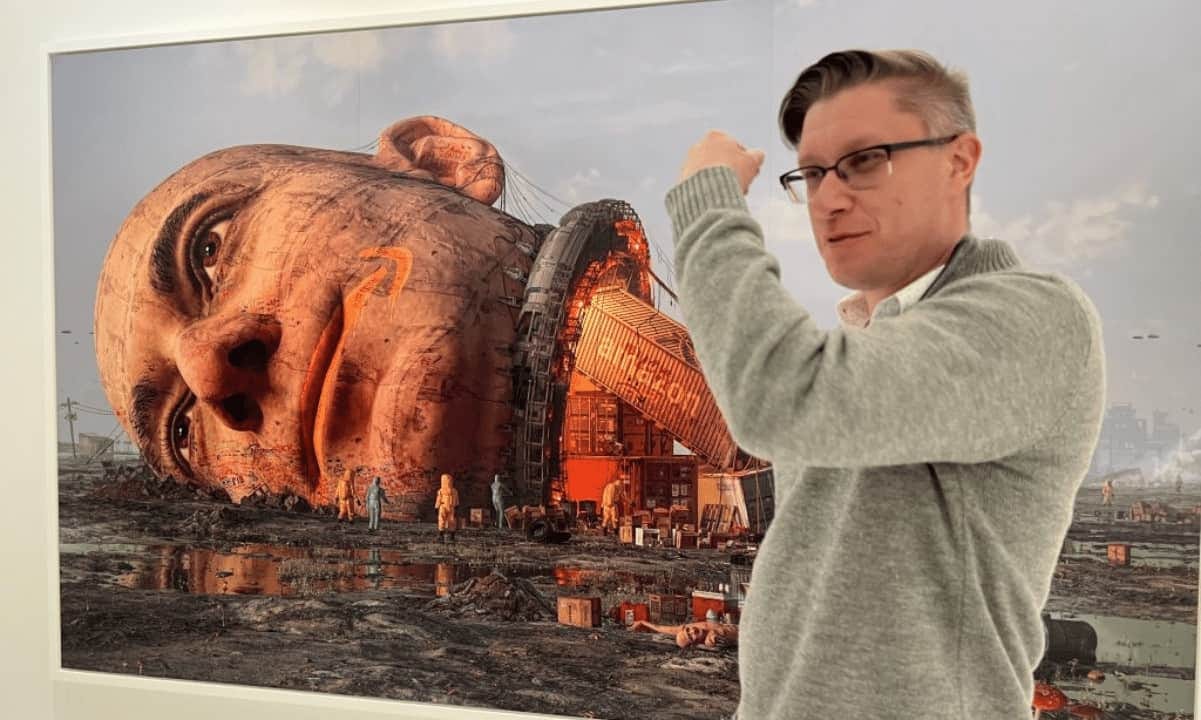 Beeple has been a target of hackers and NFT phishing scams with his large online following and popularity. In November 2021, an admin account on Beeple's Discord was hacked, with scammers promoting a similarly bogus NFT drop, resulting in users losing approximately 38 ETH.
Now, the Famous digital NFT artist's Twitter account has been hacked, and it has been sharing a phishing link that, when clicked, can hack and steal crypto from another person's crypto wallet. From the phishing incident, scammers received over $430,000 in stolen Ethereum ETH/USD and NFTs.
Beeple, whose real name is Michael Joseph Winkelmann, has had some of the most successful NFT sales to date and is widely credited with popularizing the industry. Last year, the digital artist sold his 'The First 5000 Days' NFT for a record $69 million.
The scammers were attempting to capitalise on a recent collaboration between Beeple and Louis Vuitton. Beeple designed 30 NFTs for the luxury fashion brand's Louis The Game mobile game earlier this month, which were embedded as player rewards.
The tweet was scripted to fool people into thinking it was Beeple:  "Been working on this with LV for a long time behind the scenes. 1000 unique pieces… official raffle below". The phishing links were also included in the tweet, but they have now been removed. The scammer kept posting phishing links from Beeple's Twitter account, leading to fake Beeple collections that enticed unsuspecting users with the promise of a free mint for unique NFTs.
The links were live on Beeple's Twitter for about five hours, and an on-chain analysis of one of the scammers' wallets revealed that the first phishing link nabbed them 36 Ether (ETH), which was worth around $73,000 at the time.
The second link hit an even bigger jackpot, with the scammers scoring around $365,000 in ETH and numerous NFTs from high-value collections such as the Mutant Ape Yacht Club, VeeFriends, and Otherdeeds, among others, bringing the total value stolen from the scam to roughly $438,000. Scammers attempted to launder the illegally obtained funds by selling the NFTs on OpenSea and dumping the ETH in a coin mixer.
On Sunday, MetaMask security analyst Harry Denley raised the alarm, telling users that the link in Beeple's Twitter bio redirected to a phishing website that would automatically drain user wallets once connected. Many other famous NFT personalities issued tweets warning people about the phishing scam following the hacking incident.
Beeple has now regained control of his account and posted a warning on Twitter: "Stay safe out there; anything too good to be true IS A F*CKING SCAM."
We can't agree more!
OpenSea announces the NFT marketplace protocol called Seaport.
Opensea, a prominent NFT marketplace, has recently released Seaport, a new marketplace protocol for buying and selling NFTs.
In addition to crypto, Seaport will let customers purchase NFTs in various innovative ways. According to the blog post, users can provide a variety of ETH / ERC20 / ERC721 / ERC1155 things in exchange for an NFT, meaning bartering a combination of tokens as a way of payment.
Seaport users can also bid on individual traits on NFTs in a collection when making offers. Because the protocol will be positioned as a shared and open resource for developers, OpenSea will not have control over it.
"OpenSea does not control or operate the Seaport protocol — we will be just one, among many, building on top of this shared protocol," said OpenSea. "As adoption grows and developers create new evolving use-cases, we are all responsible for keeping each other safe."
They created the first version of the protocol to enable the use cases and optimizations that creators and collectors expect from a modern web3 marketplace. However, because it's open-source, what they've truly created is a basis that will allow the developer community to collaborate on this primitive.
Other features such as "zones" and "channels" will help to improve the transaction process, allow for bartering, and prevent system abuse. Tipping is also permitted on the marketplace if the amount does not exceed the original offer.
GameStop rolls out a MetaMask-like Ethereum wallet to support the NFT marketplace.
GameStop Corp, remember r/WallStreetBets?,an American video game store has created a non-custodial, browser-based Ethereum wallet comparable to MetaMask. Users will be able to save, send, and receive cryptocurrencies and non-fungible tokens (NFTs) across many crypto apps via the wallet. Through the launch of GameStop's NFT marketplace in Q2 2022, it will support NFT trading.
Loopring's ZK-rollup technology, an Ethereum layer-2 scaling protocol enabling cheaper and faster transactions, is used in the wallet.
"Since last summer, we have also been making investments to insert GameStop into the blockchain gaming and cryptocurrency worlds," read the letter to stockholders by the CEO of GameStop in 2021.
According to its privacy policy, the wallet tracks certain user information, including IP address, GPS coordinates, and data near the user's device, even if it is non-custodial. It also monitors the user's network, clicks, mouse position, and keystroke logging.
In the fourth quarter of 2021, GameStop lost $147.5 million, compared to an $80.3 million profit the prior year. The stock of GameStop has dropped 46.86 per cent in the last year, from a 52-week high of $344.66 in early 2021 during the meme stock selling craze, but it was up 2.67 per cent after this announcement.