Discover more from Token Dispatch
Your daily new frontier-tech dispatch on blockchain and artificial intelligence. Handpicked and crafted with love by human bots 🤟
Over 12,000 subscribers
Binance claims acquisition of Wazirx was 'Never Completed', founders refute claims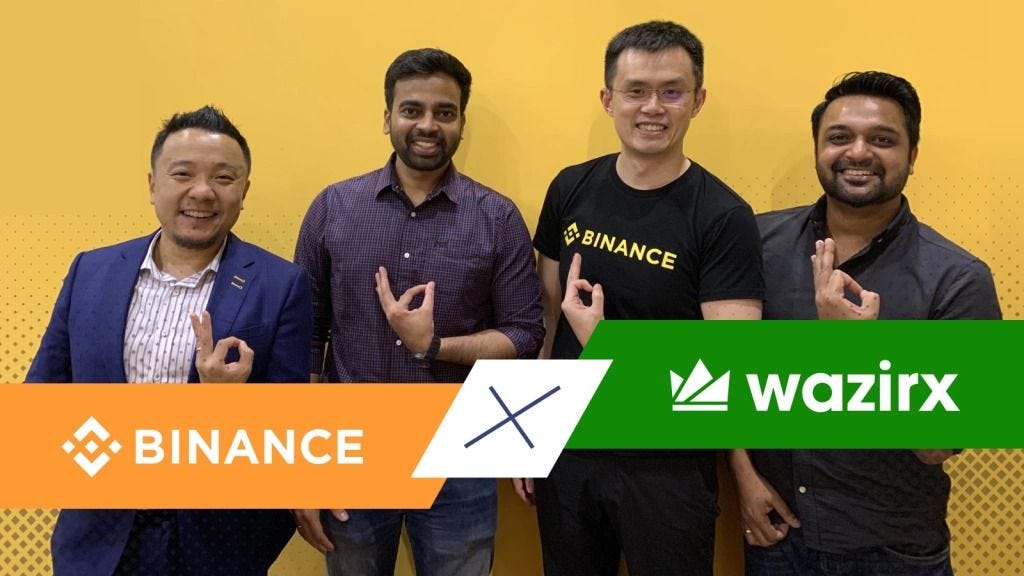 Get your popcorn ready! Let's find out who owns WazirX. Binance CEO Changpeng Zhao and WazirX CEO Nischal Shetty have publicly argued over who owns the India-based exchange. Shetty thinks Zhao owns the exchange, and Zhao really doesn't think so.
According to Shetty, "Binance acquired WazirX." he claims that Binance owns the WazirX domain name, has root access to AWS servers, and has all the Crypto assets and profits.
But, Zhao countered that Binance just provides wallet services for WazirX. And They were given shared access to an AWS account.
That's when Shetty says:
And it goes on to be even more dramatic.
All of this happened in the context of Wazirx's bank assets of more than $8 million being frozen by the Directorate of Enforcement (ED). ED is law enforcement and economic intelligence agency of the government of India.
ED alleged that Binance rarely responds to queries sent to its official legal compliance email address.
Binance allegedly acquired the exchange in 2019. But, Having seen media reports of his exchange being mentioned in connection with Wazirx,  Zhao claims that the acquisition was "never completed" after the 2019 blog post. Wazirx, however, asserts that Binance acquired it.
Twitterati wasn't expecting any of this. Many in the crypto community were surprised by Zhao's response because they assumed Wazirx to be a Binance company.
MoonDAO Sent a Viral YouTuber to Space
Blue Origin's New Shepard suborbital rocket's passengers included Coby Cotton, a member of the viral YouTube trick-shot group Dude Perfect which has 58 million subscribers.
With that kind of popularity on youtube, they sure could buy a ticket for Cotton. But this one's on MoonDAO, a decentralized autonomous organization (DAO) whose future ambition includes hosting parties on the Moon. Cotton was chosen in a Discord vote by the DAO's more than 5,000 members to be its astronaut representative.
MoonDAO purchased Cotton's ticket with funds from its crowdfunding campaign, which has raised more than $8 million.
Dude Perfect's Cotton made the trip alongside five other first-time astronauts as part of the Jeff Bezos-backed space tourism program Blue Origin. Thus far, the program has completed six of these missions, sending regular people into space for around 12 minutes.
MoonDAO also has another Blue Origin seat for a different launch scheduled for this fall and will choose one of its members who minted free "Ticket to Space" NFTs to make the second trip.
MoonDAO wants to decentralize access to space and create its own Moon colony. And now that they have sent a person to space, we can call ourselves sane to expect the moon party soon!
Coinbase partners with BlackRock to offer crypto services to institutions
Another day, another partnership!
BlackRock, the world's biggest asset manager, which oversees $10 trillion in assets, has partnered with the crypto exchange Coinbase to provide institutional clients with access to crypto trading and custody services.
Bitcoin is the first digital asset being offered through the partnership.
BlackRock's Aladdin investment management platform will connect to Coinbase Prime to provide shared clients with crypto trading, custody, prime brokerage, and reporting services.
Yes, the same BlackRock, whose chairman Larry Fink called bitcoin an "index of money laundering" five years ago. But things have changed now, and in a March letter to shareholders, Fink stated that BlackRock was studying "digital currencies, stablecoins, and the underlying technologies" to see how they could help the company serve its clients.