Discover more from Token Dispatch
Your daily new frontier-tech dispatch on blockchain and artificial intelligence. Handpicked and crafted with love by human bots 🤟
Over 12,000 subscribers
Binance pulls out. FTX goes down. Crypto Exchanges Meltdown?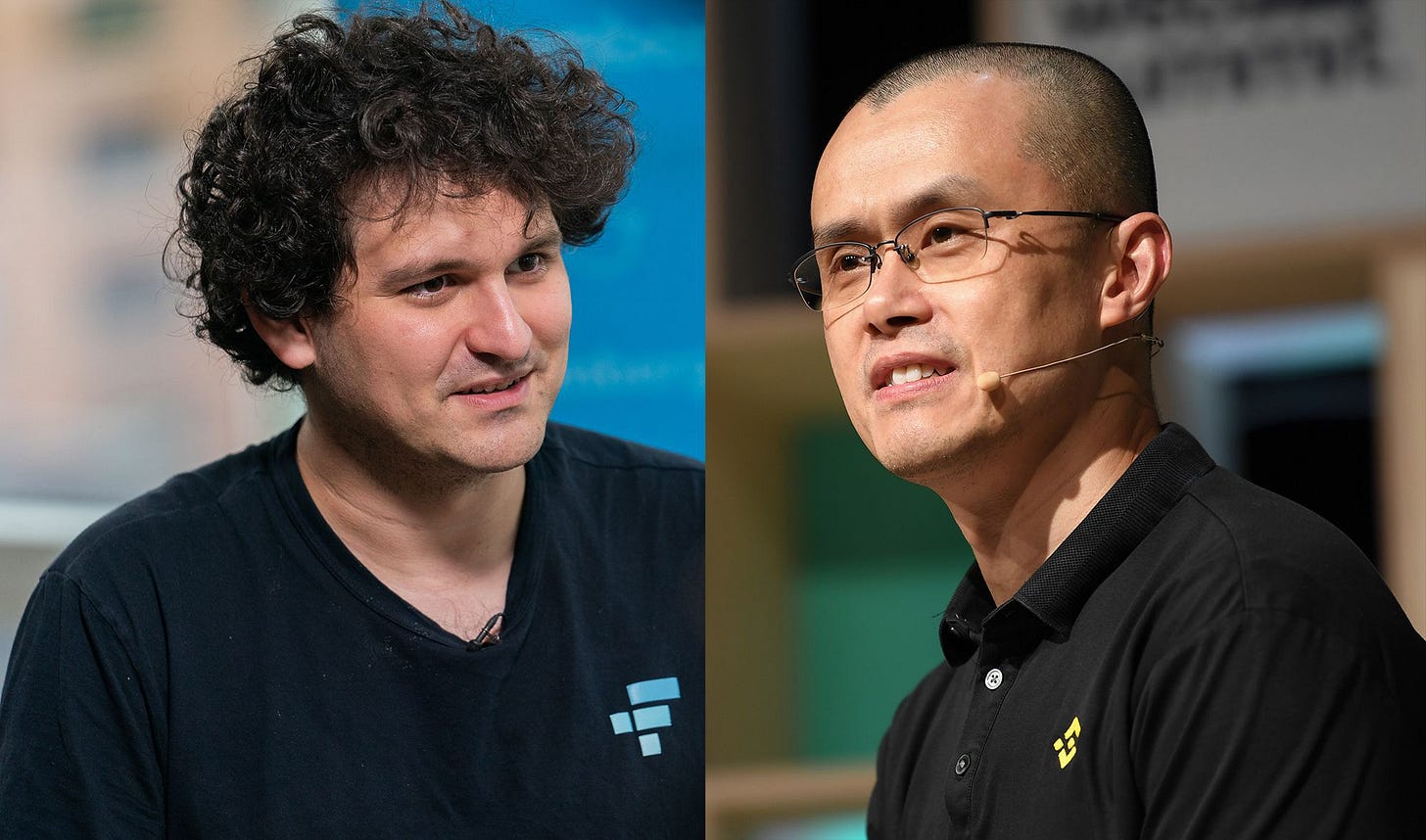 FTX had been bailing out the struggling crypto companies for the past months, and now, following the insolvency rumours, Binance, the world's largest crypto exchange, has acquired FTX.
Now post due diligence, in just under 36 hours, Binance has decided to pull out of the deal.
What!?
Let's look at the chain of events that began last week and turned the saviour into the one who needs to be saved:
November 2: CoinDesk report revealed Bankman-Fried's crypto trading firm Alameda had $14.6 billion in assets as of June 30, with the FTT token accounting for the majority of it.
November 4: Twitter personality Mike Burgersburg posted an article titled "IS ALAMEDA RESEARCH INSOLVENT?" which received a like from Binance CEO.
November 6:
Zhao Changpeng, CEO of the world's largest cryptocurrency exchange Binance, announced on Twitter that he is dumping the exchange's FTT holdings.

Lookonchain data revealed a giant whale transferred 23 million $FTT to Binance and started selling just two hours after Zhao tweeted. - Many people assumed the whale was Binance.

Caroline Ellison, CEO of Alameda Research, offered to buy Binance's remaining FTT from Zhao.
November 7: Binance co-founder and chief customer service officer Yi He has claimed that Binance is not in "a war" with FTX. (Now we know that)
November 8: On-chain data hinted that FTX has stopped processing clients' requests for withdrawals - probably due to concerns about FTX's "liquidity crunch", which allegedly prompted $6 billion in withdrawals in just three days.
November 9: Bam! Zhao confirms that Binance is buying FTX.
November 10 - Binance pulls out of the deal.
Binance had signed a non-binding LoI (Letter of Intent) to fully acquire rival cryptocurrency exchange FTX. But withdrawals from FTX are, and have been live, fully backed 1:1, and are operating normally, says SBF. Alright!
With the FTX CEO going from "A competitor is trying to go after us with false rumours" to "A *huge* thank you to CZ" for the deal; and now back again 'without more capital, bankruptcy is likely', this has a historic week for crypto.
Copper's cold-storage insurance fund hits $500 million
Copper, an institution-grade crypto infrastructure provider, has $500 million of insurance for digital assets in cold storage, one of the biggest arrangements in the industry.  According to the announcement, the cover was organized by Aon (AON), the largest U.K. insurer by market capitalization, employing a panel of insurers led by Canopius, a Lloyd's of London syndicate.
In recent years, the value of digital assets has surged, creating a need for more cold storage and the tools to safeguard crypto assets offline, primarily as institutional adoption of the new asset class has grown, according to Copper.
The insurance, which goes along with Copper's current Aon-brokered crime insurance coverage, protects against employee collusion, third-party theft, and physical loss.
The company's statement comes less than 24 hours after the troubled cryptocurrency exchange FTX stopped user withdrawals, locking the cash of many users in the process and bringing up the issues of cold storage and offline custody.
Bank of Russia Suggests NFT, Smart Contract Regulation
Amid a wave of new financial penalties, the Central Bank of Russia (CBR) is exploring methods to incorporate blockchain technology and crypto assets into its domestic financial system.
According to the report, where digital assets exhibit similar features to traditional securities, they may be governed similarly. But if the underlying technology makes it possible to limit consumer risks, a new regulatory strategy may be created.
In addition to creating a legal framework for tokenizing securities, loans, and precious metals, as well as releasing non-fungible tokens (NFTs) that certify property rights, the document advises adopting more specific laws addressing the taxation of digital securities and utility tokens.