Discover more from Token Dispatch
Your daily new frontier-tech dispatch on blockchain and artificial intelligence. Handpicked and crafted with love by human bots 🤟
Over 12,000 subscribers
Bitfinex and Tether to launch P2P video-calling app Keet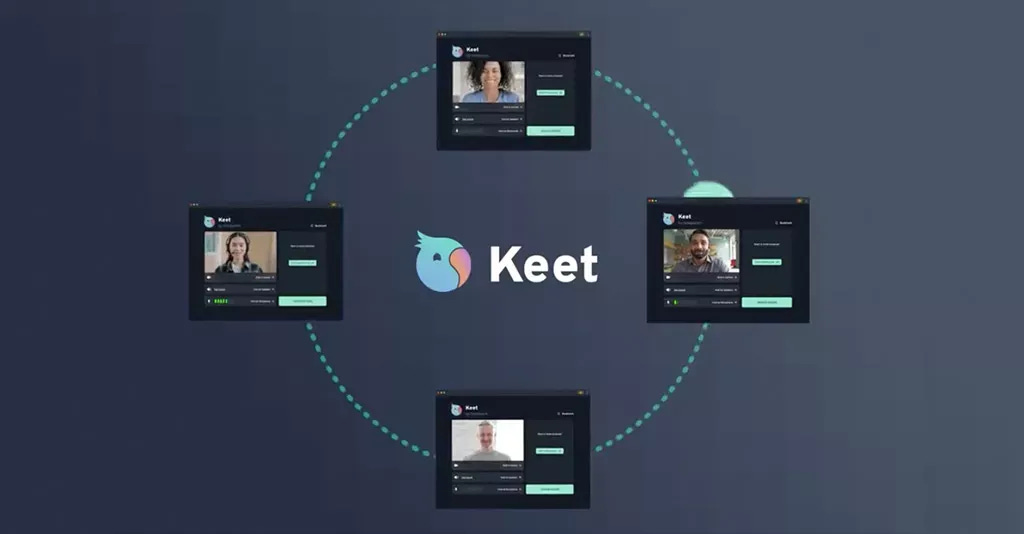 Web2 communication platforms like Twitter and telegram have been supporting web3 for a long time. However, new social media and chat apps are now expected to emerge within the web3 space itself.
The centralized communications mediums are always after your data. Somebody is always listening to your conversations. That's why once again, the decentralized replicas are making more sense.
Cryptocurrency exchange Bitfinex and stablecoin issuer Tether have collaborated with Hypercore to launch the alpha version of Keet, a peer-to-peer video calling app.
This app allows users to make audio and video calls while exchanging texts and files—everything peer-to-peer.
Keet is powered by Distributed Holepunching (DHT) technology that allows users to locate and connect to each other using only cryptographic key pairs upon authorization. More and more privacy.
Yes, a lot like the Zoom app, but decentralized and encrypted.
Apparently, the trio has been building this technology over the last five years. Furthermore, Bitfinex and Tether have also invested nearly $10 million in developing Holepunch and Keet.
And yes, It would be allowing Bitcoin payments! Users will also be allowed to stream BTC to content creators.
The Holepunch protocol is now closed-source, but it will move to open-source code in December. To provide a default payment system, Holepunch will also integrate the Lightning Network and the USDT stablecoin into its protocol.
The chief strategy officer of Holepunch and the CTO of Tether and Bitfinex, Paolo Ardoino, said that a VPN app addition is already planned.
Barclays Adds to List of Investors Supporting Copper Crypto Custodian
A global bank, Barclays Plc, is investing in Copper's cryptocurrency business.
Btw what does Cooper do? Copper provides custody, prime broking and settlement services of crypto assets to institutional investors. Since its 2018 inception, the company has been able to amass financing from significant venture capital firms, such as LocalGlobe, Dawn Capital, and MMC Ventures. It now has a $2 Billion market cap.
Barclays was actually an early advocate of cryptocurrency. When Barclays started taking Bitcoin for charitable contributions in 2015, it became the first private bank in the UK to support cryptocurrencies. Back in 2018, it also created a social payment app to convert pounds into Bitcoin. So yeah, this dude is not new to crypto.
Despite the news above, the general perception of the cryptocurrency sector is still relatively unstable. The industry's confidence has been seriously damaged over the past month as many essential crypto enterprises, including Three Arrows Capital (3AC), Celsius, Vauld, and Zipmex, are struggling with insolvency-related concerns.
Epic Games' Definitely Won't' Ban NFTs, Says CEO
Tim Sweeney, the founder of Epic, has stated that the company will not prohibit NFTs from being used in games purchased through its PC marketplace.
Sweeney responded to the recent move by Minecraft creator Mojang to exclude NFT and blockchain, saying that Epic did not want to do the same and "force their beliefs upon others" by prohibiting the new technology. By the end of 2021, the Epic Games Store had more than 194 million customers and seems like its one huge gaming company that will bring more users to crypto
If we remember well,  The Epic Games Store strongly objected and declared that it would accept NFT titles after the biggest PC gaming marketplace, Steam, announced its ban on NFTs and blockchain technology in October. Since then, a few such games have been launched. In his reply last night, the CEO stuck by his stance.
"Developers should be free to decide how to build their games, and you are free to decide whether to play them," Sweeney wrote. "I believe stores and operating system makers shouldn't interfere by forcing their views onto others. We definitely won't."