Discover more from Token Dispatch
Your daily new frontier-tech dispatch on blockchain and artificial intelligence. Handpicked and crafted with love by human bots 🤟
Over 12,000 subscribers
Bored Ape Yacht Club NFTs Outperforms CryptoPunks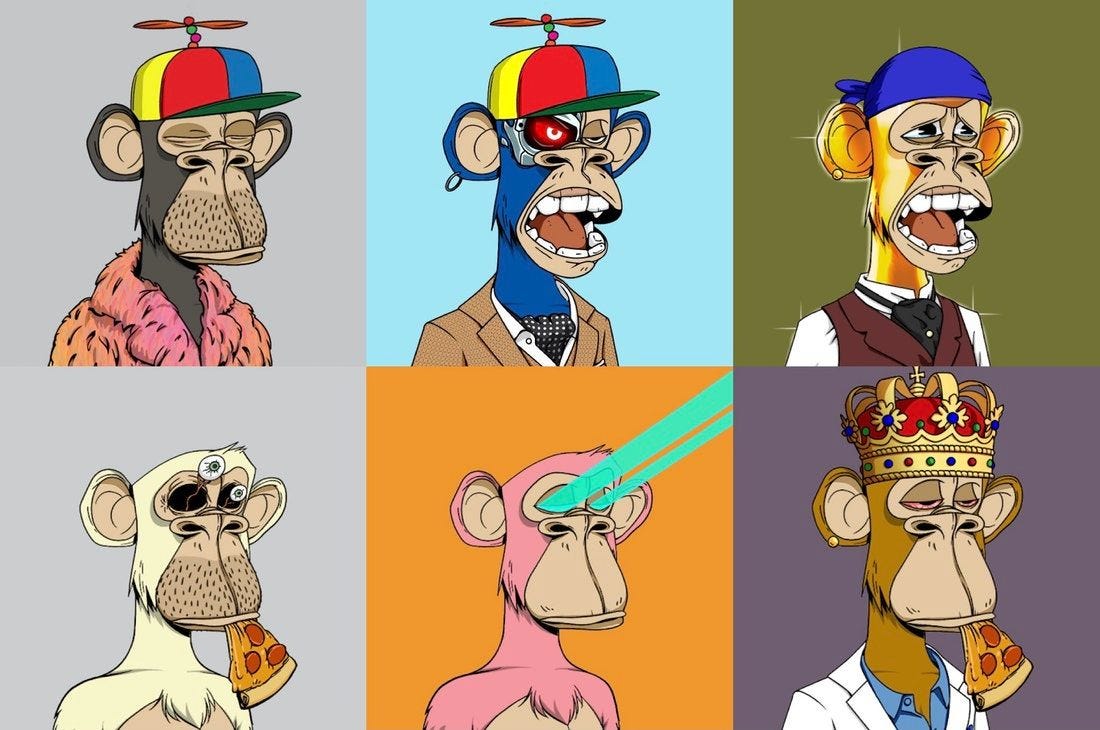 One of the most hotly debated topics in the crypto world last month was whether the BAYC NFTs would flip the CryptoPunks NFTs in terms of floor price. Putting the speculations to an end, The floor price of Bored Ape Yacht Club (BAYC) NFTs has flipped that of Larva Labs' CryptoPunks for the first time.
Both BAYC NFTs and CryptoPunks are a collection of 10,000 unique digital collectibles on the Ethereum blockchain. CryptoPunks was one of the first Ethereum NFT collections, known as the "OG" NFT, launched on June 23, 2017, by Larva Lab studio and has been one of the biggest players in the NFT game ever since.
BAYC NFTs were created by a team of four pseudonymous developers: Gargamel, Gordon Goner, Emperor Tomato Ketchup, and No Sass on April 20, 2021, and were minted for 0.08 ETH, valued at $300 at the time. The market value of BAYC kept surging constantly  with its adoption by mainstream media and celebrities whereas Cryptopunks' growth has remained stagnant.
There are several reasons why the floor price of CryptoPunks has been steadily declining while the price of BAYC NFTs has risen. Bored apes have more generous IP rights as compared to CryptoPunks. CryptoPunks' owners are restricted from using the avatar for marketing or commercial purposes, but the company is authorized to do so. Bored Ape Yacht Club, on the other hand, is very community-oriented and the Ape owners have complete commercial and creative license over their assets.
There are many other perks Ape owners benefits from, including giveaways of other NFT projects, exclusive merchandise, and the ability to get a bunch of new followers on Twitter which makes it a favorite grab.
Apart from it, BAYC's mainstream media adoption and celebrity collaboration, such as Jimmy Fallon, Steph Curry, and Post Malone, as well as partnership with major brands like Adidas, have had a significant beneficial impact on their market value. Most recently the team has announced its partnership with Animoca Brands, a Hong-Kong based software company focused on blockchain games for its future play-to-earn (P2E) games. BAYC is also expected to release its native token in Q1 of 2022