Discover more from Token Dispatch
Your daily new frontier-tech dispatch on blockchain and artificial intelligence. Handpicked and crafted with love by human bots 🤟
Over 12,000 subscribers
Celebrating the women of Web3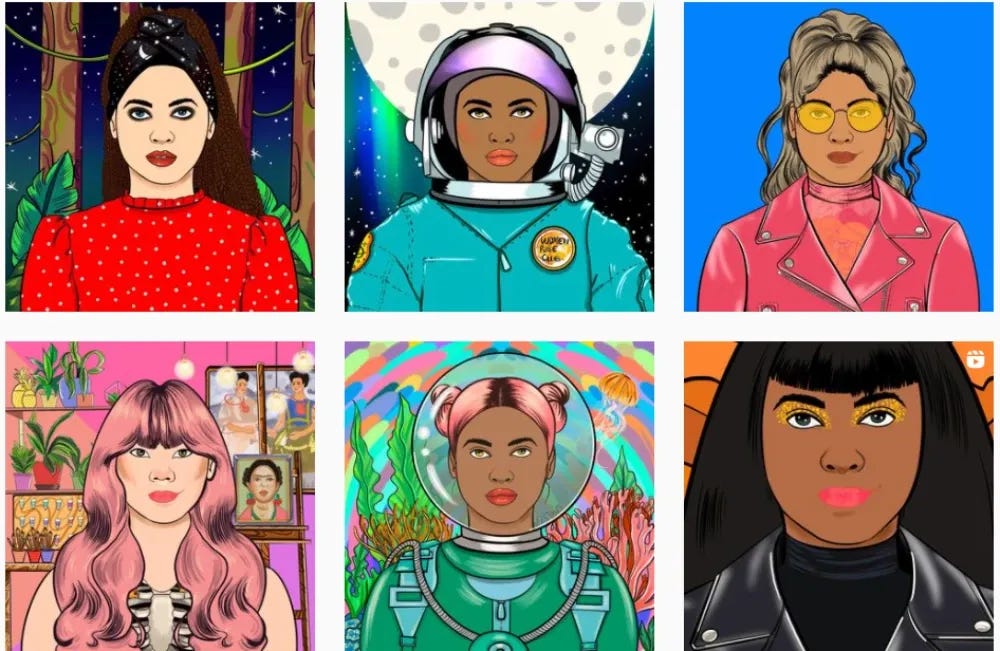 Despite the fact that blockchain and crypto were founded on the core concept of democratization,  women in the field have historically been overlooked because men have always dominated the crypto and blockchain industries.
But hopefully not for much longer, as things are rapidly changing and evolving in the space. Where else can we expect equality and diversity if not in the most advanced industry, like the crypto world itself?
The "bro culture" is being challenged by the crypto queens now. While the gender ratios remain lopsided, more and more women are becoming involved in the realm. Women crypto traders have increased significantly on leading crypto exchange platforms like WazirX and CoinSwitch Kuber. According to CoinSwitch Kuber, it recorded a 1000 per cent increase in the number of female user registrations.
What was deterring women from investing here before the boom in the last two years? Almost all of the ladies remark the lack of knowledge and awareness about the topic. According to a Grayscale survey, 93% of women responded that if they were more educated, they would be more ready to invest in cryptocurrency.
Women are ensuring that this is not just a boys club by educating themselves about financial aspects, investing with fair and correct calculations, launching Web3 projects, and educating others about this space.
The famous female names who made it big in the crypto space include Mahila Abidi, known as the 'NFT Queen', Meltem Demirors, who came to blockchain from consulting, where she was a Strategy Consultant at Deloitte before becoming a Development Director at Digital Currency Group (DCG), Kathleen Breitman,  the CEO of Dynamic Ledger Solutions, Bancor co-founder Galia Benartzi,  and Elizabeth Stark, who now runs Lightning Labs, which she created in 2016 .The list goes on.
Mama Bitcoin is a pseudonym used by Bineta, a young Senegalese Bitcoiner. Bleu comme la mer, her company, was the first in Senegal (and possibly West Africa) to take cryptocurrency as payment. She is also the first in her family to read and write proficiently. Mama Bitcoin is derived from her initials, while "mama" not only depicts her motherly instincts but also helps to encourage other women in West Africa to get engaged with blockchain technology and Bitcoin (BTC).
Projects like World of Women, which has been an enormous success with various celebrity backups, have greatly alleviated the lack of feminine-looking avatar NFTs. Women in Blockchain and Boys Club are two more prominent women-focused Web3 projects. There are upcoming organisations such as My BFF and GroupHug to help women-led projects and startups.
Ethereum Layer 2 Service StarkNet Goes Live on Alchemy, Promises 100x Lower Gas Fees.
High fees have long been a cause of annoyance for Ethereum users. Still, many so-called Layer 2 innovations have begun to offer a solution. The most recent is StarkNet, which is now included in crypto infrastructure company Alchemy's development kit.
Layer 2 solutions (also known as "roll-ups") execute large batches of transactions outside of Ethereum's primary blockchain and then write a record of those operations to Ethereum regularly. The goal is to achieve huge transaction volumes at a cheaper cost while maintaining the immutability of Ethereum's records.
StarkNet was founded by StarkWare, an Israeli startup that has raised $173 million in funding. Other Layer 2 rollup possibilities include Polygon, Optimism, and Arbitrum, all of which have gained traction during the last two years.
However, StarkNet is gaining traction due to its zero-knowledge proofs, a type of cryptography (ZK in crypto speak). Showing something to be true without also releasing additional private information is what ZK involves. Watch this amazing video to understand more.
"StarkNet's utilization of Validity and ZK-rollups effectively solves core Web3 problems. Validity rollups increase scalability by bundling transactions together off-chain and then verifying them on-chain with just a fraction of the cost," Alchemy said in a statement.
It's too early to say whether StarkNet—or the slew of other Layer 2 contenders—will finally free Ethereum users from excessive transaction costs. Still, the technology looks to be heading in that way.
Ethereum NFT Gaming Startup Immutable Hits $2.5B Valuation After $200M Raise.
Immutable, the Australian company behind an Ethereum layer-2 scaling solution for games and NFTs revealed today that it had raised $2.5 billion in a Series C fundraising round. The company joins an ever-growing roster of cryptocurrency "unicorns," or companies valued at least $1 billion.
Temasek led the $200 million round, including Tencent, a Chinese gaming behemoth, and Animoca Brands, a leading metaverse investment firm. Arrington Capital, Mirae Asset, and Liberty Global are new investors, while Alameda Research and Possible Ventures have raised their overall stake.
Immutable is the creator of Immutable X, a layer-2 platform built on the Ethereum blockchain. Immutable X transactions are substantially cheaper and faster than Ethereum's mainnet. They use a fraction of the energy that transactions on Ethereum's own energy-intensive proof-of-work network use. In fact, we spoke about how layer-2 works in the above story today.
The NFT items that can be utilized within games, such as those with a play-to-earn approach, will emphasize GameStop's marketplace.As part of the partnership, GameStop and Immutable established a $100 million developer fund last month to encourage crypto game developers to build atop Immutable X and the retailer's marketplace.
"Immutable and GameStop are focused on incentivizing long-term gaming projects, where AAA or high-quality studios are trying to build games that are enjoyable to both play and earn," he explained. "The future of gaming is one where digital property rights are inherent—but the games still have to be fun."
Immutable X is already in use for its own card-battling game, Gods Unchained, the future crypto games Guild of Guardians and Ember Sword, and projects from TikTok ESL Gaming, and others.
Stay informed in just 5 minutes
Get a daily email that makes reading crypto news informative. Have fun keeping up and getting smarter.
The dispatch is sent in time zones at 8:30 am. Choose your preferenceEastern Time Zone (UTC-05:00)USTISTGMTSST
Subscribe
​