Discover more from Token Dispatch
Your daily new frontier-tech dispatch on blockchain and artificial intelligence. Handpicked and crafted with love by human bots 🤟
Over 12,000 subscribers
Christie's auction house launches On-Chain NFT marketplace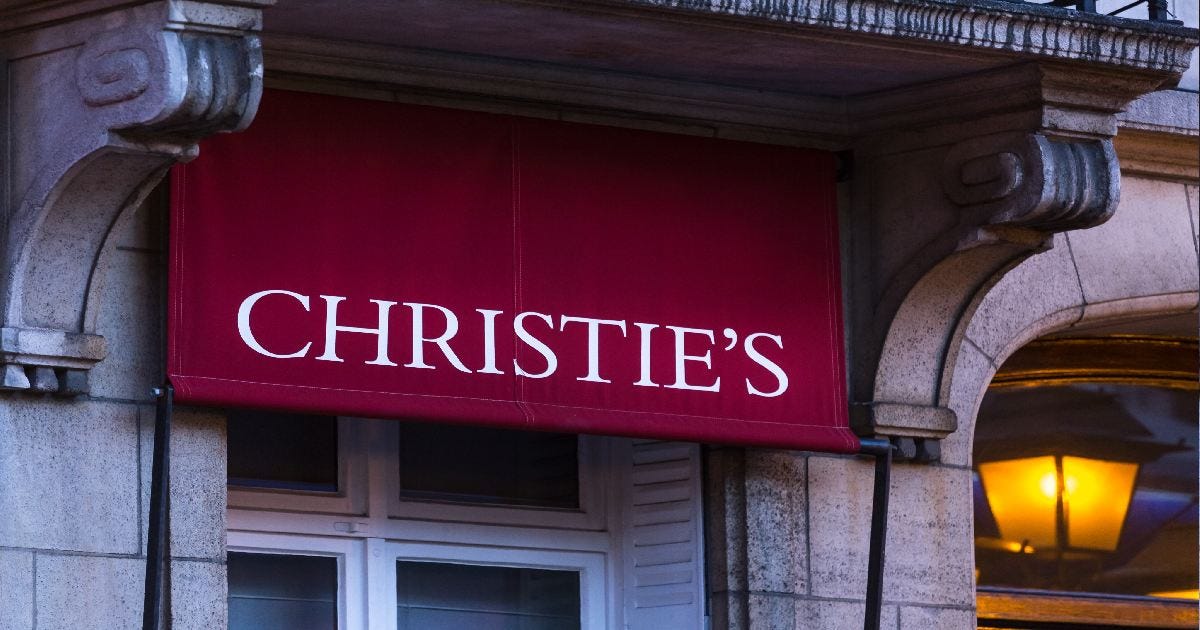 Christie's, an auction house with a keen sense of demand, has played an important role in the history of NFTs. It auctioned off the first collection of digital artworks to become NFTs - Beeple - for more than US$69 million.
Christie's engagement has grown since then, and they now fully embrace the NFT community. In terms of fine-art auction revenue, the 256-year-old British auction house is also the world's second-largest auction house.
Now, are you ready for Christie's 3.0? Yes, the auction house fully adopts Web3's decentralized spirit with a new on-chain Ethereum NFT marketplace launched just today.
Christie's has gone completely "on-chain" with the 3.0 version. This means that the transactions are fully recorded on the Ethereum blockchain, and it will also provide compliance and tax tools.
Is the auction house planning to compete with OpenSea and Rarible? We don't know that, but the creation of own marketplace allows transactions to take place in a manner similar to popular marketplaces, with payments made in Ether (ETH). "from start to finish," entirely on the ETH network - "the way they are meant to be transacted."
Christie's has partnered with NFT smart contract development startup Manifold, metaverse development firm Spatial, and blockchain analytics firm Chainalysis on its new mission.
Btw, Christie's is also launching a new department, Department X, to capitalize on the growing market for collectible sneakers, streetwear, and sports memorabilia.
Sotheby's, Christie's main rival in the high-end auction space, is also deeply entrenched in the NFT world! The auction house launched its Sotheby's Metaverse NFT marketplace last October and has hosted its own high-profile real-world NFT auctions as well.
Central Banks of Israel, Norway and Sweden Collaborate to Examine Retail CBDC
Project Icebreaker, a cooperative investigation of how central bank digital currencies (CBDCs) can be used for international retail and remittance payments, is being launched by the Bank for International Settlements (BIS) and the central banks of Israel, Norway, and Sweden.
The BIS, an organization of 61 central banks from around the world, has innovation hubs set up worldwide to examine how new financial technology, such as CBDCs, virtualized copies of national currencies, can be employed.
The international financial system's Biggest flaw is cross-border payments since they are so expensive, slow, difficult to access, and opaque. One of the workstreams investigates how CBDCs might improve cross-border payments.
The architecture allows immediate retail CBDC payments across borders at a price substantially lower than current systems, which often rely on sending payments to the final receiver via multiple separate institutions (the so-called correspondent banking system).
Build-A-Bear debuts on web3 with a toy covered in Swarovski crystals
Build-A-Bear, The company, known for its personalized teddy bears and other plush toys, has announced its foray into web3 by introducing three digital collectable projects that correspond to actual goods. A unique bear covered in Swarovski crystals is featured in the series.
The mint is a collaboration with NFT platform Sweet and will be released utilizing Polygon in three instalments. Customers will have the option of paying with cash or cryptocurrency.
This NFT is an exceedingly rare digital and physical collectable, and the auction winner will also get a real teddy bear. With 10 million registered loyalty members, Build-A-Bear has a sizable client base to draw from.
"This announcement speaks to our future in a world that is increasingly about the physical blending with the digital," Sharon Price John, president and CEO of Build-A-Bear, said in a statement.