Discover more from Token Dispatch
Your daily new frontier-tech dispatch on blockchain and artificial intelligence. Handpicked and crafted with love by human bots 🤟
Over 12,000 subscribers
Solana staking comes to Coinbase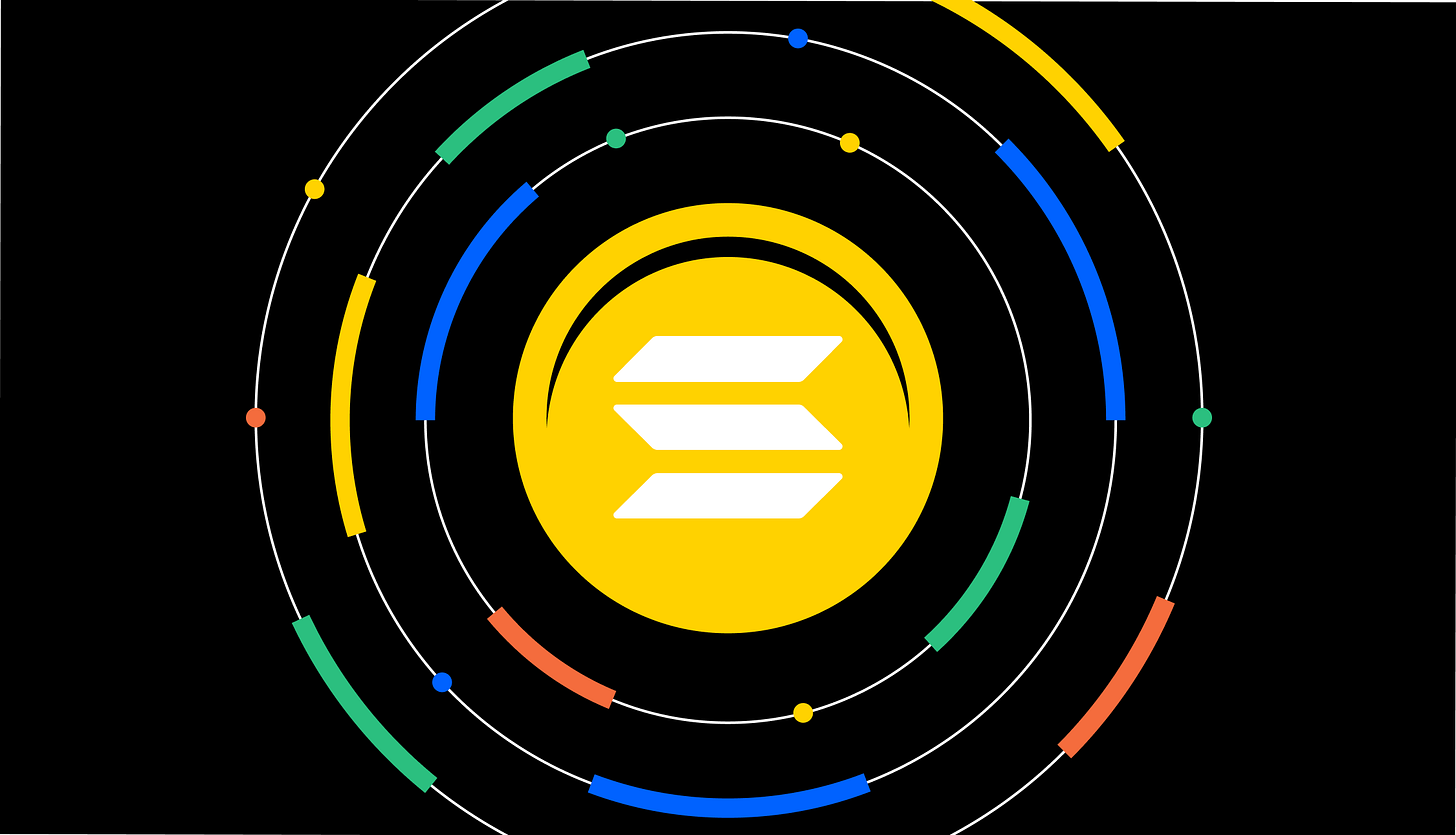 Coinbase is now offering staking rewards for users who hold and stake Solana. According to a blog post published on Wednesday, adding Solana will streamline how individuals use Coinbase's platform to stake their tokens and earn rewards.
But first, let's talk about staking. Cryptocurrencies are decentralized, meaning no single entity is in charge of everything. The "consensus mechanism" is the core concept that runs the show.
Many cryptocurrencies, including Bitcoin and Ethereum 1.0, use a consensus mechanism called Proof of Work. Proof of stake is a type of consensus mechanism used by blockchain networks to achieve consensus through staking.
Staking enables anybody to participate in the benefits of helping maintain a Proof of Stake network without having to deal with the complications that come with it.
Individuals can "vote" for the nodes that verify transactions using their crypto tokens. As a result, the node's overall stake and selection odds grow. The "delegators" who voted for the validator nodes receive a percentage of the benefits for their work proportionate to what they contributed.
Coinbase offers staking rewards for five major cryptos: Ethereum 2.0 (ETH), Cardano, Tezos (XTZ), Polkadot, Cosmos (ATOM), and now the crypto exchange firm has expanded its staking reward offerings to include Solana.
A Coinbase user must have their identification verified on the site and live in an area where staking is permitted in order to stake Solana. To begin staking Solana, a user must have at least a $1 balance. Payouts occur every seven days.
The company offers an estimated 3.85 % annual percentage yield (APY) on SOL that is staked in the Solana network. In contrast, Coinbase now provides 3.675 % APY on Ethereum staking to its users.
Other options have long existed for Solana staking, including self-custody wallets like Phantom and rival exchanges like Binance and FTX. Coinbase takes a 25% cut of the staking reward provided by the Solana network and then distributes the remaining amount to participating users.
Coinbase has recently revealed support for on-chain transactions through the Polygon and Solana blockchains. The cryptocurrency exchange also promised to announce further integrations soon. It will add support for Solana-based NFTs and the ability to plug Coinbase Wallet into Solana decentralized applications (dapp).
NFT Platform OpenSea Reports Email Data Breach
The largest NFT platform in the world reports an email breach of its users. It was found that a Customer.io employee had given third-party access to the list of email addresses belonging to OpenSea clients. Customer.io is a platform for managing email newsletters and campaigns.
Users who have previously provided their email addresses with the platform should all presume that they have been affected by the incident. Users may experience "a heightened possibility for email phishing attempts trying to spoof OpenSea," according to the company's caution.
Using emails that resemble OpenSea.io, such as OpenSea.org or OpenSea.xyz, malicious actors may attempt to contact OpenSea clients, says OpenSea. Some users have already reported increasing spam calls, texts, and emails on Twitter. The firm also said it has reported the incident to law police and is supporting Customer.io in its continuing investigation.
The data breaches of emails have happened before in this industry. Hackers stole client information from Circle, BlockFi, Pantera Capital, NYDIG, and other well-known crypto companies in March due to a data breach at HubSpot, a prominent customer relations management software company.
OG Music streaming company Napster Plans Web3-Focused Comeback With NFTs.
In an announcement, Napster, an early, free music-file-sharing service that helped revolutionise the music business in 1999  before being sued out of existence, said it is preparing a comeback with its own token. It was the first peer-to-peer file-sharing service that specialised in digital audio, yet the business was forced to close its doors in 2001 due to a wave of copyright litigation brought by the music industry.
Napster was purchased by the blockchain company Algorand and Matt Zhang's Hivemind Capital Partners in May 2022, and it kept operating as a subscription music streaming service.
Napster will use the Algorand blockchain protocol to create $NAPSTER tokens, enabling artists to curate music and experiences for token holders.
"We're entering the streaming-plus era of music, which is one of the few scaled business sectors where adoption of blockchain tech makes immediate sense for everyone," Lovell said in a company press release. "People who make music, people who listen to it and those who own its IP all already depend heavily on technology.
The company's streaming service's premium features, exclusive artist content rights, and subscriptions to music services can all be accessed by paying with $NAPSTER tokens. The company will also provide several open-source intelligent contracts for the Napster Network that deal with the production and distribution of digital material.