Discover more from Token Dispatch
Your daily new frontier-tech dispatch on blockchain and artificial intelligence. Handpicked and crafted with love by human bots 🤟
Over 12,000 subscribers
Digital asset manager CoinShares acquires Napoleon Asset Management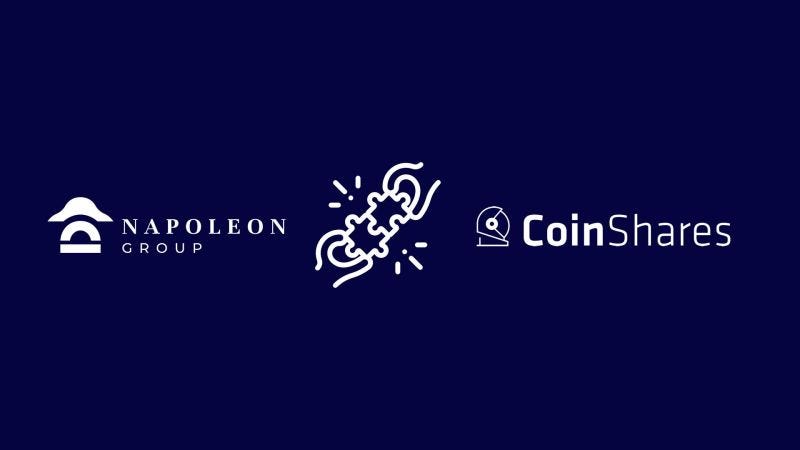 European digital asset manager CoinShares has completed the acquisition of Napoleon Asset Management, one of the first-ever digital asset managers, allowing it to promote its products and services across the European Union.
Despite the current market slump, CoinShares CEO Jean-Marie Mognetti believes that the collapse of crypto is a great "opportunity to solidify positions and build new products and services."
Mognetti, stated that the company would remain strong despite the current challenging crypto market conditions. The company's first-quarter earnings report showed an almost 50% decline in revenue from the prior year.
Back in March, CoinShares acquired a 20.28% stake in Swiss online bank FlowBank, worth over CHF 24,7M (approximately $26.5M), increasing its holding to 29.3%.
Napoleon Asset Management, based in Paris, has been granted a licence by French financial regulator Autorité des Marchés Financiers (AMF) under the Alternative Investment Fund Manager (AIFM) rule, allowing it to market products and services all across the EU.
According to the official announcement issued on July 4, With Napoleon AM's algorithmic trading and artificial intelligence tools added to CoinShares' product lineCoinShares can now provide its exchange-traded products (ETPs) and other investment vehicles across the EU, giving it a much-needed source of extra revenue.
The acquisition came shortly after the French financial regulator, the Autorité des Marchés Financiers (AMF), authorized the acquisition of Napoleon AM on June 28. Later, in June 2022, CoinShares carried out the transaction in line with the agreement outlined in the group SPA.
According to the CEO, having an AIFM-regulated entity in CoinShares' group is crucial as it's one of the most demanding licenses.
"CoinShares has always been at the forefront of regulation, it is a strong advocate of regulation in the digital asset industry and has an extensive list of regulated products and services," Mognetti added.
As prices fall, crypto companies are laying off staff, freezing withdrawals and striving to prevent losses. Even jobs are volatile in the world of cryptos, with more than 1,700 crypto job cuts have been announced so far in June.
Similarly, Singapore-based crypto trading and lending platform Vauld has stopped all customer withdrawals, deposits and trading on its platform from Monday. Last month, Vauld announced it would be laying off 30% of its staff. Since the June 12 Celsius fiasco, the company has seen withdrawals totalling $198 million and is looking to restructure its platform.
The central African Republic launched a national cryptocurrency called 'Sango Coin.'
In a virtual event webcast on Sunday, Central African Republic (CAR) President Faustin-Archange Touadéra introduced Sango Coin as the nation's cryptocurrency. Known as the "Sango Genesis Event," it heard the president of the nation outline strategies for using cryptocurrencies like bitcoin.
CAR President claims the nation's native cryptocurrency will coexist with Bitcoin (BTC) as a legitimate digital currency. Touadéra added that Sango Coin would be crucial to modernizing the landlocked nation's infrastructure, including a proposed metaverse project. The nation intends to employ Sango Coin to establish a cryptocurrency-based economy supported by individual investment. The construction of a "crypto island" on the Oubangui River is another component of this digital economic powerhouse.
The Central African Republic's government declared plans to tokenize the nation's natural resources, including copper, diamonds, and oil. Sango Coin will serve as the "gateway to the Central African Republic's natural resources."
In addition to launching Sango Coin, the Touadéra administration claims it wants to overhaul the nation's digital infrastructure by implementing blockchain technology. The CAR government will use blockchain technology to digitize its land register system.
Despite abundant natural resources, the Central African Republic continues to be one of the least developed nations in the world. Despite the recent decline in market value, the nation's excitement for digital currencies has not diminished.
Singapore weighs new crypto safeguards as the industry stumbles.
The Monetary Authority of Singapore "has been carefully considering the introduction of additional consumer protection safeguards," Tharman Shanmugaratnam, the central bank's chairman, said in a written response to a question from parliament. "These may include placing limits on retail participation and rules on the use of leverage when transacting in cryptocurrencies."
According to a senior government minister, the Monetary Authority of Singapore (MAS) is thinking about adding more restrictions on how the general people can use cryptocurrencies.
As a $2 trillion market selloff ensnared an expanding array of players, the central bank has reiterated this year that cryptocurrencies are not for individual investors. Both Three Arrows Capital and Terraform Labs, whose TerraUSD stablecoin was forced into bankruptcy last month for failing to pay creditors, are domiciled in Singapore. Terraform Labs' TerraUSD stablecoin imploded in May. As discussed in today's lead story, Another cryptocurrency lender with a Singaporean base, Vauld, said it had frozen withdrawals.
The MAS implemented regulations limiting how cryptocurrency businesses might market to the general public in January of this year, prohibiting them from doing so in public spaces or media that cater to the general public, such as newspapers, broadcasts, magazines, or social media platforms.