Discover more from Token Dispatch
Your daily new frontier-tech dispatch on blockchain and artificial intelligence. Handpicked and crafted with love by human bots 🤟
Over 12,000 subscribers
Russia-Ukraine War and Cryptocurrency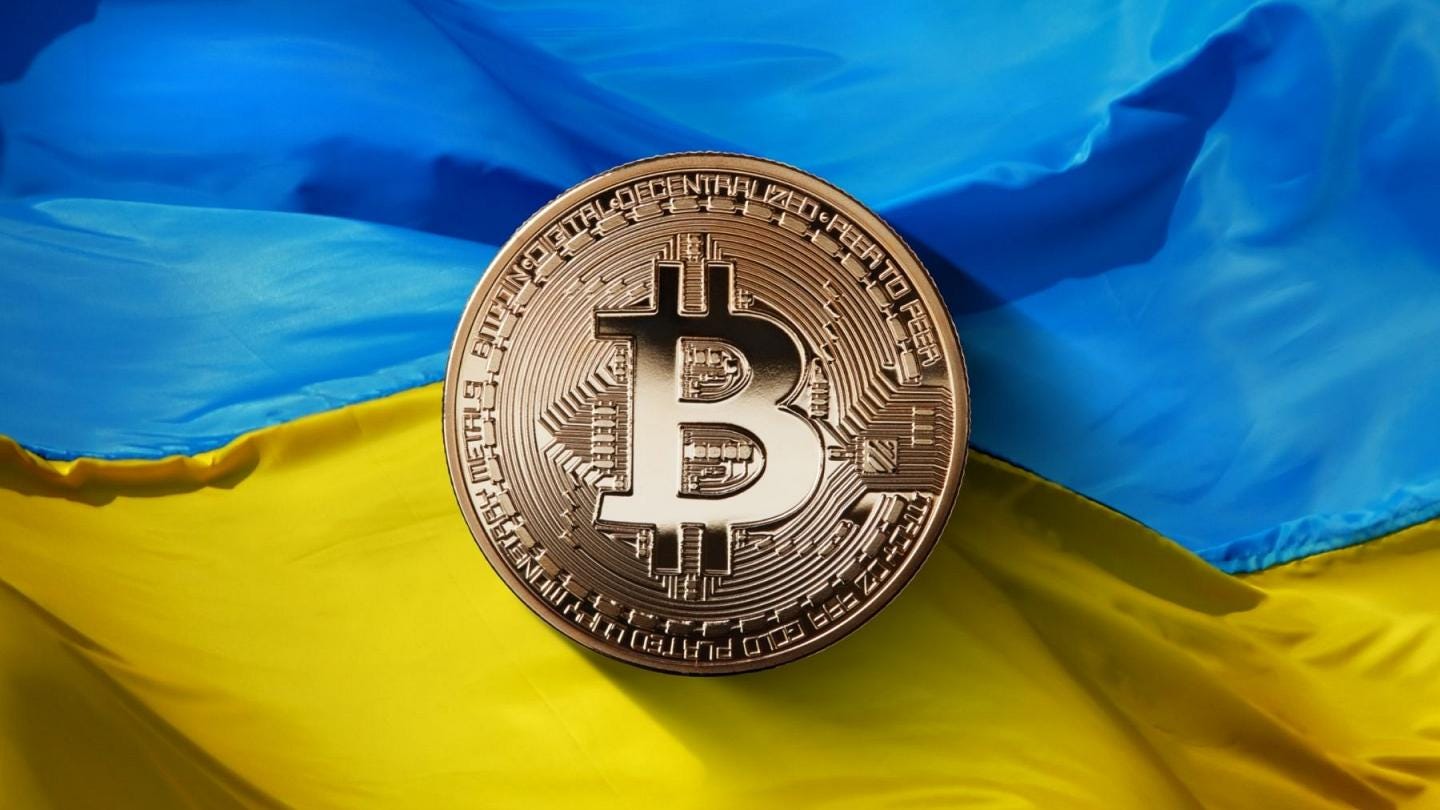 War is the greatest failure of humankind.  This week has been truly unpleasant since the Russian forces invaded Ukraine early Thursday morning. The tensions between Russia and Ukraine have risen to unprecedented heights, with Russian forces moving tanks across the border and airstrikes according to Putin's command for a "special military operation." Meanwhile, the United States has deployed 8,500 troops to Eastern Europe in case if a conflict breaks out.
Wars are always unsettling and demoralizing for all industries, particularly stocks and markets. Global markets were in a state of upheaval, as expected, as investors struggled to puzzle out the geopolitical developments. The impact of the Russia- Ukraine crisis on the crypto market was widely talked about last week.
Following Putin's declaration of war, the overall market capitalization of the cryptocurrency fell by nearly 5% in just 24 hours. Bitcoin (BTC) was trading at $35,082.66 at 5:00 p.m. IST on Thursday, down 8.12 per cent in the last 24 hours. Ethereum (ETH) was trading at $2,350.25, down 13.28% from its previous high. Experts anticipate that the crypto market will become even more volatile in reaction to the turmoil.
However, Bitcoin (BTC) and other cryptocurrencies surged on Friday after Russia agreed to negotiate with Ukrainian officials. Bitcoin's trading volume across key exchanges reached its highest level since the December 5 price fall, similar to volatility. High-volume sell-offs usually signify capitulation, which might lead to short-term price spikes.
As the country's ATMs become depleted as a result of the war's panic, some people are resorting to Bitcoins. Thousands of people have donated millions of dollars in cryptocurrency to support Ukraine's fight against Russia. Since the commencement of Russia's armed invasion of Ukraine, cryptocurrency donations to the Ukrainian government and NGOs have totalled about $17 million, including $1.86 million from one NFTcollection.
We're witnessing how crypto can aid in a crisis like this. Leading crypto figures like Vitalik Buterin and Sam Bankman are lending their influence to stand with Ukraine in the conflict. The cryptocurrency community is rallying together to support Ukrainians. Meanwhile, there are forecasts that Russia and its leaders may resort to cryptocurrency as a means of evading the economic sanctions that are piling up against them. It will not be shocking if this occurs since both Ukraine and Russia have embraced cryptocurrency. Both parties may be exploiting the tool to their advantage in the war.
What's different about crypto is how simple it is to fund such operations instantly. Crypto has become crucial in resolving funding issues in conflicts like this. The dispute between Russia and Ukraine has been called "the world's first crypto war" by the Washington Post, but no one can deny that the situation is catapulting crypto into the mainstream and its gaining widespread acceptability as a form of payment.
Ukraine appeals for Crypto donations - $17 Million Raised so Far
Ukraine is now seeking bitcoin donations to support itself from Russian aggression. The country's official Twitter account revealed on Saturday that it is now accepting cryptocurrency donations, noting in a tweet that it will accept bitcoin, ether, and tether.
"Stand with the people of Ukraine as we defend ourselves from Russian aggression," the country tweeted. A BTC address, along with addresses for ETH and USDT donations, are included in the tweet. Ukraine's vice prime minister, Mykhailo Fedorov, also tweeted a similar statement.
Since Russia's invasion, Ukraine has raised more than $17 million in cryptocurrency donations. About 24 hours after the Ukrainian government solicited donations in bitcoin, ether, and tether, more than $10 million was donated straight to the crypto wallets posted by the government.
Renowned crypto entrepreneurs including Ethereum co-founder Vitalik Buterin initially suspected that the accounts seeking crypto donations were hacked. Later, American diplomat Tomicah Tillemann  confirmed its legitimacy from Ukrainian Ambassador Olexander Scherba.
Pussy Riot Founder, Trippy Labs, PleasrDAO Members Launch' Ukraine DAO'
Following Russia's invasion of Ukraine, cryptocurrency users have taken it upon themselves to raise funds to support the besieged country. To that aim, decentralized autonomous organizations, or DAOs, are springing up to assist those harmed by the invasion.
Nadya Tolokonnikova, a political activist and critic of Russian President Vladimir Putin and a founding member of the "conceptual protest art group" Pussy Riot, unveiled Ukraine DAO on Twitter today, alongside Trippy Labs and PleasrDAO members.
"Our goal is to raise funds to donate to Ukrainian civilian organizations who help those suffering from the war that Putin started in Ukraine," Pussy Riot tweeted. "We'll be buying an NFT of the Ukrainian flag."
The drop will consist of 10,000 Ukrainian flags NFTs created on Ethereum, with all earnings going to the Return Alive Foundation and NGO Proliska, according to Tolokonnikova. In addition, a one-of-a-kind NFT will be produced, also of the flag, to allow more prominent contributors to join.
Pussy Riot is a feminist punk music band from Moscow, founded in 2011. The group is known for putting on guerrilla or pop-up concerts supporting LGBT rights and opposition to Putin.  Trippy Labs, the founder of Entopic and a digital artist, collaborated with SuperRare and FreeRossDAO to curate an NFT collection showcasing original Silk Road art. PleasrDAO, on the other hand, is a group of digital artists and collectors who buy culturally meaningful work with a humanitarian bent.
Microsoft's Minecraft Goes Web3 With 'NFT Worlds' on Polygon
Minecraft, a sandbox-style video game published in 2011, is getting a Web3, created by developers unaffiliated with Microsoft.
NFT Worlds is a project that uses a Polygon-based overlay on third-party Minecraft servers. Polygon is an Ethereum sidechain that allows users to pay lesser gas prices (transaction fees). Players will access Web3 services such as an online shop where they can buy stuff for their Minecraft experience using the $WRLD ERC-20 token thanks to NFT Worlds' blockchain layer on Minecraft.
Some of Minecraft's software is open-source, which means that anyone with the necessary technical skills can extend it. NFT Worlds allows players to explore the metaverse within an existing game, which is exciting news for Minecraft fans and NFT collectors alike.NFT Worlds has also experienced an increase in interest, with over 26,000 player hours logged on a test server in just three days this month.After months of main stagnation, the average price of an NFT World climbed by 10 Ethereum ($26,000). Metaverse real estate is picking up; just last December, someone paid $450,000 for a small plot of virtual land near musician Snoop Dogg's property in The Sandbox.

The attributes of NFT Worlds are exponentially larger than those of The Sandbox, whose economy is powered by the $SAND coin.
The co-founders picked Minecraft as their platform because they consider Microsoft more developer-friendly and less restrictive than competitors such as Roblox.However, it's unclear whether Microsoft is on board with the idea.To avoid this, the team is in regular communication with Microsoft representatives to ensure that they don't break the End User License Agreement (EULA) for Minecraft at any point during development.