Discover more from Token Dispatch
Your daily new frontier-tech dispatch on blockchain and artificial intelligence. Handpicked and crafted with love by human bots 🤟
Over 12,000 subscribers
Digital fashion platform BNV to launch 'BNV World' - A fashion-first Metaverse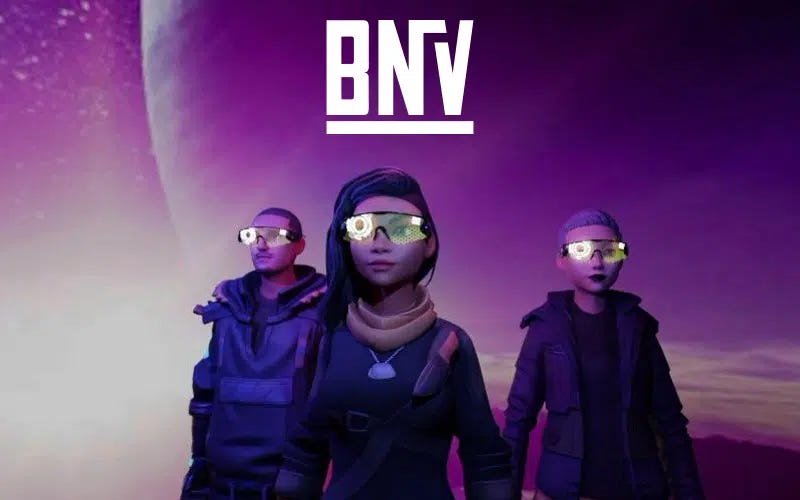 BNV to create a Metaverse that's all about fashion!
Brand New Vision (BNV) facilitates fashion brands' entry into the Web3 world by offering 3D product creation, tokenization, community building, and interoperable wearability.
Now, BNV has announced plans to launch its metaverse - "BNV World." BNV World will feature intricate and complex digital fashion pieces for virtual people. Not the extremely simple 3D kinds as seen in Decentraland and The Sandbox.
"The reality is, a lot of brands don't really look at The Sandbox—or any voxelated environment—as being conducive to fashion," says Richard Hobbs, CEO of BNV.
Yes, there is a lack of fashion-centric metaverses in the virtual world, which is what BNV attempts to establish. Therefore, the company plans to roll out a beta version of BNV World next month.
What to look forward to:
Visitors can showcase fashion pieces from a myriad of designers in ultra-realistic 3D

Virtual spaces and stages designed for events and digital fashion collection launches

BNV World will feature a platform-exclusive marketplace for BNV products

Different levels of accessibility and wearability for NFT holders
BNV seeks to design a metaverse that goes far beyond the limitations of current metaverses. According to Hobbs, BNV World will serve as a bridge between traditional fashion brands and design tools for the metaverse.
BNV World will be built on Unreal Engine, a graphics software tool from the Fornite creator Epic Games.
Funko and Warner Bros. team up for DC Comics' NFT Release
Funko, a pop culture retail business, collaborates with Warner Brothers to offer a physical and digital comic book collectible from DC's "The Brave and the Bold". On October 7, 2022,  Fans will have the opportunity to purchase a specially created Digital Pop! and a physical collectible from walmart.com
People who purchase can claim the NFT online, through World Asset eXchange network, by connecting their crypto wallet.
The Brave and the Bold is a DC Comics ongoing series that was initially published in the 1950s and ran into the 1980s. It is most known for presenting the Justice League in DC's comic books for the first time.
"We are thrilled to bring this first-to-market opportunity to the world's largest mass retailer," said Andrew Perlmutter, Chief Executive Officer at Funko. "This is an opportunity to create an easy entryway for shoppers to own digital collectibles featuring fan-favourite brands and characters."
NFT Marketplace OpenSea to Integrate Ethereum Scaling Solution Arbitrum
OpenSea, a leading NFT marketplace, has announced that Arbitrum, a layer-2 scaling solution for Ethereum, will be included on the platform. Arbitrum will join the OpenSea's four other networks: Ethereum, Solana, Polygon, and Klaytn.
According to OpenSea's official announcement, the well-known NFT collections "Smolverse," "Blueberry Club," and "Diamond Pepes" will be among the first to be made available on the market.
In a subsequent tweet, the company stated that following the integration of Arbitrum, NFT developers would have the ability to determine the prices for selling NFTs on the network.
The most well-liked NFT collections on the Arbitrum network have already drawn millions of dollars in investments, according to data from Defi Llama. Most of the NFTs on Arbitrum had previously been hosted on smaller marketplaces, like Stratos and Agora
"This is a first step in building our goal of a Web3 future where people have access to the NFTs they want on the chains they prefer," the company tweeted.