Discover more from Token Dispatch
Your daily new frontier-tech dispatch on blockchain and artificial intelligence. Handpicked and crafted with love by human bots 🤟
Over 12,000 subscribers
Edge launches first confidential Bitcoin Mastercard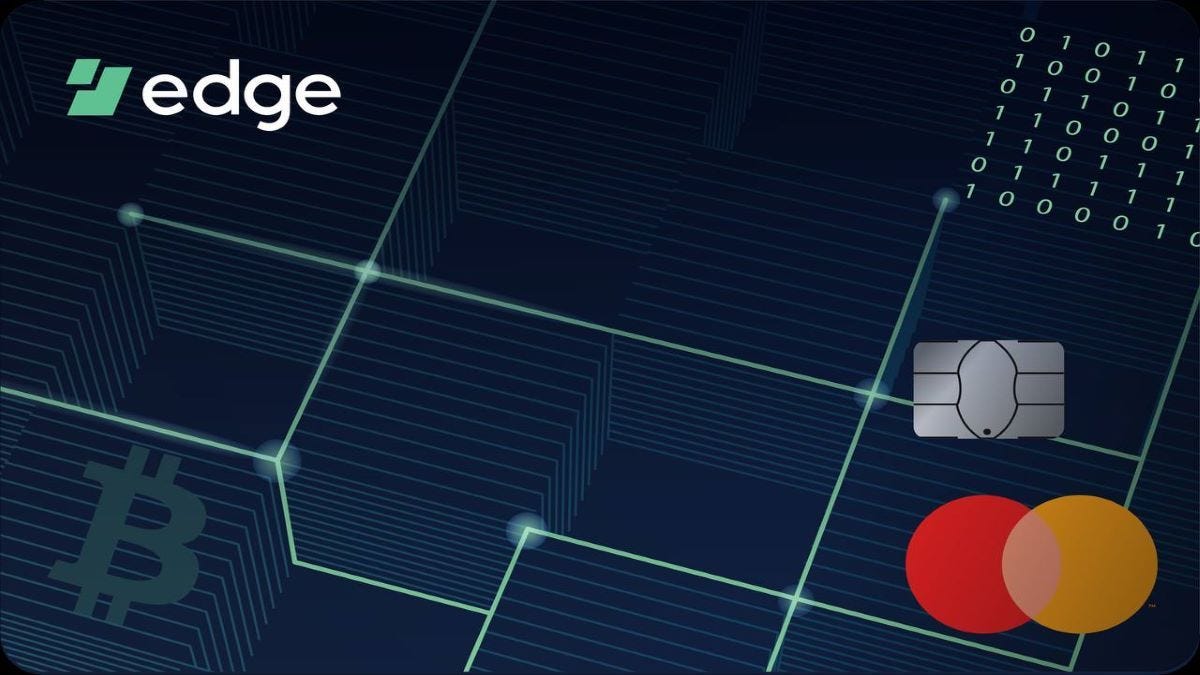 Blockchain technology did promise us a decentralized world. But we didn't realize we could make day-to-day purchases without a bank account or liquid funds this soon. The future has arrived, and intermediaries will become obsolete unless they integrate web3 and a decentralization.
Despite having a fantastic year in 2021, crypto payments have not kept up with the rest of the industry's growth. That is expected to change dramatically in 2022. And one of the technology's main promises has been to make payments easier. Think about going to H & M and seeing that oversized sweatshirt for 0.00092 BTC instead of $27.99. Yeah, That's way into the cashless future, but it's beginning now.
While it is clear that fiat spending continues to dominate the way most people make payments, the fledgling cryptosystem is rapidly gaining traction. The evidence is all around us.
Edge is the most recent Web3 company to enter the Bitcoin payments space for everyday purchases. On Wednesday, the self-custody cryptocurrency exchange announced a no-Know Your Customer (KYC) debit Mastercard that can be funded with Bitcoin and other digital currencies. Users would be able to spend their crypto without KYC verification at more than 10 million merchant terminals in the United States.
"Not a name, not a phone number, not an email address. Definitely not your actual address, nothing. You can create a virtual card in around 15 seconds inside of Edge." Paul Puey, co-founder and CEO of Edge, explains.
Currently, the Edge Mastercard can be funded directly from the Edge app using Bitcoin (BTC), Bitcoin Cash (BCH), Dogecoin (DOGE), Litecoin (LTC), and Dash (DASH). Edge users can use their cryptocurrency to load funds into the app, while merchants receive funds in US dollars.
The Edge Mastercard will have a daily spend limit of $1,000 (approx. $30,000 monthly) at launch and will be compatible with Apple Pay, with Samsung and Google Pay coming later. Later this month, users will be able to order a physical card for $20.
Edge representatives claim that the card complies with anti-money laundering and counter-terrorism financing regulations due to the card's daily spending limit and also because the card can only be used at merchant terminals in the United States.
If you're still not convinced that cryptocurrency is the future of payments, explain why banks and financial institutions see it as a threat to their very existence.
They must contend with the fact that privacy has emerged as a major concern among both citizens and bankers. Central banks all over the world are scrambling to develop their own digital currencies (CBDCs) that meet all these specifications. The unprecedented rise in cashless payments is majorly paving the way for crypto payments, and this new model of financial accessibility will undoubtedly fuel crypto adoption.
PayPal lets users transfer Bitcoin and Ethereum to external wallets.
PayPal announced that its users could finally shift funds outside of its platform, a long-awaited move that will bring the company's offering closer to that of other major cryptocurrency providers.
External transfers on PayPal's crypto platform, seen in the image below, will begin rolling out to users today and will be available to everyone in the United States within the next week or two.
PayPal's crypto offering debuted in late 2020, allowing users to purchase, sell, and hold four cryptocurrencies—Bitcoin, Ethereum, Bitcoin Cash, and Litecoin—but not transfer funds to third-party services like MetaMask, Coinbase, or hardware wallets.
This move can become significant as PayPal, which also owns the famous app Venmo, is used by hundreds of millions of people worldwide to move money and is increasingly used by merchants as a payment platform that might soon have similar features.
"The whole reason we're in crypto is because we believe a substantial portion of commerce is going to move to digital currencies," said Jose Fernandez da Ponte, the company's SVP of blockchain and crypto.
This, according to Fernandez da Ponte, is one of the main reasons the company doesn't charge for cryptocurrency transactions: the company's crypto plans are focused on commerce rather than establishing an exchange. PayPal is also optimistic about more countries adopting stablecoins and central bank currencies, which would benefit the company's business model.
Budweiser's Clydesdales zoom into Ethereum NFT racing game Zed Run.
Budweiser has taken a unique path through the NFT world, from purchasing the beer.eth ENS domain to launching its own collectibles, joining a DAO, and using NFT visuals in a Super Bowl commercial. Now the beer brand is off to the races by partnering with a well-known crypto game.
Budweiser has revealed plans to enter the Ethereum-based NFT horse racing game Zed Run with the brand's famous Clydesdale horses from previous advertising campaigns. Budweiser will launch in-game horse skins (or designs) based on its iconic Clydesdale mascots and a Budweiser-themed race course. The brands will also collaborate on in-game challenges, with a total prize pool of $185,000 and special co-branded products on the table.
"Working creatively alongside Budweiser, an iconic brand that epitomizes the American dream, opens up more opportunities for our expanding Zed Run community," said Chris Laurant, CEO and co-founder of Zed Run creator Virtually Human Studios, in a release.
According to data from CryptoSlam, Zed Run has generated more than $300 million in secondary market NFT trading volume to date.
On June 9, Zed Run will offer a Budweiser Pass NFT for sale, with 2,500 NFTs available for $225 each plus Ethereum network transaction fees. Collectors who already own a Budweiser Heritage Can NFT, and either a Zed Run Genesis NFT racehorse or a Zed Run NASCAR pass will be given priority access to the sale before it opens to the general public. In July, Budweiser Pass NFT holders will receive a Budweiser Clydesdale skin and a virtual t-shirt that avatars in the Ethereum metaverse game Decentraland can wear.