Discover more from Token Dispatch
Your daily new frontier-tech dispatch on blockchain and artificial intelligence. Handpicked and crafted with love by human bots 🤟
Over 12,000 subscribers
Why are Lawmakers in EU scrutinizing Proof-of-Work cryptocurrencies?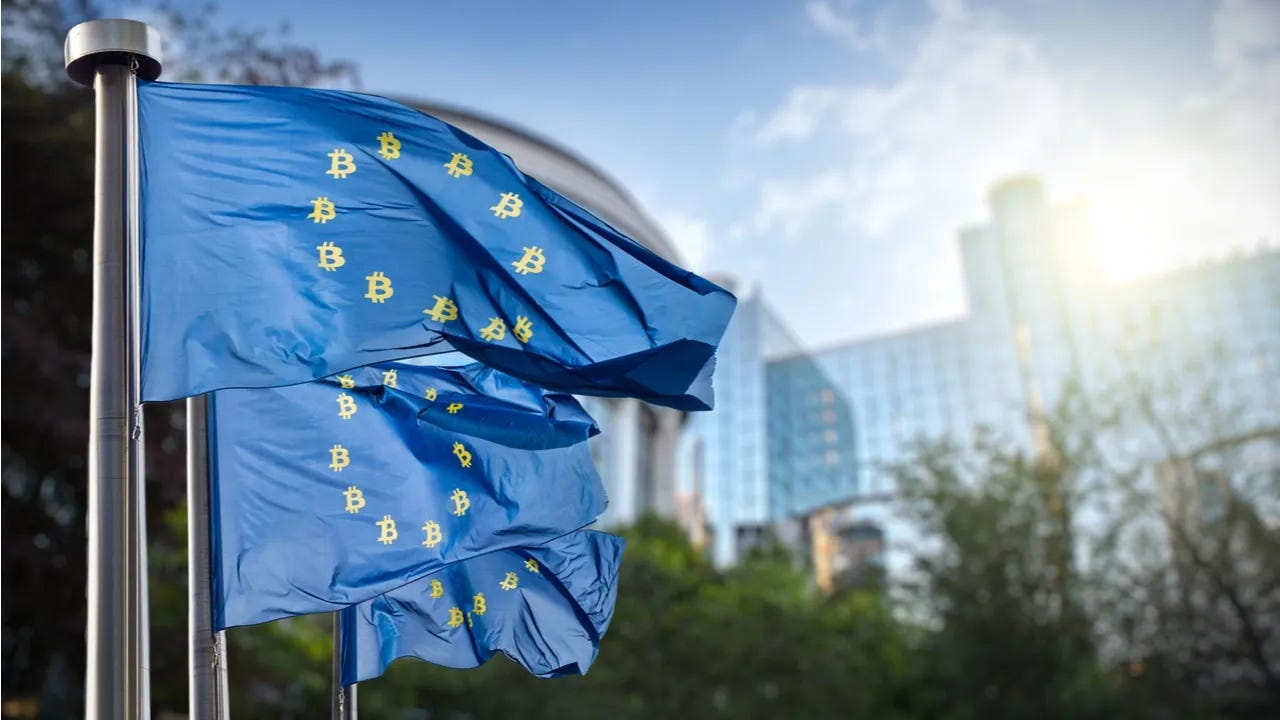 The environmental impact of crypto mining has long been a source of contention. As dynamic as it is, the industry is working to find a solution to this problem.
Thousands of computers worldwide are whirring away together, pounding complicated math problems that create and sustain bitcoin. However, this implies that the network is always consuming energy, which is a point of conflict for many bitcoin sceptics and critics.
Proof-of-work is a system in which computers compete to be the first to solve complex challenges. PoW mining secures the network by ensuring that only those who can prove that they have expended resources are awarded the opportunity to append new transactions to the blockchain.
Because of this feature, attacking a proof-of-work system like Bitcoin is difficult, time-consuming, and expensive. At the same time, PoW mining consumes a significant amount of electricity, raising serious concerns about the environmental impact of cryptocurrency.
With the EU aiming to achieve carbon neutrality by 2050, the future of energy-intensive proof-of-work Bitcoin mining seems uncertain.
A vote on the European Union's Markets in Crypto Assets (MiCA) legislation is scheduled on March 14th, following a debate over language that would have effectively banned bitcoin.
The MiCA bill has had its upsides and downsides, and market participants have frequently challenged the law's content. However, after revising certain aspects of the bill, European Union parliamentarians are due to vote on the MiCA bill on March 14th, which might have an impact on how crypto businesses are taxed in the region.
The previous version expressed reservations about crypto firms that provide services employing Proof-of-Work. However, in February, European Union lawmakers unanimously opted to withdraw the provision of the MiCA bill that would have made PoW cryptos, such as Bitcoin and Ethereum, unlawful.
Dr Stefan Berger, the member of parliament in charge of MiCA, stated through Twitter that an independent discussion of the PoW is no longer on the table. He said that it makes it logical to treat cryptos like any other financial item in the taxonomy.
Although not explicitly mentioned, the measure would directly impact proof-of-work (PoW) chains. The Bitcoin network, Ethereum, and several other crypto assets use the PoW consensus mechanism. The new clause, which replaces the controversial line on the "minimum environmental sustainability" of crypto mining, will compel blockchain operators to submit a develop an extensive plan outlining how they will achieve environmental sustainability compliance. Failure to submit a plan may result in coins being banned from being mined or traded in the EU.
However, in terms of environmental impact, even while this appears to be a considerable amount of energy to consume for a cryptocurrency, Bitcoin supporters maintain that this figure is less than 10% of what the traditional banking system uses. The enthusiasts also claim that a big portion of the energy consumed by cryptocurrency originates from renewable sources and that Bitcoin mining consumes a significant quantity of energy that would otherwise be wasted.
Citi's co-head of digital assets quits to start a crypto venture
Alex Kriete, co-head of digital assets at Citi, resigned from the banking behemoth on Thursday via LinkedIn after 11 years with the company. In his post, he indicated that he intended to devote himself full-time to building a new cryptocurrency company, although he provided no other specifics at the moment.
Since the unit's inception in June 2021, Kriete has co-led the digital assets division with Greg Girasole for less than a year. Girasole announced his departure on Linkedin as well, and he and Kriete intend to launch their own blockchain-related firm. The two stated that they would reveal more information about it in the following weeks.
"After 11 years at Citi, I have decided to take on a new challenge and will be leaving the firm. I am incredibly grateful for the personal and professional experiences gained, the lifelong relationships with friends and clients built, and the opportunities offered to help build new business lines. I wish Citi and all my great colleagues immense success in the future." Kriete wrote in a LinkedIn post.
"I believe digital assets will continue to grow in importance to global capital markets and the formation of new business models, and I could not be more excited to assist in the maturation of this market," He  added
Warner Bros to launch DC Comics-themed NFT trading cards
Warner Bros always understands how to create fascinating stories that capture, and now, the venture is introducing NFTs that will be available on Immutable X, an Ethereum side chain that has lately gained critical acclaim. Exciting much?
Warner Bros and Cartamundi Group, two American multinational media and entertainment conglomerates, have teamed to develop DC Comics-themed hybrid trading cards. The NFT digital collectables compilation will be unveiled around the end of March 2022. The hybrid packs of collectables would range in price from $5 to $120.
In addition, Warner Bros. intends to release a few limited-edition cards with graphics and characters from the current DC Comics film, "The Batman," starring Robert Pattinson.
"Trading cards have been a favorite of fans for decades. Combining that enthusiasm for collecting with a custom NFT is just brilliant," said Pam Lifford, Warner Bros.' head of global brands and experiences, in a statement.
Stay informed in just 5 minutes
Get a daily email that makes reading crypto news informative. Have fun keeping up and getting smarter.
The dispatch is sent in time zones at 8:30 am. Choose your preferenceEastern Time Zone (UTC-05:00)USTISTGMTSST
Subscribe
​