Discover more from Token Dispatch
Your daily new frontier-tech dispatch on blockchain and artificial intelligence. Handpicked and crafted with love by human bots 🤟
Over 12,000 subscribers
European Neobank N26 brings crypto trading to it's users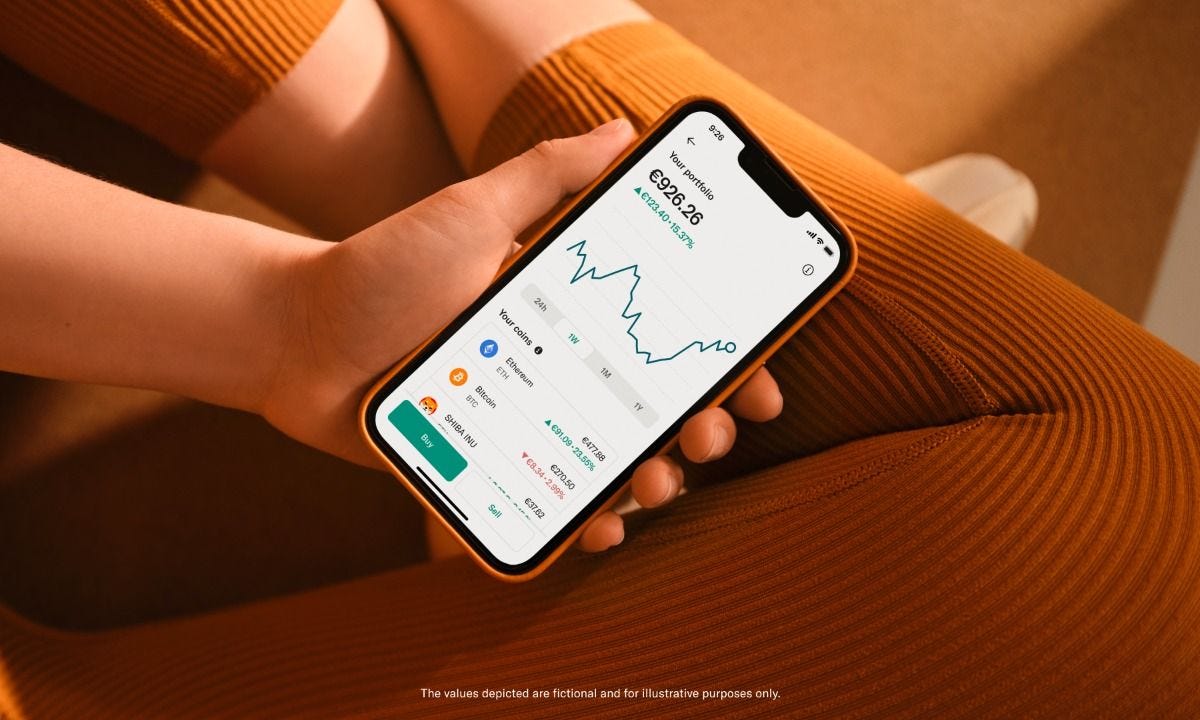 Things are getting easier in the crypto world these days.
N26, a digital bank, is taking the "next step beyond banking." With the support of Bitpanda, the bank plans to launch a new crypto trading feature. This means users can now easily trade nearly 200 different cryptocurrencies using money in their N26 account.
The product will initially be available to customers in Austria before gradually expanding to other markets over the next six months, with Austrian crypto exchange Bitpanda managing trade execution and coin custody.
N26 operates entirely online and has no traditional bank branches. Currently, the European digital bank is having trouble, having failed to penetrate the UK and US markets and spending heavily on tightening anti-money laundering controls.
"With N26 Crypto, we have created a simple, intuitive product that integrates seamlessly into N26's fully-regulated banking experience where one's bank balance, savings, and investment portfolio sit side by side – with cryptocurrencies being the first asset class we intend to offer," says N26 Chief Product Officer Gilles BianRosa.
Customers can access the new feature through the N26 app's new "Finances" tab's "Trading" section.   Users can buy or sell cryptocurrencies by clicking the buy or sell button, selecting a crypto asset and entering an amount. N26 displays both the exchange rate and how much you will pay in fees.
The main benefit of N26 Crypto is that it is directly linked to your existing bank account, so you don't have to upload money to a separate trading account.
The digital bank is pretty optimistic that "cryptocurrencies are going to continue to be a prominent part of the financial ecosystem."
INTERPOL launches first global police Metaverse
The International Criminal Police Organization has recently launched the first "global police metaverse". During the 90th Interpol General Assembly in New Delhi, India, Interpol showcased its latest technological endeavour. The metaverse is initially intended for tasks like immersive forensic investigation training classes.
In essence, Interpol is a global law enforcement investigation and training organisation that specialises in transnational crime. A committee of delegates from member nations governs the organisation. According to the statement, the platform would enable law enforcement agencies worldwide to communicate via avatars.
Concerns regarding future metaverse crimes, including crimes against children, data theft, counterfeiting, ransomware, sexual assault, and harassment, are being expressed as virtual worlds develop.
Experts from Interpol used a Metaverse classroom to conduct a training session on the platform's capabilities for passenger screening and travel document verification.
Warner bros releases 'lord of the rings' nfts
Warner Bros. Discovery and blockchain firm Eluvio have launched "The Lord of the Rings: The Fellowship of the Ring" (Extended Version) web3 movie experience With NFT copies of the film. The NFTs include a 4K UHD, 3-hour, 48-minute extended version of the 2001 movie, over eight hours of supplemental material and commentary, image galleries, and hidden AR items.
Its the first collection from the company's brand-new "WB Movieverse," which Warner Bros. and Eluvio refer to as a "multimedia live movie experience,"
The Premiere Mystery Edition includes "a surprise interactive location-based navigation menu from one of three film locations (The Shire, Rivendell, Mines of Mona)." In contrast, Epic Mystery includes "all three location-based navigation menus plus bonus image galleries not included in the Mystery Edition."
It will be possible to buy "Fellowship of the Ring" NFTs using credit cards, debit cards, or cryptocurrencies. Once users purchase the NFT, they can start the web3 movie experience and watch the longer film from their media wallet.