Discover more from Token Dispatch
Your daily new frontier-tech dispatch on blockchain and artificial intelligence. Handpicked and crafted with love by human bots 🤟
Over 12,000 subscribers
Fidelity to allow bitcoin as an option in 401(k)s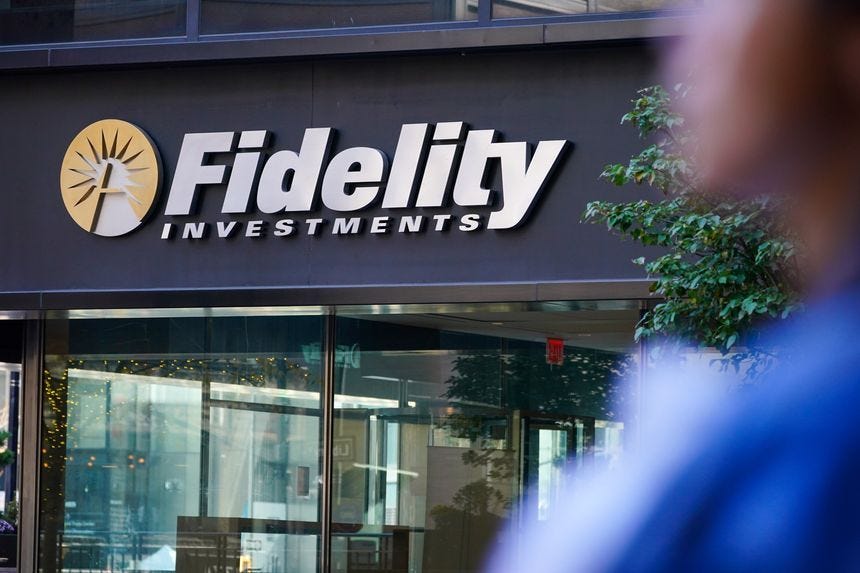 The younger generation is redefining their retirement plan by saving up in crypto. Many people use their retirement account as their primary savings vehicle, and when people use their retirement account to invest in crypto, it will offer a lot of credibility to crypto investment. Thus, it will become mainstream so soon.
According to a Capitalize survey, 56 % of Zers and 54 % of millennials use cryptocurrencies and other digital assets as part of their retirement strategy, compared to only 20% of Gen Xers and 14% of baby boomers.
People may be concerned that wagering their retirement money on a digital currency would lead to significant losses, but diversifying one's retirement portfolio can help them achieve financial security in the future, so it's a risk worth taking.
On the other hand, Officials may not be entirely comfortable with such a financial shift. Last month, the US Department of Labor issued a warning to fiduciaries about offering a cryptocurrency retirement savings option citing that this type of investment poses "significant risks and challenges to participants' retirement accounts, including significant risks of fraud, theft, and loss." President Joe Biden has also signed an executive order designed to push for more crypto regulation in the US.
Contrary to this, Fidelity Investments, America's largest supplier of 401(k) savings accounts, proposes allowing investors to place a bitcoin account in their 401(k)s, becoming it the first major retirement-plan provider to do so.
According to a New York Times report, the new product will go live this summer, allowing businesses to add Bitcoin to their customers' retirement savings accounts if they so choose.
Fidelity will allow clients to invest up to 20% of their employees' savings in bitcoin, with the possibility of expanding to other digital assets in the future.
MicroStrategy, a business analytics firm headed by Bitcoin bull Michael Saylor, has already joined the initiative, according to Dave Gray, head of workplace retirement offerings and platforms at Fidelity Investments, and Fidelity is in talks with other companies as well.
In the crypto world, MicroStrategy is well known for its aggressive bitcoin acquisition strategy. The corporation bought 4,157 bitcoins for $190.5 million earlier this month, boosting its total holdings to 129,218 bitcoins, or $5.1 billion.
Even though traditional investment vehicles continue to dominate the markets, the current economic scenario has prompted investors to seek out alternatives.
Ultimately, the benefits of diversification, the desire for higher returns, and the accessibility to a unique technology will draw investors to alternatives such as cryptocurrencies.
Decentralized Forex Is Coming to Terra: Vertex Protocol Raises $8.5M.
Vertex Protocol, a decentralized foreign exchange network, announced on Tuesday that it had raised $8.5 million in seed funding. Hack VC, Dexterity Capital, Jane Street, Hudson River Trading, and other firms led the round. Terra's stablecoins provide decentralized finance (DeFi) services on the exchange. According to Conor McNamee, Vertex's operations manager, the protocol's purpose is to expand DeFi lending and other products outside U.S. dollar-pegged stablecoins, which account for 99.5 per cent of all stablecoins.
While the most popular stablecoin in the ecosystem is terraUSD (UST), the chain also hosts stablecoins for Chinese yuan, euro, British pound and more. Through Vertex, users can trade, pool, borrow, and lend these international coins. They can hedge currency risk by purchasing perpetual swaps, making the market more accessible.
Vertex isn't the only DeFi FX platform on the market. The euro-linked token synth sEUR is offered by Synthetix, an Ethereum-based platform that facilitates synthetic digital asset lending and trading (SEUR). Terra's cheap fees and transaction speed, on the other hand, are more appealing to traders, according to McNamee.
Vertex recently completed its Testnet phase with over 75,000 users. McNamee said his most significant insight from the step was to make the user experience "less intimidating."
"We want to bring sophisticated usability and tools to users, like, trading charts, like limit orders, all this kind of stuff to users," said McNamee. "We want anyone to be able to trade."
Buenos Aires City to Allow Residents to Make Tax Payments With Crypto
Mayor Horacio Rodrguez Larreta stated Monday that Buenos Aires, Argentina's capital, will accept cryptocurrency payments for taxes. According to Mayor Larreta, the city administration of Buenos Aires will not receive cryptocurrency directly from people, but rather Argentine pesos, which "top" crypto firms will convert.
The service will launch in the "coming months," according to Diego Fernández, the city's secretary of innovation and digital transformation, who also mentioned that local crypto exchanges SatoshiTango, Buenbit, Ripio, and Belo, as well as Bitso from Mexico, will be involved.
"The city is not going to have crypto in public accounts, but through an agreement with virtual wallets, we will add one more payment option to the ones we already have, with the idea of making things easier," Rodríguez Larreta said in his announcement.
The news comes only weeks after Rio de Janeiro, Brazil, revealed that starting in 2023, a municipal real estate tax might be paid with cryptocurrency.
In March, Buenos Aires issued a white paper proposing a blockchain-based digital identification network to offer inhabitants of the city access over their personal data. According to Fernandez, it should be operational between the fourth quarter of 2022 and the first quarter of 2023.
In the second quarter of 2022, the digital identification platform will integrate vaccination certificates and COVID-19 test results. It will contain the civil registry and educational records later this year.