Discover more from Token Dispatch
Your daily new frontier-tech dispatch on blockchain and artificial intelligence. Handpicked and crafted with love by human bots 🤟
Over 12,000 subscribers
Terrible Pets is building NFT-based tools for creating memes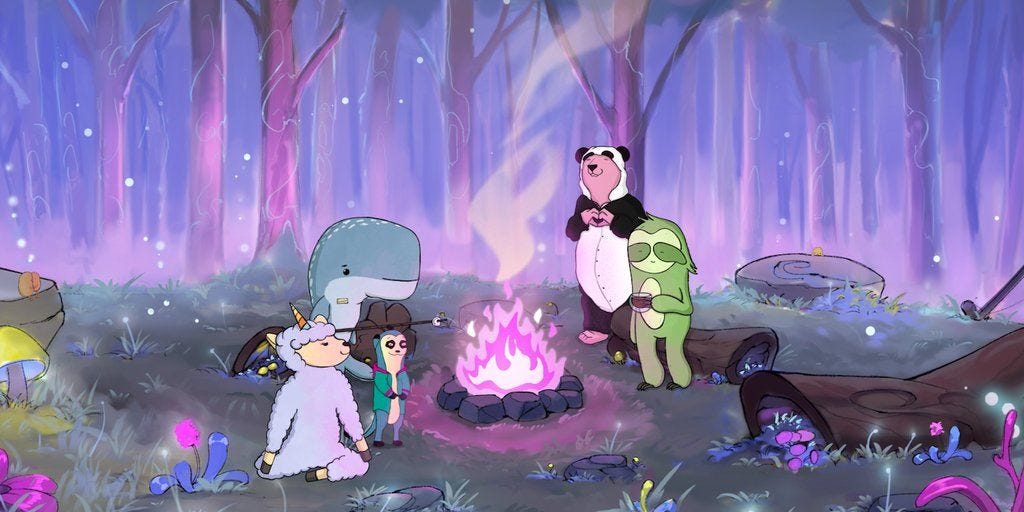 The NFT wave is changing and speeding up the entertainment industry's growth. They provide artists and production houses with an alternative revenue stream and, more crucially, a new way to share their work with the audience while making it a terrific, cutting-edge marketing concept.
Because the industry is still in its initial stages, early adoption by the entertainment industry strongly indicates that this interactive technology is becoming mainstream and will be a big deal in the near future(or, isn't it a big deal already?). Followers are always on the tip of their seats, anticipating the next exciting development in the industry.
NFTs are now being blended with memes! Makers behind HBO's "Silicon Valley" is bringing forward the 'Terrible pets' project.
According to Fika Media co-founder and CEO Adam Altman, Terrible Pets will use Ethereum NFTs to "turn content itself into LEGO blocks," letting owners use them to build meme-able online content.
The project, which features Hollywood veterans such as Alec Berg and Mike Judge, will offer NFT-based tools for creating memes and viral content. The NFT holders can create, share and benefit from their memes.
"Silicon Valley" executive producer and showrunner Alec Berg is a co-founder of Fika, also a co-creator of HBO's "Barry" and an executive producer on "Curb Your Enthusiasm." "Web3 offers a new way to co-create and collaborate with a potentially wide and diverse audience" Berg explains.
The eight anthropomorphic creatures that make up Terrible Pets' cast are described as "human-like animals with relatable traumas, wrapped in absurdism." Animals Anonymous, a wilderness camp that serves as an emotional support group, is where the cartoon characters get together.
While the project is based on Ethereum, it differs from other popular NFTs such as Bored Ape Yacht Club, Cool Cats, and Okay Bears since it does not function in the same way. Fika compares Terrible Pets NFTs to LEGO bricks in that you assemble and build shareable social content from pre-existing content blocks. NFTs with written lines of speech will also be released by Fika, which collectors can use to generate their content.
"Terrible Pets is Fika's attempt to marry those two approaches: creative seeds and technology from well-funded professionals, but with the ability for a community to tap into those resources to remix and share all kinds of content. They've developed the premise "like a TV show," but with an eye toward enabling online user-generated content." Altman said in a statement.
The team has developed a Terrible Pics mobile app ahead of the NFT launch for dropping stickers of characters and Minions-Esque potato creatures atop photos, while Fika has further creativity tools in the works.
Web3 and NFTs are spawning new and exciting frameworks for creators and their audiences. The entertainment industry is experimenting with Web3 content development, revenue generation, marketing, and much more, and the byproducts are proving to be quite interesting.
Voyager Digital secures a $485M loan from Alameda to safeguard its assets
In bear markets, crypto exchanges take a beating. In a similar situation, crypto broker Voyager Digital (VOYG) agreed to a non-binding term sheet with quant trading firm Alameda Research to get a revolving line of credit to protect its customers' funds from the current bear market.
There are two sections to the loan. The first is a $200 million credit facility based on cash and USDC. The second revolving credit facility will be for 15,000 Bitcoin, which is currently worth $285 million. However, Voyager will only use these credit facilities to protect its customers' assets when considered necessary.
Talking about the move, Stephen Ehrlich, Chief Executive Officer, Voyager, said, "Today's actions give Voyager more flexibility to mitigate current market conditions and strengthen our relationship with one of the industry leaders."
The credit facilities are set to expire on December 31, 2024, with a 5% annual interest rate due on maturity. Voyager said it had more than $200 million on its balance sheet in addition to the funds available under the credit facilities. The company had raised $60 million in a private placement offering sponsored by Alameda Research at $2.34 per share. The broker's stock has dropped about 90% this year, selling at around C$1.34 per share on Friday.
Following New Central Bank Policy, Binance Suspends Withdrawals and Deposits in Brazil
Binance, the world's largest cryptocurrency exchange, has halted withdrawals and deposits in Brazil due to a new policy affecting those who use the government's Pix payment system.
According to the company's announcement, it has discontinued its partnership with Capitual, a local payment gateway that handled Binance's deposits and withdrawals for a year and eight months.
Binance is already in the process of acquiring Sim;paul, a local brokerage that has already received approval from the Central Bank and the Securities and Exchange Commission. It had to halt operations since it could not meet the deadline for adopting KYC verification for its users, as required for pix providers. Binance mentioned that it also takes a legal against Capitual. The
Withdrawals and deposits made using Pix can take up to 72 hours to clear, according to Binance. Users can still conduct peer-to-peer deposits and withdrawals, according to the business.