Discover more from Token Dispatch
Your daily new frontier-tech dispatch on blockchain and artificial intelligence. Handpicked and crafted with love by human bots 🤟
Over 12,000 subscribers
GameStop is launching an Ethereum NFT Marketplace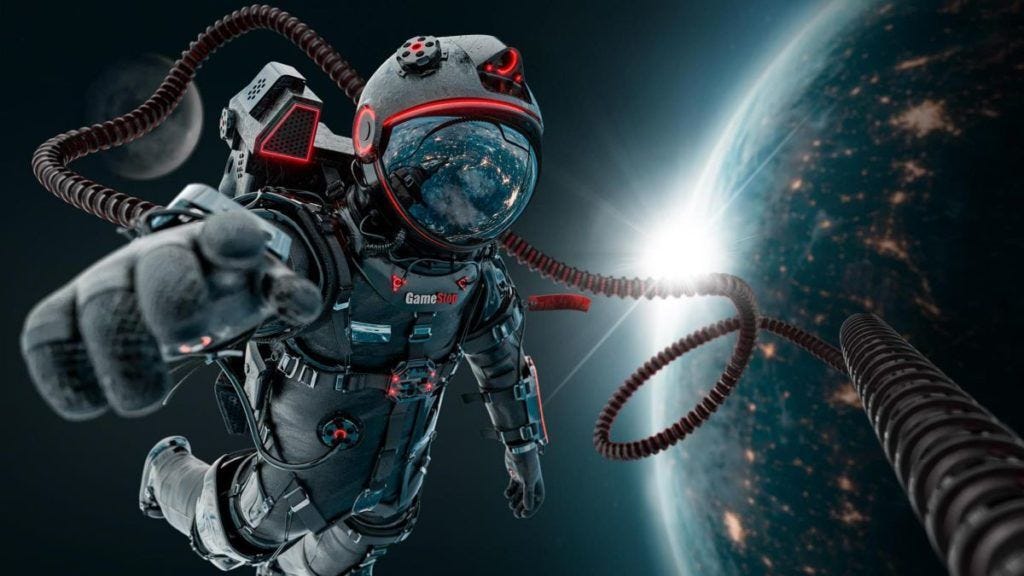 Despite the downward trend, some Web3 companies are committed to building and improving their products rather than hibernating through the winter. GameStop is one of them.
The video game retailer's long-teased Ethereum NFT marketplace is finally live, enabling gamers, creators, collectors and others to buy, sell and trade NFTs.
The new NFT marketplace aims to provide low fees and high speed. In what the company calls a "public beta," there are more than 200 collections you can peruse and more than 53,000 NFTs listed. GameStop allows collections from other marketplaces like OpenSea even though it only supports NFTs made on its own platform at the moment.
The company announced a partnership with layer 2 blockchain Immutable X in February. As part of this partnership, Immutable X established a fund with a cap of $100 million in its IMX tokens for grants to NFT content and technology developers. The agreement also stipulated that upon reaching specific milestones, Immutable X will provide GameStop up to $150 million in IMX tokens.
Even though GameStop previously announced a partnership to use the Immutable X layer-2 scaling network, at the moment, the marketplace plays host to a variety of projects that run on the Ethereum mainnet and Loopring, a layer-2 scaling solution. However, the marketplace notes that Immutable X support is "coming soon" as other Web3 games, such as Illuvium, Gods Unchained, and Guild of Guardians, are coming to the market through Immutable X.
Users can connect to the marketplace using the GameStop Wallet or other Ethereum-compatible wallets. It is a noncustodial Ethereum layer 2-based application. Ahead of the marketplace launch, GameStop launched its digital asset wallet in May, which allows users to store, send, and receive cryptocurrencies and NFTs.
In May 2021, more than a year ago, GameStop initially hinted that it would launch an NFT platform. The gaming retailer officially announced its plan to launch its own NFT marketplace in February. The company started their staffing change by adding new team members with a focus on technology, e-commerce, and blockchain gaming.
GameStop announced a four-for-one stock split on July 6; following the end of trading on July 21, shareholders would receive three extra shares as a dividend. The following day, GameStop fired its CFO, Michael Recupero, and laid off several staff members. CEO Matt Furlong made the first mention of GameStop's blockchain group in a memo to staff members about the layoffs.
Magic Eden enters the world of gaming

The biggest NFT market on Solana blockchain, Magic Eden, is now investing money in the gaming industry. The firm has introduced Magic Ventures, a venture capital division that will concentrate exclusively on Web3 gaming. 90% of NFTs sold on Solana are produced by Magic Eden, and the company has recently raised $130 million in a fundraising round that valued the company at $1.6 billion, making it a unicorn.
Tony Zhao, formerly of the Chinese gaming behemoth Tencent, has been appointed by the business to further that goal as its new head of gaming investments. The firm is also growing Eden Games, its own internal game subsidiary.

"The fund is only one part of our solution to help developers in the Web3 ecosystem," said Zhao in an interview with GamesBeat. "We are providing end-to-end solutions, including our launchpad for NFT minting, our wallet solutions, game marketplace solutions, and cross-chain solutions in the future. This fund is just one way to support amazing developers and to help them succeed."
Web3 games, according to Magic Eden, will serve as a gateway for millions of people to adopt blockchain. The process is intended to be seamless for players, especially those unfamiliar with using a crypto wallet and self-custody assets.
Eden Games has concluded collaborations to enable marketplaces for games like Aurory, Mini Royale: Nations, Nekoverse, VBA, and Sugar Realm, in addition to launching its gaming investments arm, Magic Ventures.
France Starts Second Stage of CBDC Experiments

According to the Banque de France governor, the French central bank wants a functioning retail central bank digital currency (CBDC) available to use as early as 2023. The bank has begun the second stage of its experimentation with a wholesale CBDC, which might be used to speed up domestic and international banking transactions. Maintaining the function of public money in a digital economy is the fundamental justification for a digital euro.
Distributed ledger technology (DLT)-based wholesale CBDCs, which have the potential to hasten interbank settlements, are heavily being investigated by central banks.
Galhau addressed a more problematic CBDC by saying that a central bank directly issues retail CBDCs to a nation's residents, who can use them to buy goods and services. This supposedly eliminates conventional intermediaries like commercial banks.
Finance ministers in the European Union discussed the digital euro and came to the consensus that it should not replace but rather complement the use of cash in the union. Retail CBDCs, on the other hand, could give way to bank runs in which citizens convert their holdings from commercial banks to CBDCs by withdrawing large amounts of money from those institutions.