Discover more from Token Dispatch
Your daily new frontier-tech dispatch on blockchain and artificial intelligence. Handpicked and crafted with love by human bots 🤟
Over 12,000 subscribers
Germany's Commerzbank applies for crypto license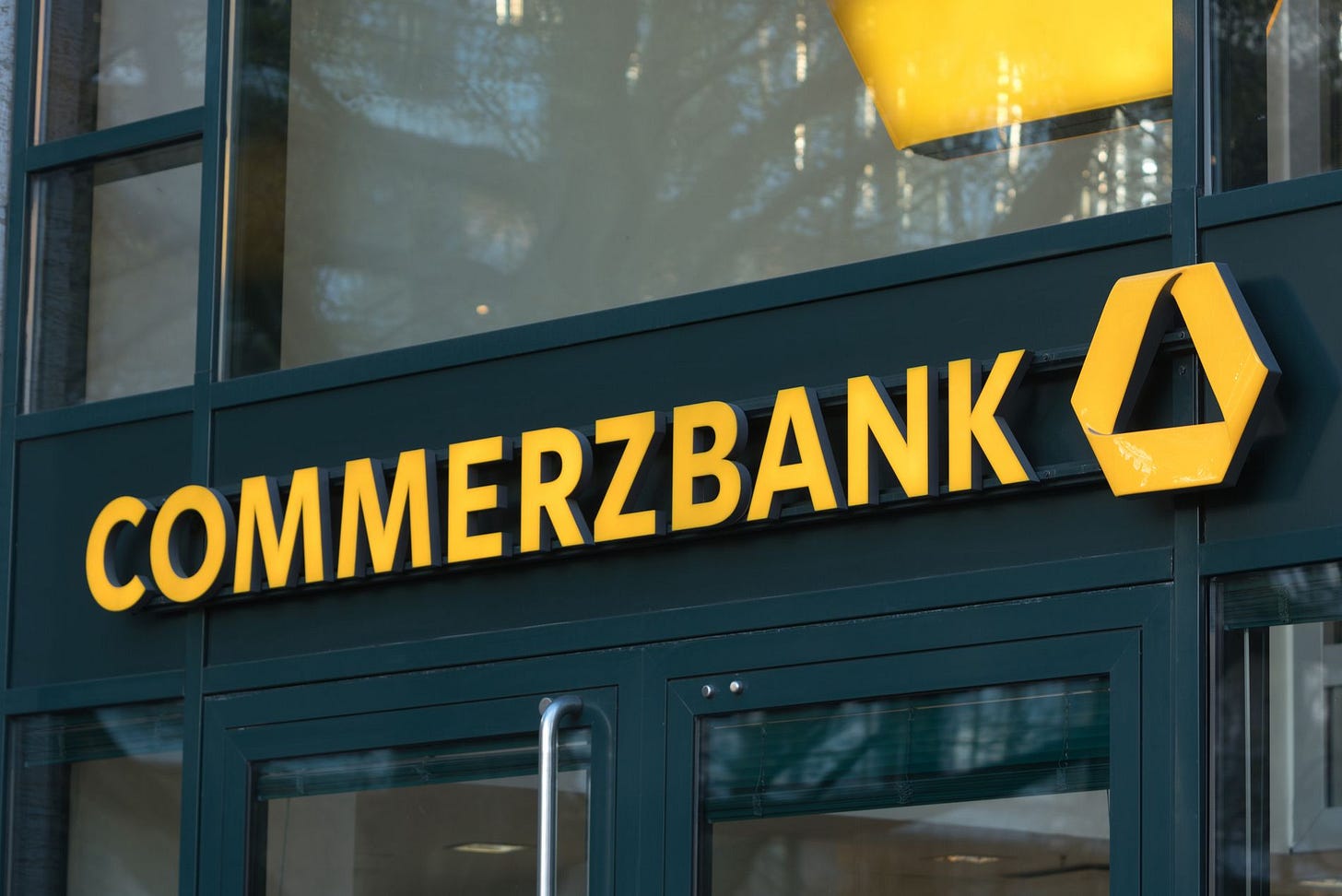 Financial organizations were concerned and skeptical of cryptocurrencies' potential and performance when it was first launched. One of the main reasons banks and other traditional financial institutions have resisted cryptocurrencies and blockchain technology for so long is that they pose a substantial threat to their centralized systems.
Many regulations have hindered banks and traditional financial institutions from investing in regulated and unclassified assets. But, despite the various objections raised by centralized financial institutions at the beginning, Several banks have now invested in cryptocurrencies as the adoption of cryptocurrencies rises globally.
Crypto and Germany
In 2021, Germany enacted a whole slew of laws, regulations, and policies aimed at accelerating the adoption of blockchain technology and cryptocurrencies. For the crypto industry in Germany, it has been a remarkable year.
German investors are also highly interested in crypto. KuCoin, a cryptocurrency exchange, has recently issued the German version of its 'Into the Cryptoverse 2022 Report,' which shows a significant surge in cryptocurrency adoption. According to the report, 16 % of Germans between the ages of 18 and 60 hold crypto.
Moreover, the findings suggest a recent surge in crypto investments among Germans. 45% of digital asset investors in the country have started trading within the past six months.  The trend shows that interest in digital assets is steadily increasing.
KuCoin's report shows that 44% of Germans are motivated to invest in the emerging asset class. 35% of investors intend to hold bitcoin assets as a source of passive income. Digital assets are regarded as a reliable store of value by nearly 30% of respondents. Germany has one of the highest female crypto adoption rates in the world, at 46 %.
Germany's central bank is also open to crypto-assets and CBDCs, but it is hesitant to deploy them until clear regulations are in place. In Germany, cryptocurrencies are currently not regarded as legal tender. All crypto businesses must acquire authorization from Germany's Federal Financial Supervisory Authority (BaFin). So far, BaFin has received 25 applications for approval as a crypto custodian, but only four have been granted.
Coinbase obtained the first crypto custody business licence from BaFin in June 2021.  The Berlin-based financial technology firm Upvest was most recently approved for a license in March. Because of the lack of precedence, the regulator said it would form an interdisciplinary, cross-departmental team to tackle any crypto-related matters.
Now, Commerzbank (CBK), one of Germany's top banking institutions, has announced that it applied for a local crypto licence earlier this year, marking the first time a major bank in the country has taken an interest in cryptocurrencies.
On April 14, a Commerzbank spokesperson told Börsen-Zeitung that the bank "applied for the crypto custody licence in the first quarter of 2022." If allowed, it will be permitted to provide exchange services and also crypto-asset custody and protection. The cryptocurrency offering would reportedly target Commerzbank's institutional client base, which has over 18 million customers and over 70,000 institutional clients.
"To this end, we entered into a cooperation with Deutsche Börse and Fin-Tech 330x in spring 2021. In addition, we are pursuing our own digital asset strategy and are also planning our own offerings for our customers in the coming years. We have applied for a license from the Bafin for the safekeeping of crypto assets. The future offer is initially aimed at institutional customers," said Bernd Reh, Senior Spokesman, Commerzbank.
This is all a significant sign that the number of crypto-friendly financial institutions will grow in the future. Furthermore, along with a clear crypto framework in various countries, crypto-friendly banks will have an easier time functioning in the future.  Cryptocurrency-friendly regulatory environments already exist in countries such as Switzerland, Gibraltar, Malta, and Estonia.
Now let's have a detailed look at Coinbase's NFT marketplace:
Coinbase's Ethereum NFT Marketplace Launches in Beta
We are back with more details on Coinbase's new NFT marketplace as promised yesterday. Coinbase NFT is now available to a small group of users added to the waitlist, which has grown to millions of people since October. Users will be included in the sequence they signed up for, with the intention to add everyone in the coming weeks. The peer-to-peer marketplace has launched with support for NFTs minted on Ethereum, soon to add more.
According to a representative, "any NFT that is for sale on the Ethereum blockchain will be searchable" on Coinbase NFT, which will aggregate listings from several marketplaces.
Coinbase's platform will launch with no additional transaction costs, apart from the regular gas fees. The marketplace will eventually charge its own fee, which Coinbase VP of Product Sanchan Saxena described as a "low single-digit price" during a media conference. Currently, Coinbase NFT is only compatible with self-custody wallets like Coinbase Wallet and MetaMask and wallets that implement the WalletConnect protocol. Users are solely accountable for the assets housed in their wallets, which can be linked to other marketplaces, exchanges, and decentralised applications.
Coinbase NFT is more than just a platform for buying and selling NFTs. It's designed to be a social experience, with social feeds that allow users to view other collectors' NFT holders and remark on their profiles and individual NFT sites. Users will have separate profile sites attached to their respective wallets and will be able to follow and communicate with other users, much to an Instagram feed.
Cricket NFT platform Rario raises $120M in Series A funding led by Dream Capital.
Rario, the world's first cricket non-fungible token (NFT) platform, announced a $120 million Series A fundraising round on Thursday, backed by Dream Capital, the corporate venture capital and M&A arm of Dream Sports. Through exclusive collaborations with six major cricket leagues and a roster of over 900 cricketers, the NFT platform claims to have the highest share of cricket NFT rights globally.
Rario now has access to Dream Sports' 140 million customers, who will be offered fiat-only products in India, potentially establishing the largest cricket NFT platform globally, thanks to Dream Capital's investment.
The company is based in Singapore and was founded by IIT Delhi alumni Ankit Wadhwa and Sunny Bhanot in 2021, recently signed one of the world's largest cricket NFT deals, a multi-year exclusive partnership with Cricket Australia and the Australian Cricketers' Association to create an Australian cricket metaverse of collectibles and gaming.
Indian sports fans can use Rario to purchase, sell, and trade NFTs using fiat-only methods such as credit cards, debit cards, and bank transfers. Rario has sold over 50,000 NFTs to sports fans in 20 countries since 2021, with the United States, the United Kingdom, Australia, and India being its top four markets.
"Cricket is the second largest sport in the world with more than 1.5 billion fans globally. NFTs are creating new forms of engagement, allowing fans to own and trade digital collectibles. Rario's global cricket NFT ecosystem will be further strengthened by the 140 million sports fans on Dream Sports." said Ankit Wadhwa, co-founder and CEO, Rario.