Discover more from Token Dispatch
Your daily new frontier-tech dispatch on blockchain and artificial intelligence. Handpicked and crafted with love by human bots 🤟
Over 12,000 subscribers
Illuvium sells $72M worth digital land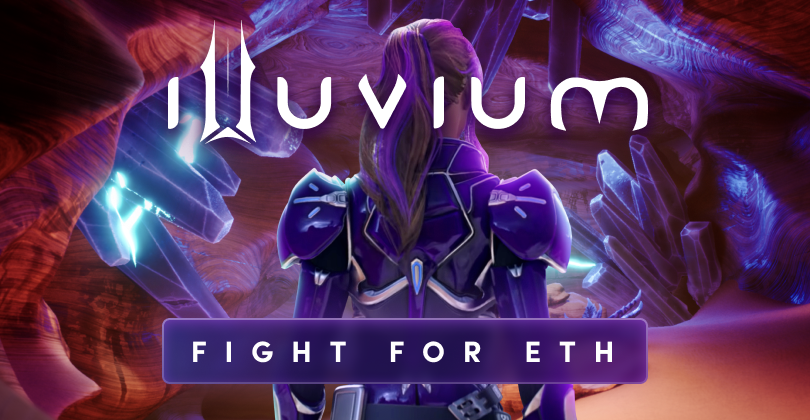 Plots of virtual land are typically built as NFTs to facilitate secondary market trading and serve as the foundation for users to engage in in-world activities in all virtual worlds. Since their introduction, virtual land NFTs have made quite a stir in the metaverse space.
The virtual land market in the major metaverses, namely Decentraland, Somnium Space, Cryptovoxels, and Sandbox, surpassed €440 million in 2021 and is expected to double in 2022. But one might think that it'll be impossible for virtual lands to live up to their 2021 self with the current crypto market crash. But,  Despite the GameFi bear market, something incredible has happened here.
During a sale that ended on Sunday, Illuvium, an upcoming Ethereum-based role-playing game, sold more than $72 million in digital land plots as NFTs.
The land was sold between June 2 and 5, 2022. Of the 20,000 available plots of land, 19,969 were sold, with the remaining 31 plots held for future giveaways. Illuvium's land NFTs are powered by Immutable X, an Ethereum layer-2 scaling solution that enables cheaper, faster, and more energy-efficient transactions. Illuvium mentions that no gas wars occurred during the land sale.
The game places players in an alien world where they capture and battle creatures known as Illuvials. Battles earn the player rewards and experience points, allowing them to progress into more dangerous terrains of Illuvium.
Illuvium will be available for PC and Mac in the third quarter of 2022. Players can buy weapons and armour as NFTs to use during gameplay, which can then be resold on the in-game marketplace IlluviDEX, which has yet to launch.
During the sale, Illuvium made more than $72 million. According to a tweet from the creators, 4,018 ETH (over $7.4 million today) will be redistributed to holders of the game's ILV token that have it staked. Meanwhile, 239,388 sILV2 tokens (worth approx. $22 million) will be burned or permanently destroyed, reducing the total supply.
With the market's bearish trend, the excitement surrounding major digital land projects, such as Sandbox and Decentraland, has waned among players and investors. Illuvium's interactive and immersive nature, with various pursuits and battles, as well as its economic advantages, such as no gas wars, make it an ideal metaverse project for both gamers and investors.
English Premier League files crypto and NFT trademarks
The English Premier League (EPL) has registered two cryptocurrency and NFT trademarks in the United States, indicating that the world's most popular sports league is preparing to expand its brand into the digital realm.The Premier League, which consists of 20 teams, is the highest level of professional football in England.
The trademark filings encompass creating and selling digital assets, virtual clothes, cryptocurrency, and media files validated by NFTs, among other things. Premier League trademarks in "virtual, augmented, and mixed reality software" are also covered.
In recent years, the market for NFTs has increased as more companies have entered the fray. NBA Top Shot, which debuted in 2020, is one of the most well-known NFT ventures in the sports industry. According to CryptoSlam, the collection's sales recently reached $1 billion.
The use of digital currency is growing more widespread in the sports industry, particularly among football clubs. Arsenal launched a collaboration with Unagi last month as part of their free-to-play game, in which player cards could be acquired as NFTs.
Users can keep player cards as collectibles, sell them on the open market for in-game currency, or swap them with other players in the game. It could be a sign of things to come for the Premier League in the future.
Binance Labs makes undisclosed 'Strategic Investment' in PancakeSwap
Binance's venture capital arm has invested in CAKE, the utility and governance token of decentralized exchange (DEX) PancakeSwap.
The undisclosed investment is part of the entity's "mission to facilitate the next wave of global blockchain adoption by providing technology development, marketing and community support, and enterprise solutions for Web3 transformation," said Binance Labs.
PancakeSwap is an automated market maker (AMM) that allows users to trade, swap, and stake BEP-20 tokens released on Binance's BNB Chain. It was launched in September 2020. According to Binance Labs, it is the network's most popular decentralized app (dApp), with over 400,000 daily active users. According to DeFi Llama, the platform's total value locked (TVL) is currently $4.82 billion, making it BNB Chain's most valued application.
PancakeSwap was constructed by anonymous developers and is neither controlled nor operated by Binance, which runs its own DEX. It's unclear whether this will alter due to today's news.
Binance Labs, which bills itself as a "social impact fund and an effort to incubate, invest in, and develop blockchain and cryptocurrency entrepreneurs, projects, and communities," has invested in more than 100 projects since its inception in 2018. They announced last week the launch of a new $500 million investment fund aimed at finding and supporting "projects and creators with the potential to build and lead Web3 across DeFi, NFTs, gaming, Metaverse, social, and more."