Discover more from Token Dispatch
Your daily new frontier-tech dispatch on blockchain and artificial intelligence. Handpicked and crafted with love by human bots 🤟
Over 12,000 subscribers
Instagram to support NFTs as early as this week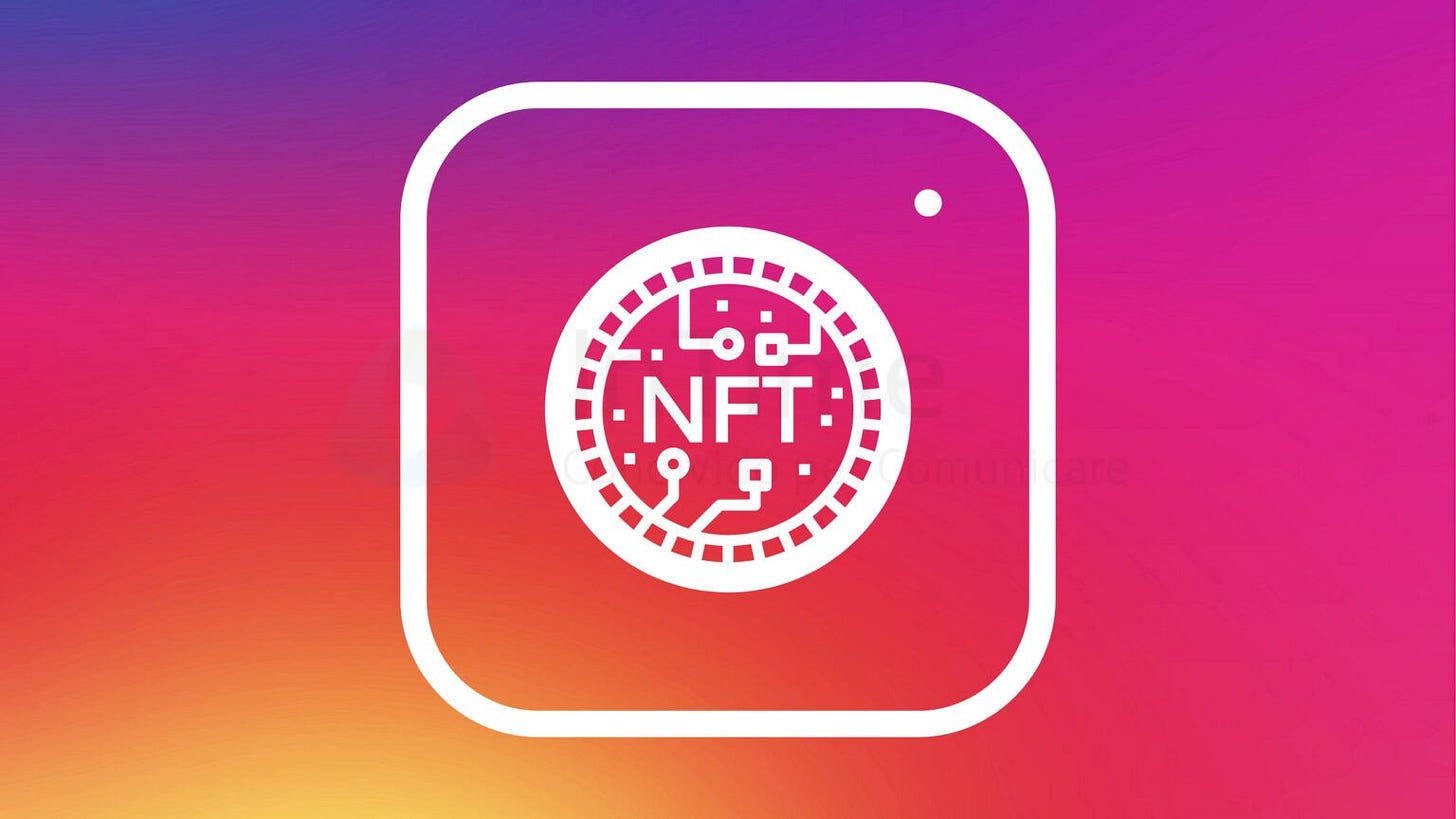 According to recent reports, Instagram is planning to add support for NFTs. Instagram's venture into NFTs should come as no surprise. In December, Instagram CEO Adam Mosseri stated that the social media platform was "actively exploring NFTs" but provided no further details.
Meta, Instagram's parent company, has also revealed additional plans to leverage blockchain technology. Last year, the company's decision to rebrand from Facebook to Meta spiked corporate interest in the metaverse.
Meta Platforms CEO Mark Zuckerberg confirmed At the South by Southwest conference in Austin In march that the company was "working on bringing NFTs to Instagram in the near term." According to reports, Facebook will enable minting and group membership later this year. In addition, the company has been investigating the development of a virtual currency for the metaverse, or "Zuck Bucks," as company employees dub it.
Instagram is the trendsetter. Whatever happens in the platform is followed by a large number of people; the perfect platform to create peer pressure, and that's precisely why it's a favourite of every business marketing team. Instagram will make it easier to buy and sell NFTs, lowering the entry barriers. The launch of an NFT marketplace on Instagram and bringing it to the attention of Instagram's large audience has the potential to supercharge the overall market's mainstream acceptance more than any other medium can.
NFTs from some of the most popular blockchain networks for crypto art will be available on Instagram as shortly as Monday, with the announcement of a pilot.
Meta's social media powerhouse is working on NFT integrations for Ethereum, Polygon, Solana, and Flow. These networks host the vast majority of digital collectibles trading, with Ethereum and its Bored Apes leading the way in terms of market capitalization.
Meta, the owner of Instagram, is yet to announce the move formally, but the report claims that the tech behemoth might make an official announcement probably around next week.
According to the report, the platform will target a specific group of NFT enthusiasts in the United States. Whether Instagram will support NFTs from all networks during the pilot is unknown. The platform also won't be charging users for displaying their NFTs.
Furthermore, Instagram has mentioned that it intends to support widely used crypto wallets such as MetaMask. Users will need to connect their wallets to the platform before they can display the NFTs on their profile and prove ownership. They will also be able to tag the NFTs' creators.
Earlier this year, Twitter began allowing its users who have subscribed to Twitter Blue, a paid premium service including features unavailable to regular users, to showcase the NFTs they own as verified profile pictures.
One of the world's largest social networks, Reddit, has also integrated Ethereum-based NFTs into its platform.
However, this all contributes to Meta's grand vision of an all-encompassing metaverse space where you can buy, sell, and trade digital items. This integration in Instagram is expected to increase NFT adoption by increasing the number of people who have access to NFTs.
Sony and Theta Labs Launch 3D NFTs
Theta Labs, the company behind the blockchain-based video streaming platform Theta, has teamed up with Sony to release two types of 3D NFTs built specifically for use with the Sony Spatial Reality Display (SRD).
Users can view and manipulate three-dimensional items without using glasses or other attachments with Sony's SRD. This tablet-like device displays three-dimensional graphics in semi-physical augmented reality. The SRD display follows the viewer's eye movement, pivoting the image in time when they tilt or move their head in any direction, giving the impression of a real 3D object.
The Tiki mask "The Tiki Guy," one of the two SRD-enabled NFTs, will be limited-edition: only 10 "Tiki Guy" NFTs will be made. Owners of the NFT with a US mailing address, on the other hand, will receive a free Sony SRD. The SRD costs $5,000 per unit right now.
The SRD will be integrated into more projects developed for the metaverse, a future, more immersive version of the internet that people will use to work, play, and socialize in augmented and virtual settings as part of the NFT launch.
Another point of contention in the metaverse's potential is interoperability: the capacity of digital objects like NFTs to freely move between the many platforms and formats that will make up the metaverse. Theta and Sony NFTs, for example, can only be used with a Sony SRD. Future owners of these NFTs will have to repurchase 2D versions of the same NFTs from Theta for an extra cost if they want to display them in 2D on their Twitter account or PC.
SEC Fines Nvidia $5.5M for Not Disclosing Crypto Mining Impact on Gaming Business
Nvidia has agreed to a $5.5 million settlement with the Securities and Exchange Commission (SEC) for failing to disclose the impact of cryptocurrency mining on its gaming business in two quarterly filings in 2018.
"Without admitting or denying the SEC's findings, NVIDIA agreed to a cease-and-desist order and to pay a $5.5 million penalty," reads a release from the SEC.
As early as August 2017, Nvidia began emphasizing crypto mining and its influence on its original equipment manufacturer (OEM) business. However, the corporation failed to indicate that its gaming division had benefited from the popularity of crypto miners. The Nvidia GeForce GTX 580, designed for gaming, became popular among cryptocurrency miners in 2018. However, the corporation remained sceptical about the influence of crypto mining on its revenues.
NVIDIA attributed the growth in gaming income to eSports in a quarterly report filed on May 18, 2018, for the three months ended April 29 that year. Nvidia CEO Jensen Huang stated it was impossible to determine how much of its hardware was being utilized by miners in November of that year when demand for graphics cards had decreased.
"My point is that we just don't know — when we're going through what we see as our sales and the percentage of Bitcoin in our sales, we don't know how much inventory AMD pushed into the channel," he said. "There's no way for us to calculate that."