Discover more from Token Dispatch
Your daily new frontier-tech dispatch on blockchain and artificial intelligence. Handpicked and crafted with love by human bots 🤟
Over 12,000 subscribers
Is Apple experimenting with NFT like trading cards 👀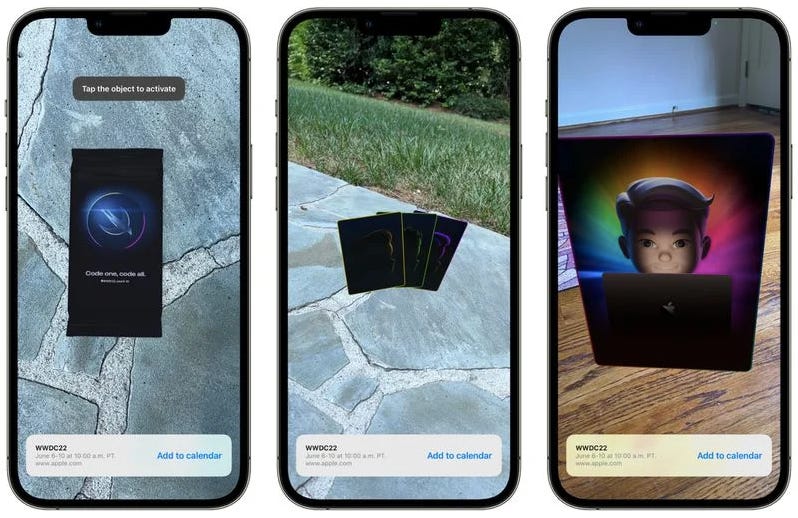 Big tech giants such as Microsoft, Samsung, and Sony have already made inroads into the metaverse space, offering a collaborative operating system, improved connectivity, and more immersive user experiences. And everyone is hoping for Apple to release a Web3-compatible device eventually. Many analysts and experts are looking forward to the release of one of the most influential trendsetters in the tech world, such as Apple's own mixed reality headsets.
Apple's mixed-reality headset, which will provide both virtual and augmented reality functionalities, was supposed to be released during the WWDC conference, but after experiencing technical setbacks in development, that prospect appears unlikely.
We remember how during Apple's Q1 2022 earnings call, CEO Tim Cook expressed optimism about the societal adoption of augmented reality and metaverse technologies, stating that the company intends to "invest accordingly" in the emerging sector. His proclamation of the company's intention to invest in the Metaverse caused Apple stock to rise.
In an investor call, Tim Cook stated that Metaverse applications have a lot of potential and that his company is investing in AR development on its devices. Despite Cook's embrace of the Metaverse, it is believed that the headset in development will be focused on gaming, communication, and content consumption.
In the run-up to the 33rd WWDC, which begins on June 6, Apple has announced plans to showcase the development of four new devices and software models. However, Many in the NFT community believe that Apple may have trading cards on the way.
The rumour started when fanatical forums like MacRumours, which focus on supporting and debating Apple's progress, discovered that by clicking on the Memoji characters, an augmented reality mode with three trading card characters available to be claimed is revealed.
The Memoji characters were recently incorporated into Apple's consumer branding strategy. They've been crucial to Apple's marketing because of their cultural linkages. The cards are expected to be available for collection as Web2 elements in the upcoming 2022 WWDC.
The cards, however, bear an uncanny resemblance to avatars from RTFKT Studios' CloneX and animated cards from Gary Vaynerchuk's VeeFriends Series 2. This has fueled speculation in the NFT community about the future potential of an Apple NFT.
Trading cards and card games have been popular since the 1990s, ranging from rare Pokémon cards to sports cards. The Collectible Experience is Changing Thanks to NFT Trading Cards. NFTs are elevating collecting by removing many obstacles that physical collectibles face. NFT trading cards are also valued depending on their rarity, utility, and certification, like physical cards. Apple's decision to release trading cards has raised many eyebrows in the gaming community.
China to Airdrop $30 million of digital Yuan to revive locked down economy
The Chinese government plans to issue $30 million in digital yuan in the Shenzhen district. The Shenzhen Municipal Bureau of Commerce collaborates with local banks on a proposal to distribute red envelopes through sweepstakes.
The COVID-19 relief lottery will feature three reward tiers: 88, 100, or 128 digital yuan (e-CNY) envelopes on May 31. The total money distributed in the red envelopes is $4.5 million U.S. dollars. The rewarded digital yuan will be available online and offline, which may be the most crucial feature.
The Chinese digital yuan (e-CNY) has already been implemented in 28 districts. Its use has spread to everyday activities such as public transit, supermarket shopping, and internet purchasing. Even though tech-savvy Chinese citizens have quickly adapted to the local digital currency, the Chinese government has maintained its ban on all cryptocurrency trade and mining, which it refers to as "illegal fundraising." Despite this, China is still the world's second-largest crypto mining country, trailing only the United States.
Several recordings of enraged individuals have gone viral due to the strict lockdown laws, which have resulted in poverty in rural areas and prevented hundreds of thousands of people from leaving their homes for two months. In an attempt to help citizens and boost an Economic Stricken with Corona, china is planning this Airdrop.
Over 80 countries are working to create their own digital currency, with China leading the way. While the United States' digital currency is still in its early stages of development, the economic powerhouse has embraced cryptocurrency more positively than China.
Once resistant Kanye West files NFT trademark applications
According to 17 new trademark applications filed surrounding Kanye West's Yeezus alter persona, the artist may be planning to mint his own non-fungible tokens (NFT). The move shows that the famous rapper/designer has modified his anti-NFT position since publicly condemning digital art collectables early this year.
The move comes just months after West expressed his disinterest in NFT projects in a handwritten letter posted to his Instagram on Feb. 1 that stressed that the rapper's priority was on "building real products in the real world," a post he has since deleted.
On May 27, West, who legally changed his name to "Ye," submitted trademark applications with the United States Patent and Trademark Office (USPTO) for "blockchain-based non-fungible assets," "currencies and tokens," and "online retail store services including... digital art." West might also open Yeezus-branded amusement parks, according to the documents.
As celebrity NFT initiatives and endorsements have grown in popularity, trademark registrations have become a popular way for the wealthy and famous to get their feet wet and stake a claim. In April, soccer legend David Beckham filed three metaverse and NFT-related trademark applications, while Biggie Smalls' intellectual property manager, Notorious B.I.G., L.L.C., filed three trademarks in March, indicating the company's likely plans to issue NFTs of the late rapper.