Discover more from Token Dispatch
Your daily new frontier-tech dispatch on blockchain and artificial intelligence. Handpicked and crafted with love by human bots 🤟
Over 12,000 subscribers
Lido and Moonbeam bring liquid staking to Polkadot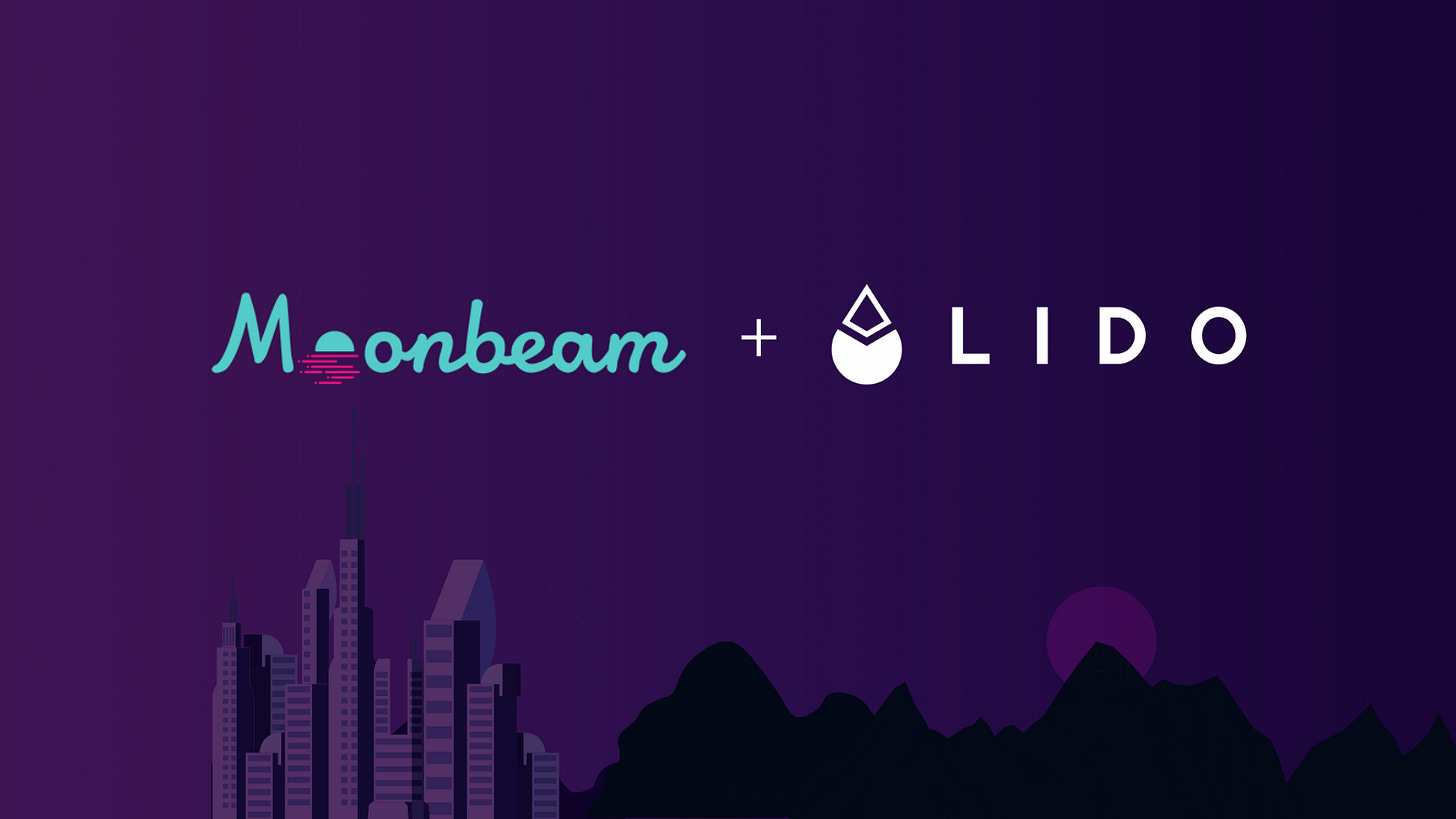 Liquid staking is a novel way to avoid the risks associated with illiquidity, complexity, and centralization. Previously, investors who wanted to pursue staking as an investment strategy had to accept the opportunity cost of losing their staked capital. Liquid staking has emerged as a viable alternative today.
Owners of cryptocurrency who have pledged to support proof-of-stake networks by dedicating their tokens to the process receive a staked IOU token under liquid staking. This token can then be invested in DeFi apps to earn a return. To put it simply, liquid staking allows staked assets to serve as collateral in a DeFi application. As a result, investors who use liquid staking can earn a higher yield on their staked assets.
Polkadot has added liquid staking to its blockchain network, allowing cryptocurrency owners who have pledged to support the proof-of-stake (PoS) network to increase their revenue streams by earning additional yield in decentralized finance (DeFi) applications.
Moonbeam, a connectivity layer between the Ethereum blockchain and services being built on Polkadot, is working with Staking platform Lido.
"Liquid staking is really a basic building block of the ecosystem," Moonbeam CEO Derek Yoo said in an interview. "We're positioning Moonbeam as the best place to make multichain apps, as we believe there's a shift from people deploying apps with a single chain to deploying them to multiple chains, which is part of why we chose to build on Polkadot."
Lido provides staking systems for Ethereum 2.0, Terra, Solana, and Kusama. Users who stake with Lido can keep control and liquidity of their staked tokens. Lido is the second-largest decentralized finance (DeFi) platform, with over $15 billion in locked value. Ethereum has about $10 billion, and Terra has about $5 billion.
Polkadot requires users and validators to stake DOT tokens to be able to engage in transaction verification and network protection in exchange for rewards. The amount of DOT that must be locked, on the other hand, is quite large and can result in significant opportunity costs. The introduction of Lido on Polkadot allows DOT holders to stake their assets while maintaining access to the liquidity of that staked position and contributing to Polkadot's security and stability.
Users who stake DOT with Lido will receive a staked DOT (stDOT) token in return. stDOT is a rebasable token, similar to stETH, with rewards reflected in a daily balance increase. stDOT represents staked tokens that can be sold without waiting for a bonding period and have a lower risk of slashing events.
The collaboration will be led by MixBytes, who the Lido DAO has chosen to lead the Polkadot ecosystem's technical integration. In February, the same group announced liquid staking on Kusama, Polkadot's so-called canary network, an experimental version of the blockchain. This integration brings liquid staking to Moonriver and Moonbeam, allowing DOT holders to stake their assets while also accessing the liquidity of that staked position. The deployment of Lido is a critical building block for Moonbeam's growing DeFi ecosystem, allowing token holders to make productive use of their Polkadot ecosystem assets.
According to Lido CEO Konstantin Lomashuk, part of Lido's concept as a decentralized autonomous organization (DAO) is that any team can create liquid staking on any chain. Still, liquid staking on Polkadot was difficult, according to Lomashuk, who noted that Polkadot's cross-chain communication format (XCM), which the integration relied on, was only released three weeks ago.
Eth2 Beacon chain launches on Ropsten testnet, paving the way for Merge.
The Eth2 Beacon Chain was released on a public testnet by the Ethereum Foundation yesterday, marking one of the penultimate tests before Ethereum switches to Proof-of-Stake later this year.
On the long-standing public testnet, Ropsten, the Beacon Chain, Eth2's Proof-of-Stake consensus layer, went online.
According to developers, the debut is a significant step toward Ethereum's much-anticipated 'chain-merge,' which is expected to go live on the mainnet in the third quarter of this year. The Merge will bring the Eth2 Beacon Chain and the Ethereum mainnet together, changing the network from Proof-of-Work to Proof-of-Stake consensus.
The improvement, which has been in the works for several years, is expected to result in a 99 per cent reduction in Ethereum's energy consumption on mainnet and a 90 per cent reduction in Ether issuance.
Analysts believe that The Merge will burn more ETH than is created through validator awards due to the base cost of Ethereum's transaction fees being burned, turning the coin deflationary. The Merge must first launch on three public Ethereum testnets, commencing with Ropsten, after five shadow forks – deployments to closed testnets.
The foundation encourages companies building Ethereum-based dapps to test their code on Ropsten and report any bugs they encounter to the Foundation. There is no need for ETH holders to prepare for The Merge.
Aptos revealed as PayPal Ventures' first layer 1 investment
According to Aptos Labs, PayPal Ventures was one of the investors in a $200 million fundraising round revealed in March, a team that's bringing Facebook's star-crossed Diem blockchain to life. This will be  PayPal Ventures' first investment in a foundation layer project.
The Aptos team comprises the Diem (previously Libra) blockchain's original creators, researchers, designers, and builders. The blockchain was announced as the backbone of a stablecoin project by Meta Platforms (previously Facebook) in 2019. However, the project never got off the ground due to regulatory issues.
"We believe in the work that the Aptos Labs team is doing to build a safe and scalable layer 1 blockchain," PayPal Ventures investment partner Amman Bhasin said in a statement. "With the promise of improved reliability and security, faster transactions, and lower fees, the Aptos blockchain is designed to make it conducive to building new rails and compelling to corporate clients and crypto-native developers."
Diem was shut down by Meta earlier this year, and the technology and other assets were sold to Silvergate Bank. Much of the work done by Diem-affiliated teams, on the other hand, was released under open-source licences, making the intellectual property freely available. Avery Ching and Mo Shaikh lead Aptos. The DiemBFT consensus protocol, which Aptos is employing, was co-created by Ching.
Andreessen Horowitz (a16z) led the Aptos funding round, including Multicoin Capital, a16z alum Katie Haun, Three Arrows Capital, ParaFi Capital, and Coinbase Ventures, among others. The involvement of PayPal Ventures was not disclosed in the initial statement.