Discover more from Token Dispatch
Your daily new frontier-tech dispatch on blockchain and artificial intelligence. Handpicked and crafted with love by human bots 🤟
Over 12,000 subscribers
Macy's Thanksgiving Day Parade comes to the metaverse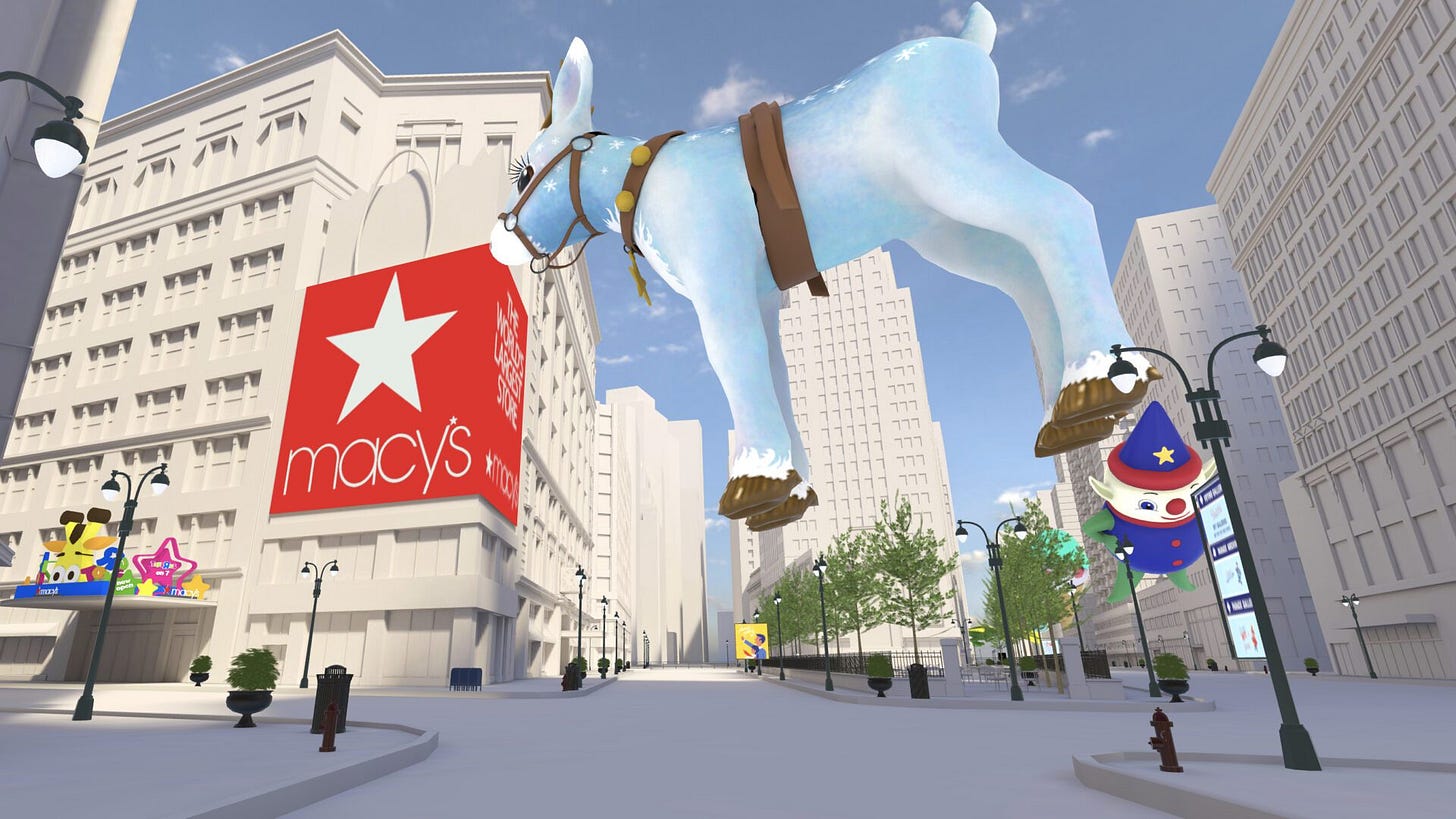 This year, Macy's is bringing its 96th Thanksgiving Day Parade to the metaverse!
And, the retail giant is launching its first-ever NFT based on a parade balloon from the 2021 parade - from designs made available in the store's NFT collection from the 2021 parade, a good tradition.
Macy's is hosting the virtual event on OnCyber platform on November 24 and will include virtual galleries from five NFT projects: Boss Beauties, Cool Cats, gmoney, SupDucks, and VeeFriends.
The event will be accessible via desktop and mobile without the need for a log-in ID, crypto wallet, or virtual reality headset.
Fans will get to vote for their favourite creators, From November 24 at 9 AM EST through December 4 at 11:59 PM EST. The winner NFT will be transformed into high-flying form in next year's Macy's Parade.
The first 100,000 fans who vote will receive a free digital collectible from Macy's. To vote, no purchase or claim to an NFT collectible is required.
Macy's will sell virtual gallery pass NFTs in the experience for $50 each, with proceeds going to the nonprofit Big Brothers Big Sisters of America.
Macy's released a genesis collection for the parade last year. Each of the NFTs released at the time was inspired by Macy's parade balloons that debuted years ago.
"As we countdown to the 96th Macy's Parade, we are excited to bring this spectacle once again to the web3 virtual landscape with a fun experience that empowers our fans, collectors and our highly engaged Discord community," said Will Coss, executive producer of Macy's Thanksgiving Day Parade.
SBF Apologizes to FTX Employees and Describes FTX collapse in Internal Letter
In a recent letter to his former coworkers, FTX founder Sam Bankman-Fried expressed regret and explained the cryptocurrency exchange's demise.
He claims that a string of incidents led to FTX's collapse. According to Bankman-Fried, it all began with the market meltdown in the spring, progressed to credit "drying up," and culminated with clients mass-withdrawing their money. The letter claims that, in addition to these problems, FTX's poor risk management and margin management finally forced the business to apply for bankruptcy protection.
"I never intended this to happen. I did not realize the full extent of the margin position, nor did I realize the magnitude of the risk posed by a hyper-correlated crash," Bankman-Fried said in the letter. "The loans and secondary sales were generally used to reinvest in the business–including buying out Binance–and not for large amounts of personal consumption."
However, He chose not to address claims that FTX used client and business assets to support Bankman-Alameda Fried's Research.
He also mentioned that there is yet a chance to save the company. "I believe that billions of dollars of genuine interest from new investors could go to making customers whole. But I can't promise you that anything will happen because it's not my choice."
Including debt to its own subsidiary, Digital Currency Group reveals $2 billion in liabilities.
A letter delivered to shareholders today states that the $2 billion in loans held by Digital Currency Group (DCG) are still overdue.
The letter most notably indicates that Genesis Global Capital, a subsidiary of Digital Currency Group, granted DCG itself more than $500,000 in loans.
Already contentious is the two companies' financial arrangement. Genesis stopped taking deposits on November 16. In the days preceding that choice, the corporation attempted to secure a $1 billion emergency loan but was unsuccessful. According to reports from Monday, if Genesis can't raise enough money, it might declare bankruptcy.
Though CEO Barry Silbert made an additional effort to reassure clients that DCG and its affiliates are still stable. DCG will "come out of [this one] stronger," he stated, noting that it had "weathered past crypto winters." He claims that DCG has raised $25 million in funding and anticipates earning $800 million this year.