Discover more from Token Dispatch
Your daily new frontier-tech dispatch on blockchain and artificial intelligence. Handpicked and crafted with love by human bots 🤟
Over 12,000 subscribers
Madonna and Beeple launch a new NFT collection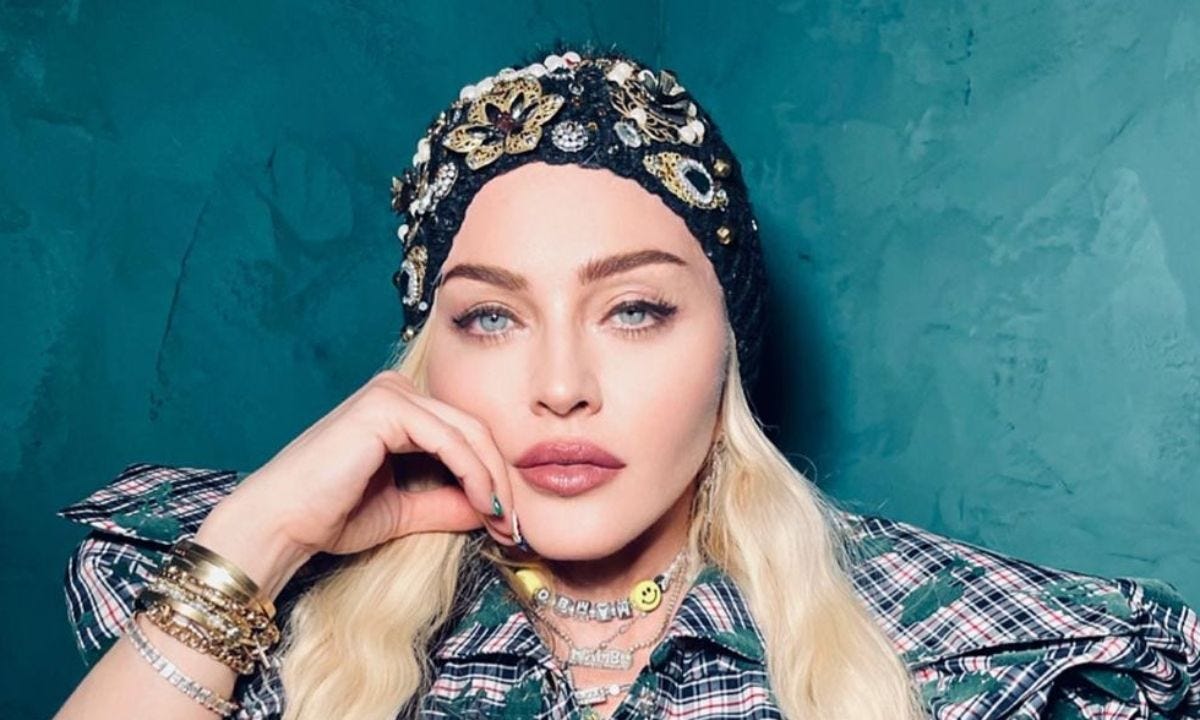 The music industry and the digital world continue to converge, with prominent musicians advocating for NFTs and Web3.
On Monday, Pop culture icon Madonna and the digital artist Beeple, released her own NFT series, titled "Mother of Creation", featuring three digitally rendered videos that recast her as a nude woman giving birth to different aspects of life.
Beeple made headlines last year for the $69 million sales of his "EVERYDAYS: THE FIRST 5000 DAYS" collection. Beeple had previously sold many pieces of digital artwork tokenized on a blockchain for proof of ownership, but that staggering price elevated him to the mainstream as a symbol of the unexpected surge in NFT activity. And obviously, it altered his life as well. Collaboration with the queen of pop is definitely the best next move for him.
According to the pair, the artwork represents "a different form of birth in our contemporary world" and portrays Madonna as a mother and creator.
Mother of Creation
The three NFT videos in the collection depict Madonna giving birth to three major aspects of humanity. Flora, fauna, and technology.
The first NFT, "Mother of Nature," focuses on plant life. Madonna is seen in the video lying on a laboratory bed, giving birth to a tree that begins to blossom as soon as it leaves her body.
"Mother of Evolution" demonstrates how rebirth can occur even in times of chaos or apocalypse. Madonna is shown sitting in a modified vehicle in the middle of a crumbling city, with butterflies bursting from her insides.
And the third NFT, titled "Mother of Technology," depicts humanity's relationship with technology by showing Madonna's avatar giving birth to a series of biomechanical centipedes on a forest floor. Deep, surreal and a bit disturbing!
"It's been an amazing journey building this together from an intellectual idea to an emotional story, giving birth to art. I wanted to investigate the concept of creation, not only the way a child enters the world through a woman's vagina, but also the way an artist gives birth to creativity. Most importantly we wanted to use this opportunity to benefit mothers and children who are most in need right now." said Madonna.
According to the project's website, the proceeds from the NFTs will go to three charities: The Voices of Children Foundation, The City of Joy, and Black Mama's Bail Out, which help Ukrainian children, female survivors of violence in the Democratic Republic of the Congo, and incarcerated black women, respectively.
On May 11, the collection will be auctioned off through the NFT marketplace SuperRare. Moonpay, a cryptocurrency platform involved in the project, will donate $100,000 to each of the three charities.
KuCoin Raises $150M in Round Led by Jump Crypto at $10B Valuation
KuCoin's valuation has risen to $10 billion in its first financing round in four years as the global cryptocurrency exchange looks to expand its web3 ecosystem further.
Jump Crypto led a $150 million pre-Series B financing round for the Seychelles-based company. Circle Ventures, IDG Capital, and Matrix Partners also took part in the new round, according to KuCoin.
"We are pleased to support the company as it continues to grow and expand its offerings in futures and margin trading, lending, staking and passive yield generation to support the growth of Web 3.0 and the crypto markets," Tak Fujishima, head of Asia at Jump Crypto, said in a statement.
KuCoin will use the funds to expand its product offerings beyond its current centralised trading services, and also to increase its presence in the broader Web 3 market by developing crypto wallets, as well as decentralised finance (DeFi) and non-fungible token (NFT) platforms, via its investment arms KuCoin Labs and KuCoin Ventures.
StarryNift Announces $10M Funding to Power Its Metaverse Launch
StarryNift, a metaverse gaming platform, has announced the successful completion of a $10 million pre-A funding round to support the launch of its upcoming Starryverse.
Susquehanna International Group (SIG), one of the first and largest shareholders of ByteDance, the Chinese parent company of TikTok, led the funding round. The funding round also saw participation from Binance Labs, BSC Fund, Alameda Research, and GBV Capital.
StarryNift allows players and commercial users to create, auction, trade and play with unique non-fungible tokens (NFTs). Along with digital items, players can customise their avatars and farm rewards for participating in and contributing to the project's development.

"With the fusion of NFTs into games, players continuously earn rewards and become more involved, making NFT games more engaging and sustainable,"  said Lv Nan, an investment manager at Susquehanna who has joined StarryNift's board of directors.
Later this month, StarryNift will hold its Anniversary Carnival, which will include the launch of a metaverse called Starryverse, a marketplace, a spaceship expedition game, and other features.