Discover more from Token Dispatch
Your daily new frontier-tech dispatch on blockchain and artificial intelligence. Handpicked and crafted with love by human bots 🤟
Over 12,000 subscribers
McDonald's starts accepting Bitcoin in Lugano, Switzerland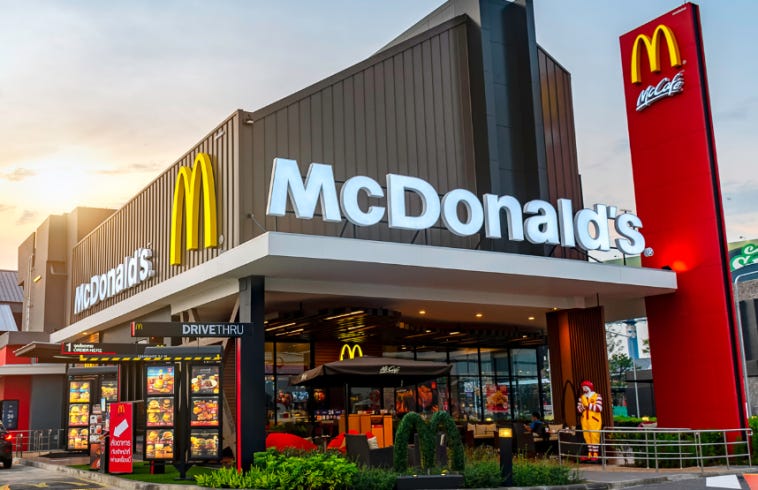 After its Metaverse restaurant initiative, multinational fast food chain McDonald's has now begun accepting Bitcoin and Tether. Let's take a look at how and who made it possible.
Plan ₿ Foundation
Plan ₿ Foundation is a joint initiative between the Swiss City of Lugano and USDT stablecoin issuer Tether; it basically wants to boost crypto adoption across the city by trying to influence all daily activities for residents.
On March 3, 2022, the City of Lugano signed a memorandum of understanding with Tether Operations Limited, launching "Plan ₿," and Tether has created two funds:
Investment pool for crypto startups - $106 million, or 100 million Swiss francs.

To encourage the adoption of crypto for shops and businesses across the city - around $3 million, or 3 million Swiss francs.
What happened next? Plan ₿ announced a partnership with payment facilitator GoCrypto to bring Bitcoin (BTC), Tether (USDT), and LVGA payments to Lugano, allowing residents to use their wallets at McDonald's and other merchants.
"GoCrypto payments will be available at nearly a dozen merchants throughout the city, including Mcdonald's, art galleries, and more." Says a press release.
So now, McDonald's has begun accepting Bitcoin (BTC) as a payment method in the 63,000-person Swiss town. Users can use their wallets at these places to pay with the Bitcoin Lightning Network, USDT, and local payment token LVGA
Not only McDonald's, but by the end of the year, the organization plans to enable over 2,500 merchants to accept bitcoin payments.
Previously, McDonald's started accepting bitcoin as payment in El Salvador last year, after the country became the first to adopt cryptocurrency as a legal tender.
Japan to Invest in Metaverse and NFT Expansion
Non-fungible tokens (NFT) and metaverse services are part of Japan's ambitions to invest in digital transformation, according to Prime Minister Fumio Kishida in a recent policy speech.
He also referred to digitilizing national identification cards. The cabinet would "support efforts to extend the usage of Web 3.0 services that leverage the metaverse and NFTs", the prime minister added.
Users of cryptocurrencies in Japan have witnessed several changes during Kishida's term in power, including Mt. Gox going forward with reimbursement procedures after years of legal hurdles and restoring cryptocurrency ATMs in the nation.
The govt also published an "NFT White Paper," which referred to Web3 as "the next frontier of the digital economy" and offered strategies for advancing the national Web3 strategy.
Mythical Games Creates Mythos Foundation to Decentralize Web3 Gaming
Mythical Games, a firm that develops game technology, is making additional efforts to decentralize Web3 gaming and accept traditional users and platforms.
The Mythos Foundation will be established by the firm that developed the well-known multiplayer game Blankos Block Party to welcome and assist new players and developers into its ecosystem.
Additionally, it will oversee the activities of the recently established Mythos DAO, a decentralized autonomous organization that will give its members a say in the growth of its ecosystem.
The decision of Mythical to decentralize its platform is consistent with the Web3 principles incorporated into its products. This includes developing non-fungible token (NFT) games and assisting developers through its backend platform.