Discover more from Token Dispatch
Your daily new frontier-tech dispatch on blockchain and artificial intelligence. Handpicked and crafted with love by human bots 🤟
Over 12,000 subscribers
Mercedes Benz is setting up a decentralized data sharing network on Polygon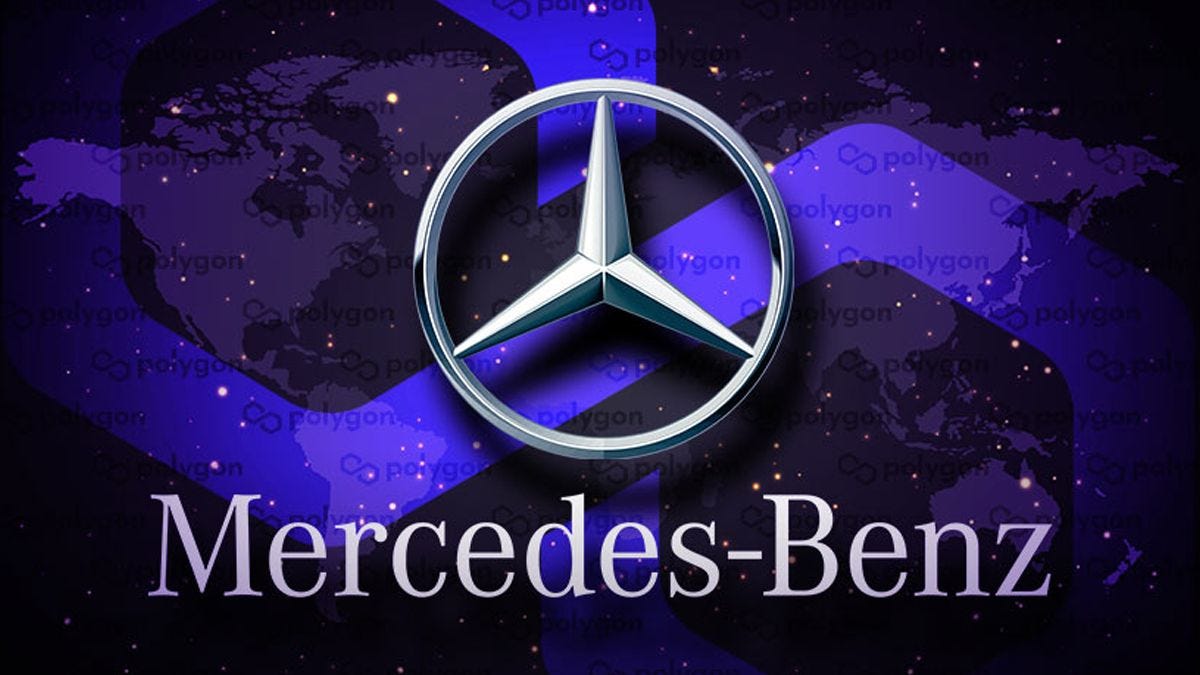 The polygon adoption spree continues.
We all know that there's been a lot of interest surrounding Polygon recently. And now, the network is joining hands with Mercedes Benz for a new platform. Another big move!
When you think about it, many new projects in the Web3 world are powered by the layer-2 network. The native token MATIC is also doing well compared to the other Altcoins.
Aside from the carbon neutrality reasons, here are the factors that led to the wider adoption:
Obviously, Ethereum merge. The native token, MATIC, saw a buying frenzy because of the upcoming shift from proof-of-work to proof-of-stake.

A notable rise in the number of platforms that provide liquid staking for MATIC tokens and ensure staking rewards for MATIC holders.

The number of crypto-projects on Polygon, including DeFi protocols, has increased, making it more popular each day. The announcement of Nothing phone, the crypto smartphone, partnerships with biggies including Meta, Stripe, and Adobe and selection for the Disney accelerator program.

The NFT push. In addition to the NFT projects that have migrated to Polygon, Reddit announced that it is launching an NFT market on the Polygon network on July 7.
Now, Mercedes Benz & Polygon Launches Acentrik - a blockchain-based data sharing network.
Acentrik is supposed to be a "decentralized data marketplace". It will enable its users to buy and trade data in a decentralized setting.
The users will be able to trade a variety of data on this blockchain-based platform, including insurance details, results of scientific trials, and much more.
What's new? Each dataset is represented by an NFT, and a metadata hash is saved with it.
Following the announcement, MATIC's price increased by 10% to a day high of $0.90, which surprised nobody.
Santander Brazil is soon getting into Crypto.
Spanish multinational bank Santander (SAN) plans to provide crypto trading facilities to its clients in Brazil. It also intends to launch more crypt-related services shortly.
"We recognize that it is a market that is here to stay, and it is not necessarily a reaction to competitors positioning themselves. It is simply a vision that our client has demand for this type of asset, so we have to find the most correct and most educational way to do it," said Leao, CEO of Santander.
Despite the crypto sector's steady recovery, we've noticed across nations since last year that many international banks are looking for different ways to break into the Crypto. Also, Several financial organizations have announced or begun conducting crypto initiatives in Brazil since the Brazilian Senate adopted a measure regulating crypto transactions last month.
After only one month of operation, Nubank, the largest digital bank in Brazil by market value, said on Tuesday that it has one million members on its cryptocurrency trading platform.
Schwab Asset Management to List Crypto ETF on NYSE
The financial behemoth Schwab Asset Management (SCHW) announced that starting on August 4, the New York Stock Exchange Arca will launch its first exchange-traded fund (ETF) focused on cryptocurrencies.
How is this different? Schwab's will expose investors to companies that might profit from developing or using cryptocurrencies, unlike ETFs that follow a basket of digital assets. The fund will keep an eye on businesses that could benefit from crypto mining, validating consensus processes, and brokerage services for digital assets.
This fund joins the list of asset management companies like BlackRock (BLK) and Fidelity that have launched Crypto related ETFs. The fund claims its the lowest cost crypto-related ETF currently available as investors will incur an annual fund operating fee of only 0.30 per cent, or $3 for every $1,000 invested.