Discover more from Token Dispatch
Your daily new frontier-tech dispatch on blockchain and artificial intelligence. Handpicked and crafted with love by human bots 🤟
Over 12,000 subscribers
Move-to-Earn: the next big thing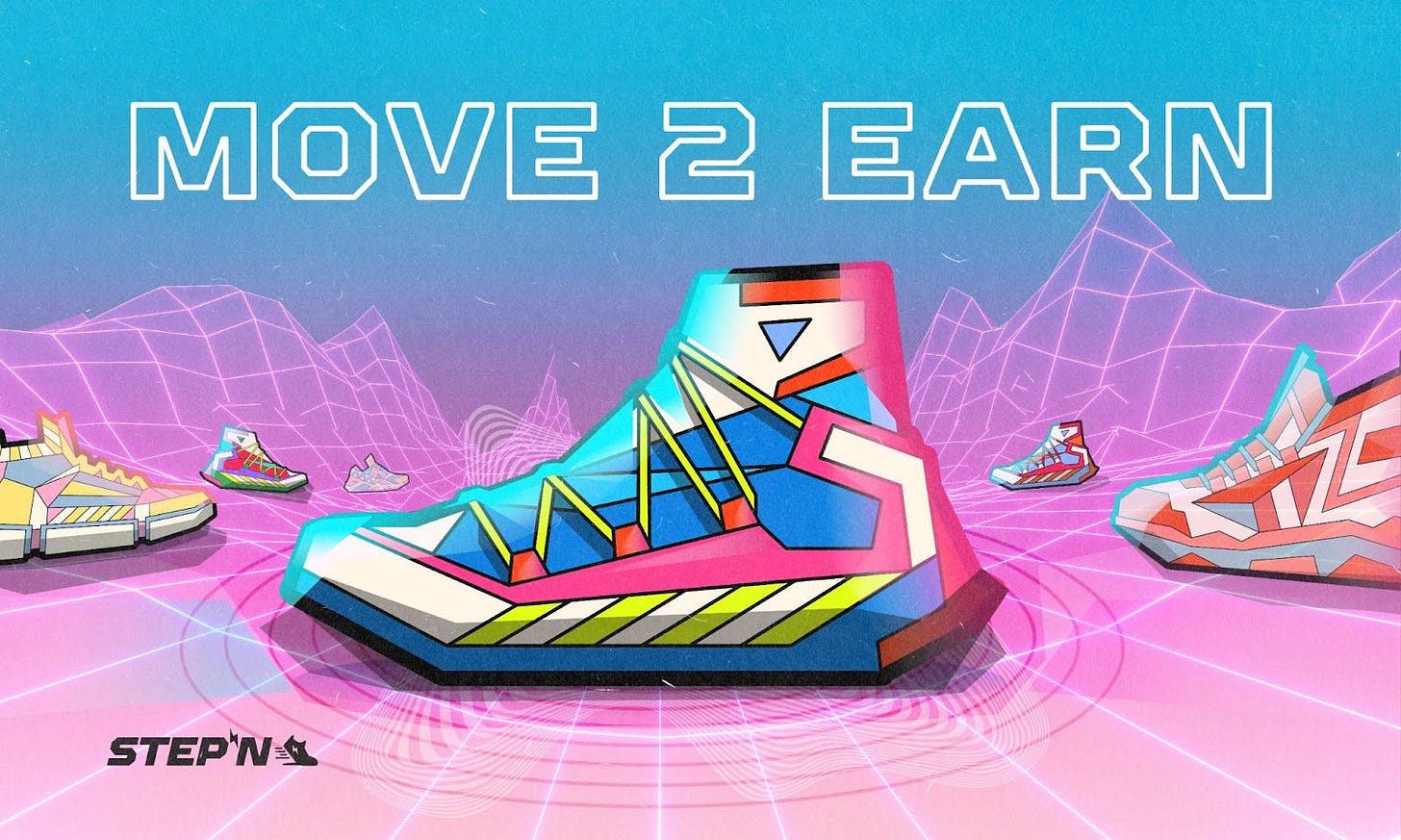 Following the huge success of play-to-game games, move-to-earn is now the new hot trend in the cryptoworld. Move to Earn platforms reward users for staying fit by providing an additional income stream for participating in their regular exercise activities or participating in specific fitness-related challenges.
Just move around and get paid! Too good to be true? Well yeah! And it's gaining significant momentum in the crypto space.
It is more like a spin-off of P2E. However, unlike play-to-earn projects, move-to-earn projects do not necessitate any upfront investments.  Instead, users receive monetary rewards for moving around by foot, bike, or other ways. With today's technology solutions, such as step counters, augmented reality, GPS, and so on, it's relatively simple to keep track of activities and assign rewards for reaching certain milestones.
Aside from simply rewarding users, most move-to-earn applications provide additional utility for their tokens, which increases demand for new participants while reducing selling pressure on third-party exchanges. This helps to keep the market value stable and the move-to-earn rewards worthwhile.
There are already some very popular projects in the space:
STEPN: STEPN hit the market in March 2022 after conducting a token sale on Binance's Launchpad platform. The Solana-based app combines aspects of a play-to-earn game with a fitness app.
Dotmoovs: Dotmoovs is a remote peer-to-peer sports competition platform where Players can monetize their skills by investing $MOOVs in the platform.
Digital Fitness: Launched in April 2021, Digital Fitness (DEFIT) is a cross-chain cryptocurrency operating on the Polygon and Ethereum blockchains. The Digital Fitness team aspires to create a comprehensive digital fitness marketplace powered by its DEFIT token.
STEP: Launched in January 2022, Step (STEP) is a move-to-earn project that provides users with daily rewards for walking.
Genopets: it combines users' step data from their mobile device with blockchain Play-to-Earn economics, allowing players to earn crypto for taking action in real life as they explore the Genoverse, evolving and battling their Genopet.
The move-to-earn concept was pretty much invented by STEPN (GMT), and it is now followed by other games such as Dotmoovs (MOOV) and Genopets (GENE) which all revolve around the idea of rewarding or tokenizing physical movements.
STEPN basically is an enticing Web3 lifestyle app with SocialFi and GameFi elements. When users play the game, the app uses GPS on their phones to track their movements and rewards them with in-app tokens known as Green Satoshi Tokens (GSTs). These tokens can then be exchanged for USD Coin (USDC) or Solana (SOL), allowing users to cash out their earnings. In just a few months, the fitness app has grown to over 300,000 daily active users.
The hype surrounding STEPN stems from its governance token, Green Metaverse Token (GMT), which has gone parabolic, appreciating 24,500% since its token sale on Binance on March 9. GMT is currently trading at around $2.20, roughly 17 times where it began trading in March. Sequoia Capital and other Web3 investors have also invested in STEPN, purchasing $5 million in GMT in a seed funding round in January.
The project is now so popular that there is a waiting list to join its Telegram group, which already has over 200,000 members. To join the app, users must receive an invite, and the STEPN team has limited the number of activation codes available. The codes can be obtained through Telegram groups, Discord chats, and other STEPN online communities. The company issues 3,000 joining codes per day.
However, it is not a cheap game to play. Users must pay a serious amount of money to begin earning. Nonetheless, under the right conditions, move-to-earn applications could offer an exciting opportunity to generate income while also motivating users to focus on fitness.
Dapper Labs unveils a $725 million ecosystem fund for Flow blockchain.
The startup behind the NFT-focused blockchain Flow, Dapper Labs, is launching a $725 million fund to entice developers to join the network. Andreessen Horowitz, Coinfund, Digital Currency Group (DCG), Coatue Ventures, Dapper Ventures, Fabric Ventures, Spartan Group, and Union Square Ventures were venture firms that participated in the so-called ecosystem fund.
These companies have pledged cash to assist developers in developing new Flow-based apps in fields including gaming, infrastructure, decentralized finance (DeFi), and content creation.
"We are thrilled to see such a strong vote of confidence in the Flow ecosystem from some of the world's leading investors in web3 through their commitment to this fund," Roham Gharegozlou, CEO of Dapper Labs, said in a statement on Tuesday.
Flow has risen to prominence as a scalable blockchain for numerous NFT applications in recent years. According to Block Research, there are around 200 NFT projects on the blockchain, including well-known names like NBA Top Shot and NFL All Day. In September 2021, Dapper Labs raised approximately $250 million at a valuation of $7.6 billion.
A16z leads a $25 million seed round for NFT infrastructure startup Co:Create.
Co:Create, a blockchain firm developing an infrastructure protocol to assist NFT projects issue tokens and administering DAOs, has secured $25 million in a seed round led by Andreessen Horowitz (a16z).
Other investors include Tom Brady's NFT platform Autograph, Packy McCormick's Not Boring Capital, and Amy Wu of FTX Ventures. Co: protocol, Create's, which is still in development, intends to let NFT companies "move beyond the drop," meaning beyond simply manufacturing and selling digital goods.
"We want to support decentralized brands of the future," Tara Fung, co-founder and CEO of Co:Create, told The Block. "The combination of NFT plus fungible native token and DAO will just unlock the full potential of NFT projects and web3 brands."
She suggested that an NFT project can expand its community beyond its NFT holders by launching its coin. Fung cited the recent launch of ApeCoin as an example of how the Bored Ape ecosystem has expanded beyond its collection holders because anybody can acquire ApeCoin and join the Bored Ape community.
The Co:Create protocol will serve as a smart contract platform for projects to mint NFTs and manage royalties paid in their native token. Co:Create also intends to promote major fashion businesses such as Nike and Gucci as they explore web3.