Discover more from Token Dispatch
Your daily new frontier-tech dispatch on blockchain and artificial intelligence. Handpicked and crafted with love by human bots 🤟
Over 12,000 subscribers
MTV Video Music Awards create Metaverse experience with Roblox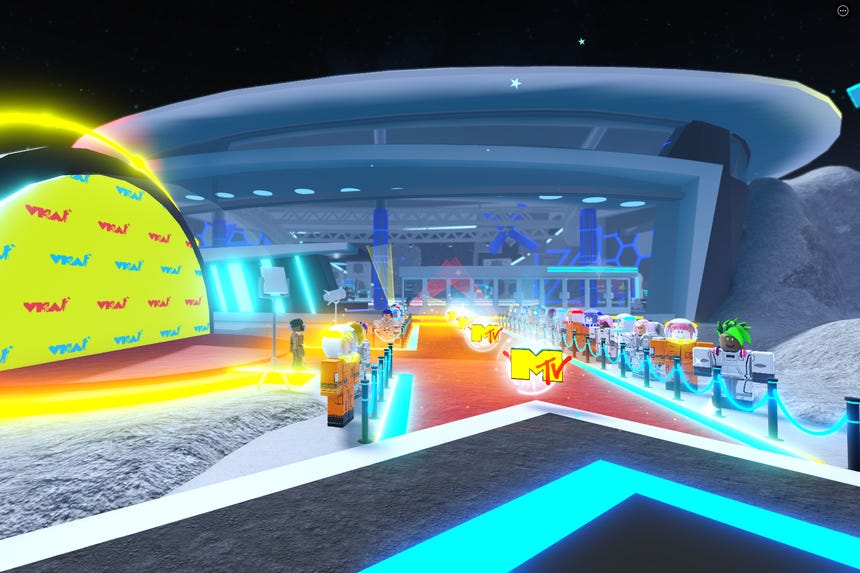 VMAs have always been exciting, and this year MTV is throwing the Metaverse fun into the mix.
MTV is attracting young Roblox players by creating a metaverse experience on the Roblox Corp. gaming platform. Yes, the intersection of music and Web3 continues.
The VMA Experience launched with one minigame on August 12 and will continue to add a new one every Friday until the event on August 28. Roblox players can visit The VMA Experience to play games, party and have a good virtual-time.
MTV previously created an experience in Minecraft, but this is their first foray into Roblox's Metaverse. VMA Experience is built in partnership with the game publisher Super League Gaming Inc.
Also, remember when we were treated with metaverse concerts during the pandemic? This year's VMAs now feature a new category: "Best Metaverse Performance." The nominees are Ariana Grande, BLACKPINK, BTS, Charli XCX, Justin Bieber, and Twenty One Pilots.
Peoples goes where the music goes! With media behemoths like Paramount Media Networks on board, it looks like that metaverse concerts will become a mainstream thing.
Players can collect MTV logo tokens from the game, which can be used to vote for their favourite artist in the category. Who are you rooting for?
CryptoPunk and Meebits holders can now use their NFTs for commercial projects
Things have been heating up for punk holders ever since Yuga Labs acquired the properties, and now CryptoPunks has officially obtained the Ip rights. This means CryptoPunk owners can now have what BAYC owners have.
On Monday, Yuga Labs published its intellectual property (IP) licencing agreement for CryptoPunk and Meebits NFT holders. The agreement grants the holder full commercialization rights to develop projects and products based on the NFTs.
Many interesting things are on the way for CryptoPunk owners since they have full rights to do whatever they want with the NFT. It could be a movie, book or even a coffee brand. We are so excited to see what the community is going to build.
Yuga Labs acquired the CryptoPunks and Meebits properties from original creator Larva Labs in March.
"It's pretty clear that CryptoPunks [holders], generally speaking, are some of the most talented builders, storytellers, and creative people in Web3. Amplifying community is the most important thing for most Punks." Said Noah Davis, the newly hired brand lead of Yuga Labs.
Fed Releases New Guidelines for Crypto Banks
American financial institutions don't have to choose between offering traditional banking services and allowing crypto transactions anymore.
The US Federal Reserve Board has finalized tiered guidelines to regulate the process by which novel financial institutions are granted "master accounts," a key financial status these firms need to participate in the global payment system.
The guidelines will create a multi-tiered system :
Tier 1 - Includes federally-insured applicants.
Tier 2: Includes institutions that are not federally insured but are still subject to federal prudential supervision.
Tier 3 - Includes institutions that are not federally insured and not subject to prudential supervision by a federal banking agency.
The Federal Reserve's sluggish approach to granting crypto banks access to Federal Reserve accounts has long irritated crypto bankers. The announcement on Monday appears to move the US central bank one stride closer to potentially giving Wyoming special purpose depository institutions (SPDI) such as Custodia and Kraken Bank access to these accounts without the requirement for intermediate banks.