Discover more from Token Dispatch
Your daily new frontier-tech dispatch on blockchain and artificial intelligence. Handpicked and crafted with love by human bots 🤟
Over 12,000 subscribers
Music NFTs & The Artist's Renaissance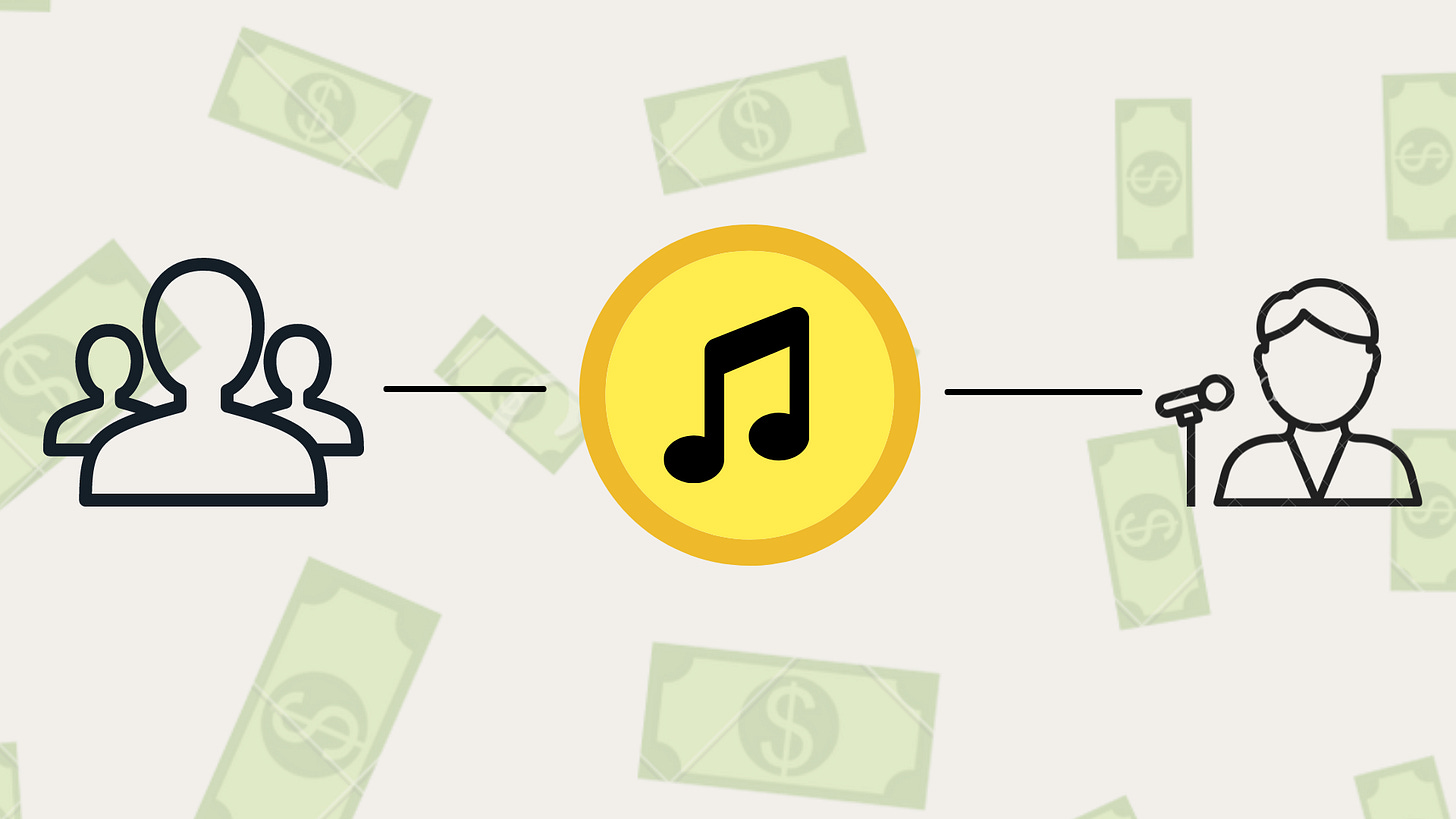 Music is the language of the spirit. It opens the secret of life bringing peace, abolishing strife.
~ Kahlil Gibran
While this has been true for most of the music buffs, there are a lot of well-kept secrets within the industry. With the emergence of Web3, artists across the world and genre in the music industry are about to bring a coup that'll change the course how we've been consuming music over the past two decades. Enter: Music NFTs
What are Music NFTs?
Music NFTs are when musicians release their music as NFTs. Artists mint their actual song and its source file as the NFT.
A Music NFT contains a .mp3 or .wav audio file, album art and sometimes even *drumroll* ownership rights. Most music NFTs only certify on-chain ownership of a token tied to a music file and no other rights beyond that; several projects are trying to change that.
Royalties have existed for almost the same time since music and business converged. A royalty is a legally binding payment made to an individual or company for the ongoing use of their assets, including copyrighted works, franchises, and natural resources.
Royalties can be of different types. NFT royalties are payments that compensate original NFT creators for using their non-fungible tokens (NFTs).

What's wrong with the Music Industry?
The streaming revolution breathed a new life into the music industry, which once was collapsing under plummeting CD sales and rampant piracy. But while they've opened a new paradigm and changed how music was consumed for users, the other side is not as greener. Artists have repeatedly expressed their discomfort, which how labels, in tandem with streaming services, have been racking in all their income and leaving no way out for them to sustain and be true to their art.
As per a report published last year by the Intellectual Property Office in the United Kingdom, the top 1% of artists account for 80% of all streams, and that 10% account for 98% of all listening by fans.
In fact, big music companies own the rights to three times as many among the top 10% of the most popular tracks as those owned by independent labels. In any given week, nine of the top 10 selling songs globally – the streaming cash cows – are owned by one of the three big music labels, namely Warner Music, Universal Music and Sony Music.
Most 'successful' artists are guided by major labels that often take between 50-80% of royalties, leaving less than half of the income before distributors and managers take their cut. This means artists only capture 12% of music revenue.

Most of these streaming platforms are well away from their stated mission of empowering artists. A platform like Spotify likely has around seven million artists on its platform, and the figures show that only about 13,000 of them generated $50,000 or more in payments last year.
And apart from the unequal distribution by record labels that don't let the money trickle down to artists, some of it is partly because of how streaming is positioned. The $9.99 (on an average) paid by users as subscription fees every month to access a library of millions of songs by hundreds and thousands of artists, after deducting the platform's share, gets split a bunch of ways — for the record labels, songwriters, music publishers, artists and others.
The problem arises when this split gets smaller as consumers push platforms to reduce prices, leaving less pie to share with artists. Also, as more and more artists join the platform, each's share of the pie gets smaller. Thus, making streaming less lucrative.
This, in fact, is a vicious cycle. While researching for the piece, we found that nearly 70% of an artist's income comes from touring and live performances, and we all know how the pandemic had put a halt to all sorts of real-world experiences, let alone music concerts.
Platforms like Bandcamp and Tidal, who were looking at streaming more from an artist's perspective and breather for upcoming and underground artists, have succumbed to the larger companies with no direct to music like Epic Games and Square as part of their metaverse strategy.
What's in for the artists?
NFTs change the way how the industry works. They make artists less dependent and automate a lot of things to ensure equitable distribution. Here are a few reasons why artists would flock to music NFTs:
1. Ownership: It can be difficult to legally assert provenance and ownership of digital work. Digital files are effortless to copy and share freely; proving their origin can be a nightmare. NFTs resolve this issue - an artist mints their song on completion, creating an indelible record of their ownership. No matter where the song ends up, there is a record of who made it and when.
2. Taking Charge of Distribution: NFTs give musicians a direct line to their audience without the need for current lop-sided streaming arrangements. With NFTs, musicians have complete control over the minting and distribution of the work. When people sell the NFTs later, the musicians automatically receive royalties on the transaction. This all empowers musicians to get more of the money in music sales and manage and build their own distribution.
3. Royalty Sharing Simplified: Royalty disputes can get ugly and long. With NFTs, whole or fractional ownership of recorded music can be minted and distributed. Artists could even sell part of the ownership of their songs to raise funds for additional albums to be created.
4. Redefining The Mechanics: NFTs could empower a shift in the traditional value chain bringing artists at the top and labels and record companies to come in below. This liberalization is not only necessary to bring about disruption in the business but would also help artists earn their hard-earned dough while being true to their craft.
How artists are looking at music NFTs
It's hearting to see that the wave of integrating music with Web3 is being led by some of the most prominent artists who've had a profound cultural impact with their craft and have always tried to stay ahead of the curve.
Steve Aoki is one such newly minted degen who's is not only an NFT collector with CryptoPunks and BAYC in his bag but has also launched A0K1VERSE - an NFT-driven membership community built on top of Ethereum.
Snoop Dogg, who claims to have started a personal NFT collection now worth more than $17 million under the name Cozomo de' Medici, has acquired ownership of the extremely popular label Death Row Records and plans to turn it into an NFT Label. Death Row Records was started by producer and music veteran Dr Dre in 1991 and had signed artists like Tupac, Young Soldierz, Snoop Dogg himself, among other big names.
Justin Blau — better known by his artist moniker, 3LAU — is perhaps one of the earliest adopters of the music NFTs, having sold his first NFTs back in 2020. As Blau cemented his status as one of the technology's most prominent proponents, announcing in August, he was forging an NFT music platform called royal, which will enable token owners to secure royalties from a musicians' songs.
Many such moments have included Don Diablo selling a full-length concert film as NFTs, PleasrDAO's acquisition of Wu-Tang Clan's album 'Once Upon a Time in Shaolin' and several artists expressing their interest in NFTs; clearly showing the acceptance from the industry and the potential this new synergy has.
Projects:
Many projects have already taken off with an active community, multiple devs, support from industry veterans, and top music minds putting in their hours to flesh out the best. Here are a few that are leading the way
Catalog is the primary marketplace for single-edition music NFTs, a category known as 1/1 in the NFT world. It's built on the Zora protocol, which also powers the OpenSea competitor marketplace. As of February 2021, artists have sold $2 million worth of music NFTs on Catalog.
Sound.xyz is a new music NFT platform for creators to release limited time drops. Secondary sales can be found on popular NFT marketplaces like OpenSea, Rarible, etc.
Royal is a music platform founded by renowned EDM artist Justin Blau, better known by his stage name "3LAU." The platform aims to allow fans to buy NFTs so they can share in royalties earned by their favourite artists.
Async.Art is an NFT platform offering space for 'programmable' art. Its basic concept works exactly like many other platforms: NFTs get auctioned off on the Ethereum blockchain. However, on Async Art, NFTs fall into two categories: 'master' and 'layers'. Each master is made up of various layers that exist as NFTs independently and can be altered by whoever owns the layer. For example, a master can consist of a still life of oranges in a basket, with its layers being something like the colour of the oranges or the size of the basket. Whoever owns the layer of the oranges can manipulate the way they look according to parameters set up by the artist, impacting the master image. Additionally, the layers can be programmed by outside factors such as the weather or the time of day. The master will change according to temperature or hour to exist as 'autonomous art'.
Zora is not exclusive to Music NFTs but has a lot of early Music NFTs before the creation of Catalog - especially with Catalog being built on top of Zora but modified directly for music. Many artists still mint directly on Zora or artists on Catalog historically were on Zora first.
Since we're talking of music, Audius is a decentralized music-sharing protocol. It's more like a community and artist-owned Spotify except built on Ethereum and Solana. While Audius isn't an NFT minting platform, it does offer Audius Collectibles, a feature where musicians can display their NFTs on their Audius profile. It's also the first streaming service to partner with TikTok. Monetization for artists on Audius primarily comes from "trending tracks" on the platform via their token AUDIO.
Also, for all the millennials here who grew up in the days of the free MP3-swapping services Napster and BitTorrent, LimeWire is coming back with a crypto twist. The p2p music-swapping service, which had to pull the plug on its 50 million monthly users after a four-year court battle initiated by a group of music labels, is launching a new music-focused NFT marketplace. Its ownership has been bought by a pair of Austrian brothers, and they also have plans to launch 'LMWR' token sometime this year.
With every passing day, Web3 is trying to bring about a new change on all ends of the spectrum. While there is too much to digest for artists, the industry, in general, will see a shift from the rules it had become used to. The idea of 100 true fans is slowly gathering momentum. This means that instead of thousands and millions of followers, listeners and streams that artists were used to, the community of fans for artists will start shrinking. Only a few people will find themselves genuinely interacting and supporting their favourite artists by putting in money in each of their projects and helping those projects take off.
While this is true, artists will also start interacting with fans personally through Discord Servers, Community Forums, in-person meetups, and other new ways. Also, streaming platforms had almost made it mandatory for artists to release more frequently to stay atop the algorithms, which saw the rise of songs with smaller durations. This probably will stop. There will be fewer projects, but with better music, more songs and unique experiences stretched out over more extended periods, which would bring the fans and artists closer and help them realize the true potential of their craft.
Stay informed in just 5 minutes
Get a daily email that makes reading crypto news informative. Have fun keeping up and getting smarter.
The dispatch is sent in time zones at 8:30 am. Choose your preferenceEastern Time Zone (UTC-05:00)USTISTGMTSST
Subscribe
​