Discover more from Token Dispatch
Your daily new frontier-tech dispatch on blockchain and artificial intelligence. Handpicked and crafted with love by human bots 🤟
Over 12,000 subscribers
Netflix series Love, Death + Robots unveils NFT scavenger hunt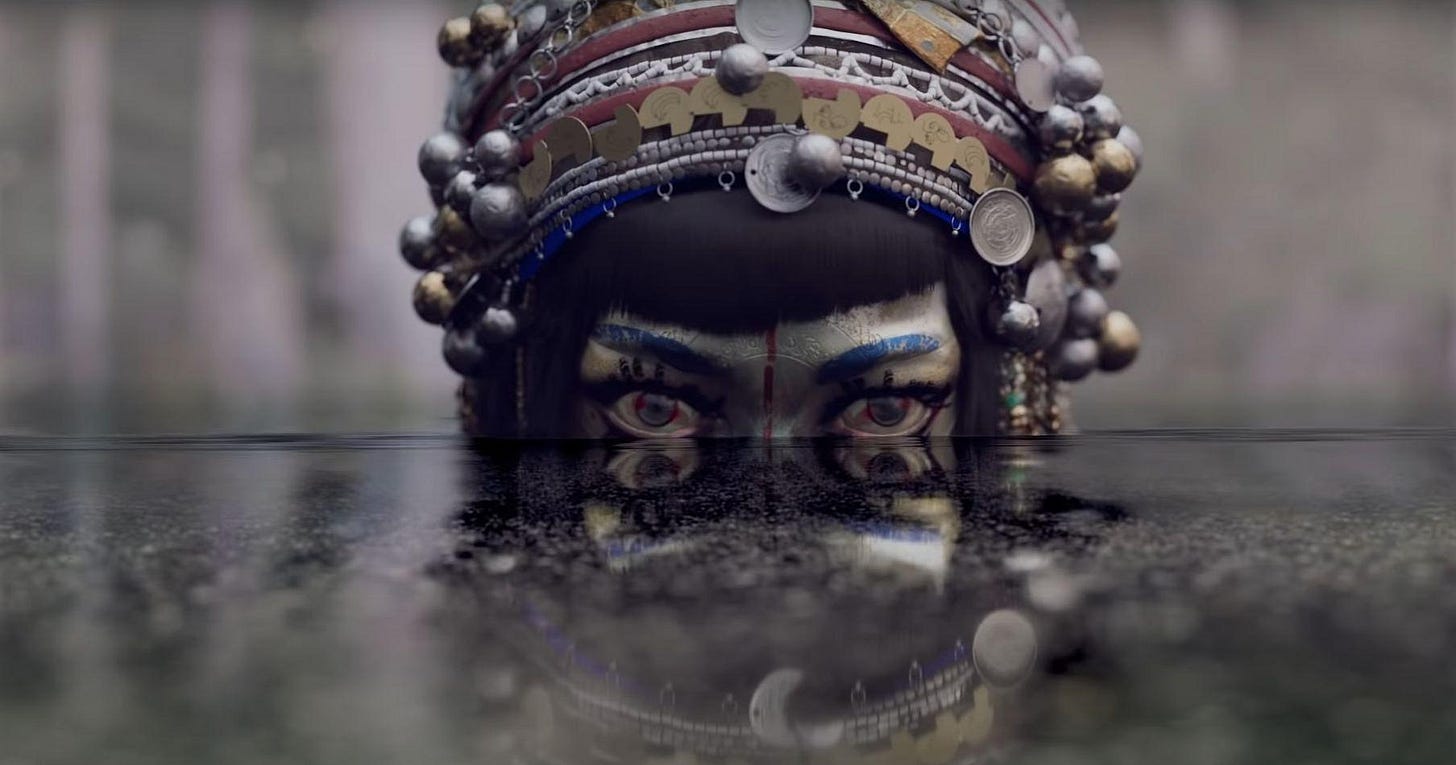 Netflix and NFTs could be the best of both worlds. When the ground-breaking collaboration becomes a reality, NFTs could enter the mainstream with a bang. The music, sports, and movie industries have all jumped on board, and things appear to be going swimmingly these days. And we were desperately waiting for the NFT x Netflix crossover.
How brilliant could that be? Yes, long video versions of NFTs are not an option currently. But Netflix can up its marketing game by leveraging this new space. It would be fantastic if there were Netflix NFTs featuring popular characters or fan merchandise.
Launching new NFTs could be the next widely accepted way to promote a show's upcoming season. This could raise the level of excitement, make the release more suspenseful and at the same time enable earning big through sales of the NFTs. A give and take marketing strategy only NFTs can offer.
Now let's dial back the imagination and see what is happening here. There have been hints that Netflix recently recognised this million-dollar opportunity. Last year, Bloomberg reported that the streaming giant hired former Meta Platforms Oculus executive Mike Verdu as its vice president of game development. The Netflix Engineering account asked its users about their thoughts on NFTs in a tweet on January 21. Many users wondered if Netflix was planning to launch its own NFTs. Furthermore, the streaming service released "Trust No One: The Hunt for the Crypto King" last month, a documentary that examines the death of Gerald Cotten, the CEO of crypto exchange QuadrigaCX.
And now, a Netflix animated series "Love, Death + Robots" has returned to Netflix for a third season—with the help of an NFT scavenger hunt.
The scavenger hunt was created in collaboration with Web3 studio Feature and includes nine pieces of QR-Coded digital artwork in various mediums, including billboards, videos, and episodes of the sci-fi series, according to the show's website.
Viewers can scan the QR code with their phones to gain access to an NFT that will appear on their OpenSea accounts. The feature is only available to users in the United States who have a MetaMask wallet or a Coinbase account. Users will have to pay the gas fees in order to mint the NFTs acquired by scanning the QR code.
The "Love, Death + Robots" NFTs are minted on the Ethereum blockchain. On OpenSea, the starting price for each NFT is 0.003 ETH, which is currently around $6. Since the show's Netflix release, the collection has seen approximately $30,000 in volume traded and has 25,000 unique owners.
It looks like Netflix is well-equipped for transition into the Metaverse.
Terra community passes proposal to launch Terra 2.0 blockchain
Terraform Labs will launch a new blockchain dubbed Terra 2.0, while the existing, collapsed network will continue to exist as "Terra Classic,". The UST stablecoin will not be included in the relaunched Terra ecosystem. Terra 2.0 will be a "whole new blockchain...starting from genesis block 0 that will not share history with Terra Classic," according to the organization's official announcement.
The developments came after the Terra community approved "proposal 1623," which Terraform Labs CEO Do Kwon proposed. Kwon's idea is an attempt to resurrect the Luna ecosystem, which fell earlier this month after its algorithmic stablecoin UST was depegged from the US dollar.
According to a TFL release made earlier today, Terra 2.0 is planned to go online on May 27, 2022, after which the airdrop of new LUNA tokens will be executed. Existing Terra Classic token holders will get newly produced LUNA tokens as part of the plan.
Yesterday we saw that South Korean authorities would increase supervision of local crypto exchanges and create legislative safeguards. But, today following the passage of a proposal to build "Terra 2.0," major worldwide cryptocurrency exchanges have declared that they will support the imminent relaunch of Terra.

Binance, FTX, Crypto.com, Huobi, Bitfinex, Bybit, Gate io, Bitrue, and Kucoin are among the exchanges that have committed their support for the modified version of the recently defunct Terra network. FTX announced that it will support the "new LUNA airdrop and suspend LUNA and UST markets," while Binance indicated "working closely with the Terra team on the recovery plan."
Andreessen Horowitz Announces New $4.5 Billion Crypto Fund.
Andreessen Horowitz (a16z), a Silicon Valley-based venture capital firm, revealed today that it had raised $4.5 billion for its fourth and largest crypto fund to date.
Crypto Fund 4 more than doubles the size of a16z's previous crypto fund, which was launched in June of last year, demonstrating that, despite the market's turbulence, the firm's partners are increasingly seeking ways to obtain extra exposure to promising Web3 firms.
"We think we are now entering the golden era of web3. Programmable blockchains are sufficiently advanced, and a diverse range of apps have reached tens of millions of users," a16z partner Chris Dixon wrote in a post accompanying the raise.
According to a16z, $1.5 billion of the $4.5 billion raised would go toward seed investments, with the rest set aside for venture investments. Following the collapse of the TerraUSD stablecoin and its sister coin LUNA, news of a16z's latest crypto fund comes when the broader crypto market has suffered a dramatic decline.
Ariana Simpson, a partner at Andreessen Horowitz, assured investors that the firm is confident in its bets despite the downturn
"Bear markets are often when the best opportunities come about, when people are actually able to focus on building technology rather than getting distracted by short-term price activity," Simpson said in an interview with CNBC.
The firm's current crypto portfolio includes the likes of Alchemy, Avalanche, Celo, Dapper Labs, Phantom Wallet, OpenSea, Solana, and Yuga Labs.