Discover more from Token Dispatch
Your daily new frontier-tech dispatch on blockchain and artificial intelligence. Handpicked and crafted with love by human bots 🤟
Over 12,000 subscribers
NFT marketplace Magic Eden raises $130M Series B at $1.6B Valuation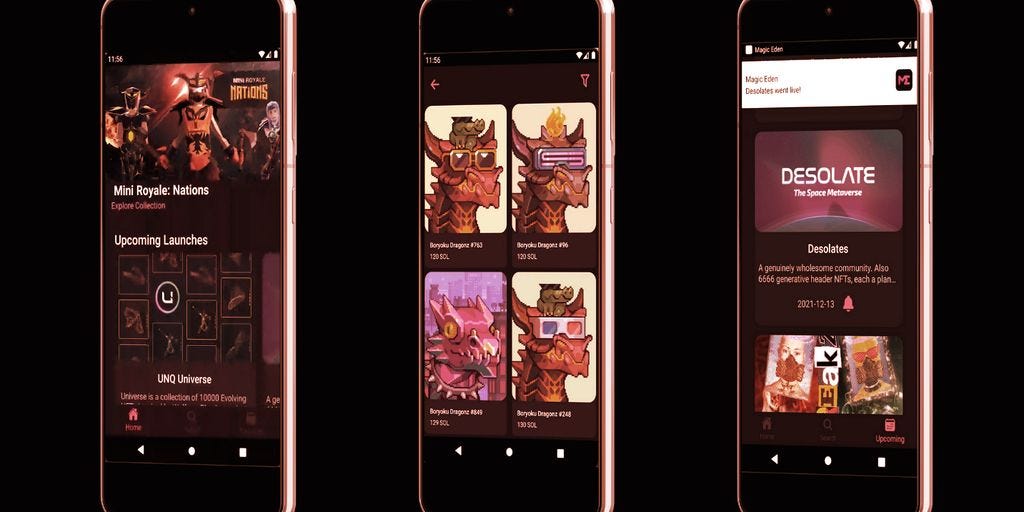 The high cost of NFTs made it difficult for newcomers to enter the industry and sometimes discouraged those who tried. And it was through Solana that Magic Eden devised a cost-effective platform. On Solana, buying and changing the price of NFTs is a fraction of what it costs on Ethereum. Magic Eden has built a significant online community through its user-friendly and cost-effective features.
Users can create, buy, sell, and trade NFTs, including digital collectibles and gaming assets on the platform. Magic Eden has also aided creators in the launch of NFT collections by providing marketing tools and a Launchpad function to boost demand for collections.
These features have enabled Magic Eden users to build NFTs without requiring substantial technical skills or understanding of blockchain intricacies. The platform has grown as a competitive marketplace for crypto video-gaming, with the launch of its new gaming platform, Eden Games.
Solana's largest NFT marketplace has now raised $130 million in a Series B funding round led by Electric Capital and Greylock Partners, bringing its total valuation to $1.6 billion. Lightspeed Venture Partners and previous investors Paradigm and Sequoia Capital are also participating, according to an announcement on Tuesday.
Magic Eden's Valuation has soared nearly nine folds in just three months. The round comes just three months after closing a $27 million Series A in March.
Magic Eden joins $13 billion OpenSea and $7 billion LooksRare as the third NFT marketplace to achieve unicorn status. According to a statement from the company, its secondary market has over 7,000 listed collections and sees more than 92 % of NFT volume.
Magic Eden intends to use this round to explore multi-chain solutions to wean itself off of Solana, given that various sorts of NFTs, such as games, artwork, and music, are coalescing around certain blockchain platforms.
The cryptosphere's climate hasn't been great in recent months, with NFT transaction volume and prices plummeting along with the rest of the market and Solana reporting five severe outages in 2022. So far this year, the price of SOL, Solana's native coin, has dropped by roughly 80%.
However, Jack Lu, CEO of Magic Eden, said in a statement, "Markets will do what markets do – we are excited to build on a 10+ year time horizon." Lu added that Magic Eden has seen higher SOL transaction volumes in recent weeks.
First ETF to short bitcoin soon to list on NYSE.
Proshares will soon develop an ETF that will allow you to short bitcoin or bet against it, allowing you to benefit if the price of bitcoin falls. The ETF is being launched when Bitcoin and the whole crypto market are in free fall. short selling is an investment strategy that speculates on an asset dropping in value.
The announced ETF  is said to deliver the opposite of the S&P CME Bitcoin Futures Index's performance and will get its exposure through Bitcoin futures contracts. Ironically, the SEC hasn't yet approved an ETF that allows you to trade Bitcoin, but it has allowed you to short it. Because the SEC has been sluggish in approving a spot Bitcoin ETF product, Bitcoin ETFs that monitor the price of cryptocurrencies are popular in the United States.

"As recent times have shown, Bitcoin can drop in value," ProShares CEO Michael L. Sapir said. "BITI affords investors who believe that the price of Bitcoin will drop with an opportunity to profit or potentially hedge their cryptocurrency holdings."
Back in October, ProShares became the first company to list a bitcoin futures ETF, a factor that helped the world's largest cryptocurrency reach an all-time high of about $68,900 in the following weeks. Now bitcoin investors hope that the announced ETF shouldn't make it fall more.
Ukraine sold a CryptoPunk NFT for $100K to support the war effort.
Ukraine's minister of digital transformation has announced that the country has sold the CryptoPunk it received as part of its anti-Russian fundraising campaign. The NFT was sold for 90 ETH to an unidentified buyer.
The punk was initially estimated to be worth roughly $260,000, but owing to the current bear market scenario in which ETH has been plummeting, it is now worth around $100,000.
The Ukrainian crypto exchange Kuna handles the fund's treasury. The Ukrainian government neither holds nor spends the funds; it only approves and oversees the project. The cryptocurrency fund assists Ukraine's military in purchasing non-lethal goods such as protective vests and medical kits.
Ukraine has been the most recent country which has embraced crypto. Since making its wallet public in February, Ukraine has raised more than $135 million in crypto donations, including $6.75 million in a single sale of a Ukrainian flag NFT. Most recently, this year, Eurovision champions, The Ukrainian rap group Kalush Orchestra auctioned off their trophy to generate nearly $1 million in ETH for the foundation.