Discover more from Token Dispatch
Your daily new frontier-tech dispatch on blockchain and artificial intelligence. Handpicked and crafted with love by human bots 🤟
Over 12,000 subscribers
NFT protocol Metaplex to launch a DAO and Airdrop MPLX Tokens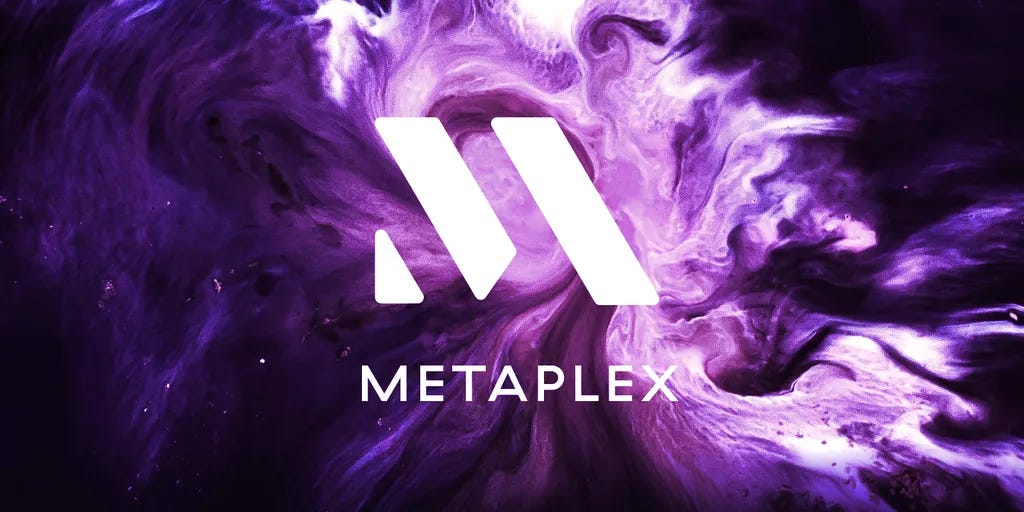 Creator of the Solana NFT protocol, Metaplex is all set to decentralize its governance by launching a DAO to enable community governance. Metaplex will also launch the MPLX token today and conduct an airdrop for NFT creators.
The airdrop that occurs today offers an undisclosed allotment of tokens to NFT creators who used the Solana protocol. Sorry, US-based creators, but due to regulatory issues, you are not eligible!
MPLX token is a utility token that will support and enable the online community's DAO launch.
The Metaplex DAO's membership is represented via MPLX tokens. Holders have the ability to vote on NFT protocol governance proposals. MPLX will be the Protocol's "multi-faceted, native utility token for an open metaverse."
According to Metaplex, Since its inception in 2021, the Protocol has facilitated the minting of 20 million NFTs and driven $3.5B in primary and secondary sales for over 2.4 million creators and collectors.
And, of course, Solana has been doing well for itself amid the chilly market. The ecosystem is thriving with new developments, projects, and funding streams to support the GameFi, decentralized finance (DeFi) and NFT ecosystem.
Daily transactions in the Solana increased steadily, ending with more than 40 million daily transactions compared to Ethereum's 1 million daily transactions.
Coming back to the MPLX airdrop, Metaplex took a snapshot of eligible creators, and only users who created NFTs through Metaplex at the time of the snapshot are eligible. "There's no room for rug pulls in the Metaplex DAO," says Metaplex. They have hired TRM Labs, a digital asset compliance firm, to get rid of all the "wallets believed to belong to bad actors."
Nasdaq to start Custody Service for Institutional Crypto
According to a press statement on Tuesday, Nasdaq (NDAQ), the second-largest U.S. stock exchange operator, is launching a cryptocurrency custody service to capitalise on the demand from institutional crypto investors.
In its attempt to attract institutional investors, the exchange operator is competing against well-known cryptocurrency competitors like Coinbase.
The exchange provider will initially supply institutional investors like hedge funds with custody services for Bitcoin and Ethereum.
Stimulated by intense interest from institutional investors, Wall Street corporations have remained unmoved by the most recent crypto collapse. In August, BlackRock partnered with Coinbase to provide its clients with both Bitcoin trading and a Bitcoin investing product. Recently, JPMorgan Chase developed a trading platform based on blockchain technology, and Goldman Sachs plans to do the same.
NFT Project Okay Bears Signs Licensing Deal With IMG
Okay Bears has quickly established itself as the iconic Solana NFT project, and it is currently collaborating with the world's largest entertainment company, IMG, to introduce consumer goods and experiences.
The agreement names IMG as the sole global licencing agent for the community-focused project, with 10,000 stylish bears offered as PFP NFTs.  The initiative, co-founded by graphic artist Kais and a former engineer named Suby, has promised its holders brand collaborations, live events, and merchandise drops as they unite around the slogan "We're All Gonna Be Okay."
Within 24 hours of its April 2022 launch on the NFT exchange Magic Eden, the project generated $18 million in sales, outpacing all other Ethereum projects in the trading volume.