Discover more from Token Dispatch
Your daily new frontier-tech dispatch on blockchain and artificial intelligence. Handpicked and crafted with love by human bots 🤟
Over 12,000 subscribers
NFTs at the Grammys 2022; being 'part of the music ecosystem.'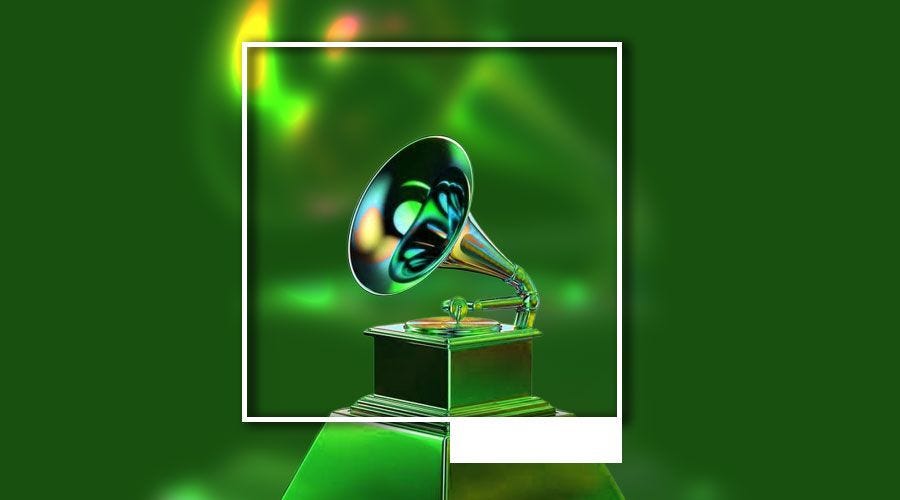 This year's Grammys had a lot of incredible moments for fans to treasure. There were standout performances from Lil Nas X, B.T.S., and Olivia Rodrigo, and Trevor Noah returned to host and did a solid job.
Why is the Grammys important for the Crypto world? Well, we hear that the most prestigious award show in the world was taken over by NFTs. Yeah! The crossover of music and NFT is not an unheard story.
To begin with, Trevor Noah's NFT jokes! They were a smashing hit. Noah made a reference to Bored Ape Yacht Club when discussing how the pandemic has affected touring: "You know it's been rough when your favourite artists go from trying to sell you music to trying to sell you pictures of digital monkeys." In addition, he remarked in the show's opening remarks, "It's like if crypto was a city." This gave NFTs some prime time during the broadcast, once again blending with the mainstream media.
There was something special and unique( literally) waiting for the fans in this year's Grammys, a collection of music-inspired non-fungible tokens (NFTs).
Two Grammy collaborations, one with crypto exchange Binance and the other with OneOf, a music non-fungible token platform on the Tezos blockchain, headlined the weekend's festivities. According to a recent Recording Academy release,  OneOf has been named the Grammys' official NFT partner and has partnered in the Grammy Awards NFT Collection.
As part of the big event, OneOf sponsored Steve Aoki's pool party at Wet-Republic and threw a reception at Resorts World Las Vegas with rapper G-Eazy, who is due to release his own NFT project on the platform called "The Geralds."
Steve Aoki, proclaimed "D.J. prince of Web 3," presented his performance at the pool party outside the M.G.M. Grand, against a backdrop of flashing displays promoting the "A0K1VERSE," his NFT-gated membership club.
The Recording Academy has planned a three-year strategy to include NFTs into the Grammy experience. This is only the first step towards that. The deal will result in numerous NFT sales from high-profile artists and award winners, many of whom, including Doja Cat and H.E.R. have already released collections on the platform,
On music's biggest night, renowned fine artist ThankYouX, Adult Swim contributor Andre Oshea, and Emmy-winner Emonee LaRussa walked their first Grammys red carpet, interacted with the stars, and reflected on how significant the moment was for the NFT sector.
To top it all off, the NFT meetup! It added a personal touch to the event for the NFT community. There was a meetup for the NFT project OnChainMonkey, which assisted in hosting numerous events occasions for its holders over the weekend, including its own pool party and a meal at the Bellagio Hotel.
The Grammys' embrace of NFTs confirms what we always knew: NFTs will always be a part of the music industry. It will transform the musical landscape and promote more income for music creators.
Intel Launches New Bitcoin Mining Chips Focused on Sustainability
The "Intel Blockscale ASIC," a second-generation Bitcoin mining chip revealed in February, was released yesterday. Many people criticize blockchain technology for its energy consumption. With Intel's new chip, we might see things changing.
The new processor has a hash rate of 580 GH/s while consuming only 26 J/TH (joules per terahash), making it significantly more efficient. The hash rate refers to how rapidly a miner can generate answers to Bitcoin's next block. In contrast, the joules per terahash refers to how much energy is used to make each terahash. 1 trillion hashes make up a terahash.  The ones currently in the market,
Bitmain's Antminer S19 Pro+ Hyd hashes at 198 TH/s while utilizing 27.5 J/TH, while MicroBT's Whatsminer M30S++ hashes at 112 TH/s while spending 31 J/TH.
According to Intel's website, the chip was designed to emphasize energy sustainability in ESG (environmental, social, and governance) challenges that continue to plague the business. For example, Ripple's co-founder is now supporting a movement to completely phase out Bitcoin mining, which consumes more energy than Norway.
"To power this new era of computing, Intel is delivering solutions that can offer an optimal balance of hashing throughput and energy efficiency regardless of a customer's operating environment," Vice President Balaji Kanigicherla said.
Jack Dorsey's Block, which is focused on developing its energy-efficient mining system, will be one of the first clients of Intel's new chip. Argo Blockchain, Hive Blockchain Technologies, and GRIID Infrastructure are the other first beneficiaries.
FEWOCiOUS Raises $19M From Paint NFT Sale.
Over the weekend, the 19-year-old artist debuted his Paint collection, describing it as "the building block" of his new generative art project, FewoWorld. Collectors could buy Paint units, which would be swapped for "Paint Drop" NFTs equal to the number of units purchased. The sale's Nifty Gateway detailed how purchasing more units unlocks special goodies in FewoWorld, with the top 50 buyers receiving their trophy NFT and bespoke piece designed by FEWOCiOUS.
The sale began with a private sale for FEWOCiOUS NFT holders on Sunday, followed by a public sale, with units priced at $500 for holders and $1,000 for the public. It ended Monday with 30,198 copies sold, bringing in nearly $19 million in revenue.
As NFTs began to gain mainstream attention in early 2021, FEWOCiOUS was one of many crypto-native musicians that came to stardom. In March, his digital sneaker partnership with RTFKT earned $3.1 million, including a tangible pair of sneakers. As his reputation developed, he was able to sell paintings at Christie's and Sotheby's. FEWOCiOUS is recognized for his vibrant, energetic style, which is reminiscent of Basquiat at times. As a transgender artist, he frequently incorporates personal experiences into his work. Along with Beeple and XCOPY, he's become one of the prominent voices of the NFT movement in just over a year.
Hundreds of Paint units were purchased in the drop by several NFT "whales"—wealthy digital art collectors with significant stacks of Ethereum to invest. Mateen Soudagar, also known as DCLBlogger, paid roughly $260,000 for 515 Paint. He emphasized in a Twitter storm that he believes the value of the unique NFTs that top buyers will receive will be "quite big" and that FEWOCiOUS' legacy and collector base will continue to expand in the future.
Stay informed in just 5 minutes
Get a daily email that makes reading crypto news informative. Have fun keeping up and getting smarter.
The dispatch is sent in time zones at 8:30 am. Choose your preferenceEastern Time Zone (UTC-05:00)USTISTGMTSST
Subscribe
​