Discover more from Token Dispatch
Your daily new frontier-tech dispatch on blockchain and artificial intelligence. Handpicked and crafted with love by human bots 🤟
Over 12,000 subscribers
NFTs are making their way onto mainstream television and we can't contain our excitement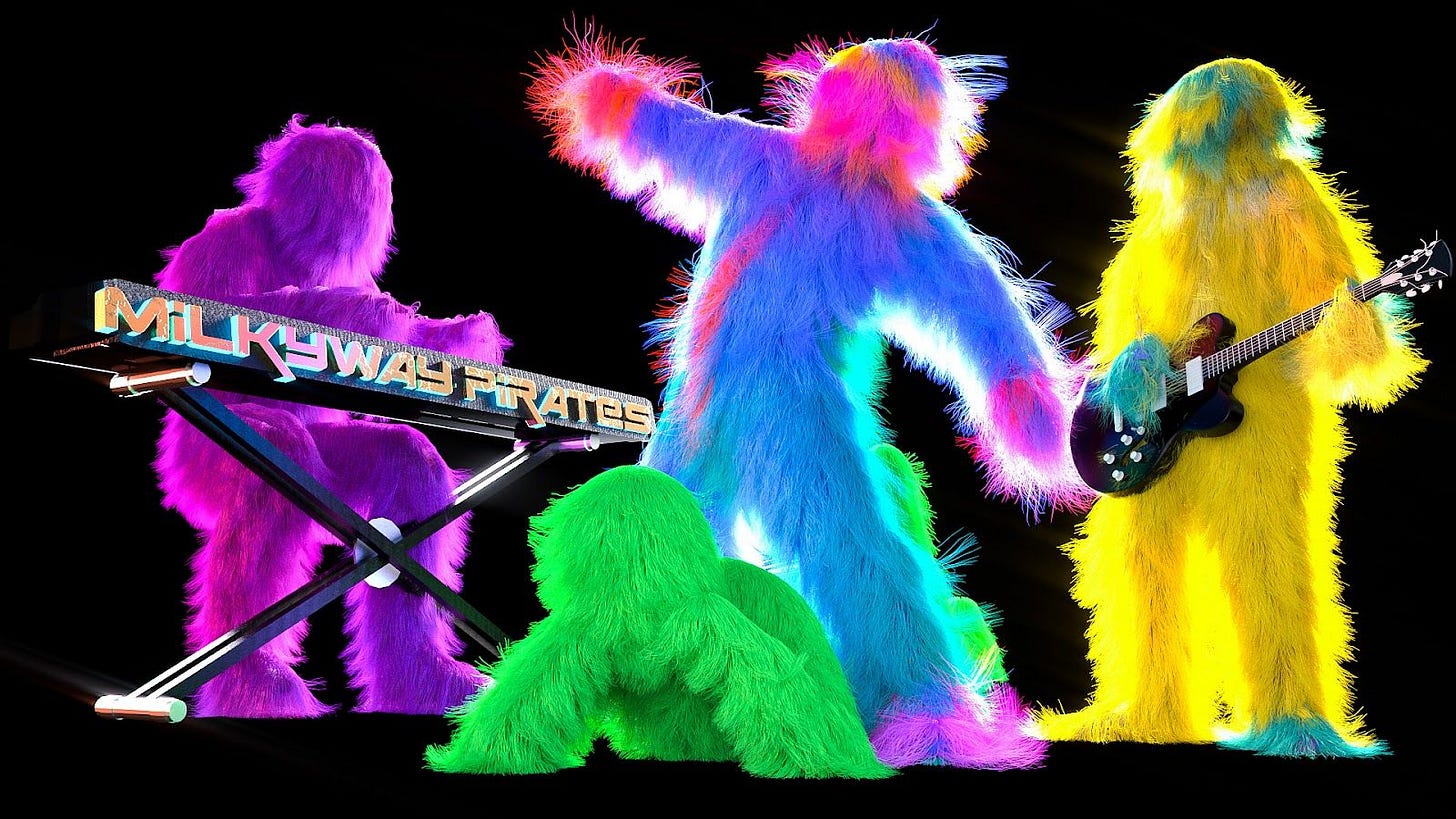 The use cases for NFTs is expanding, which will likely lead to widespread adoption. After a tremendous breakout year in 2021, it's evident that non-fungible tokens (NFTs) will become a part of our daily lives in so many ways when consuming content, playing games and interacting with apps, such as digital images, music, and videos, as well as possible in other domains such as real estate.
Apart from the fact that they are rare, irreplaceable, and visually pleasing artistic digital assets, the power of ownership that NFTs provide is what will keep them relevant in the future.
How can NFTs go fully mainstream is the most pressing concern among NFT lovers. However, it's now practically everywhere and is spreading at breakneck speed. Big businesses such as Adidas, Walmart, Nike, and even Instagram are all looking into the space. Celebrities are in love with NFTs. The sports industry, the music industry, and even the film industry are all joining in the wave. So, it's safe to conclude that NFTs have almost achieved the mainstream status, and the market is expanding beyond the crypto realm!
The music industry, in particular, has a close relationship with NFTs; yes, they are the new BFFs in town. NFTs and fan tokens have the ability to transform the music industry substantially. We are witnessing a significant and long-lasting shift in how musicians create music and interact with their fans. Fair revenue distribution in the music industry is a pipe dream, but things are about to change thanks to this unique relationship with the decentralized system.
Now, mainstream television is following suit, signaling a significant step forward in bringing NFTs directly into people's living rooms.
In April 2021, during a Dogecoin-themed conversation with billionaire investor and crypto enthusiast Mark Cuban, Ellen DeGeneres first addressed NFTs on her show. Later in the show, the famous talk show host would auction off a hand-drawn NFT of her own, which went for $33,500.
To the displeasure of many viewers, the Bored Ape Yacht Club made an appearance on "The Tonight Show Starring Jimmy Fallon," where he and Paris Hilton discussed their new apes and Moonpay.
And now, once again, NFTs are on The Ellen DeGeneres Show, but this time as a band. Singer and pop-electronic artist Kiesza played with the MilkyWay Pirates band on the Ellen DeGeneres Show today, which is also an NFT compilation.
The MilkyWay Pirates NFTs made history as the first NFT collection to perform music on a major daytime talk show, thanks to QGlobe's accelerator program.
The non-fungible hoax is part of Kiesza's promotion for her new album, "Tommy," which will be released shortly after the episode airs. Based on a science fiction concept that Kiesza came up with, called "SziFi," the band members appear digitally as colourful and hairy humanoid-like characters named "Fooboos."
The NFTs employ "Meta Moves," which are executable dance moves that could also be used in blockchain-based metaverses like Decentraland. The 3D designer behind the NFT designs is Luke Didlo, who has previously created 3D art for Meta and album art for Chris Brown.
This is unquestionably a major milestone for NFT followers, as it brings substantial mainstream attention into the space.
Thailand Bans Use of Cryptocurrencies for Payments
Starting April 1, 2022, Thailand's Security and Exchange Commission (SEC) will prohibit cryptocurrency as a payment method.
In a statement on Wednesday, the regulator stated that cryptocurrencies may impact the financial system's stability, posing threats to the country's economy. The SEC also warns about the loss of value caused by market fluctuation, cyber theft, and personal data leaking. According to the regulator, cryptocurrencies, such as Bitcoin, could be used to launder money.
This includes suspending any marketing soliciting cryptocurrency payments and cautioning clients from doing so. According to the statement, both the agency and BOT "understand the benefits of various technologies behind digital assets such as blockchain and emphasise and promote technology to further innovation,".
The regulator also stated that cryptocurrency usage for investment reasons is not prohibited. Many Thais who possess cryptocurrencies are likely to be disappointed by today's announcement. According to a Bloomberg article based on Thai government data, the value of residents' digital assets has risen to 114.5 billion baht ($3.4 billion) in January 2022, up from 9.6 billion baht just a few years earlier.
A few months ago, Thailand's Tourism Authority (TAT) expressed optimism that cryptocurrencies may improve the country's post-pandemic economy by attracting wealthy visitors. But now, the scene seems to be reversed.
DeFiance Capital Founder Loses $1.7M in NFTs To Phishing Scam.
Arthur Cheong, the founder of DeFiance Capital, had $1.7 million in NFTs removed from his crypto wallet early Tuesday morning.
According to PeckShield, the stolen items included five CloneXs, 17 Azukis, 33 Second Selfs, two Hedgies, and two Tsubasa NFTs. A total of 59 NFTs were taken, according to the company.
"Well, this hit me hard, but if I got exploited as a fairly sophisticated 5 years crypto user (DeFi user, password manager, mostly hardware wallet), I'm not sure how I can persuade most normal people to put a substantial part of their net worth on chain anymore," tweeted Cheong.
The "probable root cause," according to the venture capitalist, was a spear-phishing email that seemed to be from one of DeFiance Capital's portfolio businesses. After opening the file, the attacker allegedly acquired access to the private key of one of Cheong's hot wallets.
The crypto address in question has been tagged as the "Arthur0x Wallet Hacker" by Etherscan, a crypto tracking website. At the time of writing, the address had more than 585 Ethereum.
What's a hot wallet? A "hot" crypto wallet is always linked to the internet, making it particularly vulnerable to hacking. They're helpful for moving money around, but as today's events show, they're not suitable for holding big quantities of cryptocurrency safely."Cold" crypto wallets are those that are not connected to the internet, such as paper wallets and hardware wallets, which are physical devices that resemble USB sticks and remain offline. These aren't hackproof but are more secure than hot wallets.
The recent heist of a crypto-native should be a reminder to stay vigilant no matter which market segment consumers are exploring.