Discover more from Token Dispatch
Your daily new frontier-tech dispatch on blockchain and artificial intelligence. Handpicked and crafted with love by human bots 🤟
Over 12,000 subscribers
Nike's Web3 studio RTKF to launch Real-life Cryptokicks (iRL) sneaker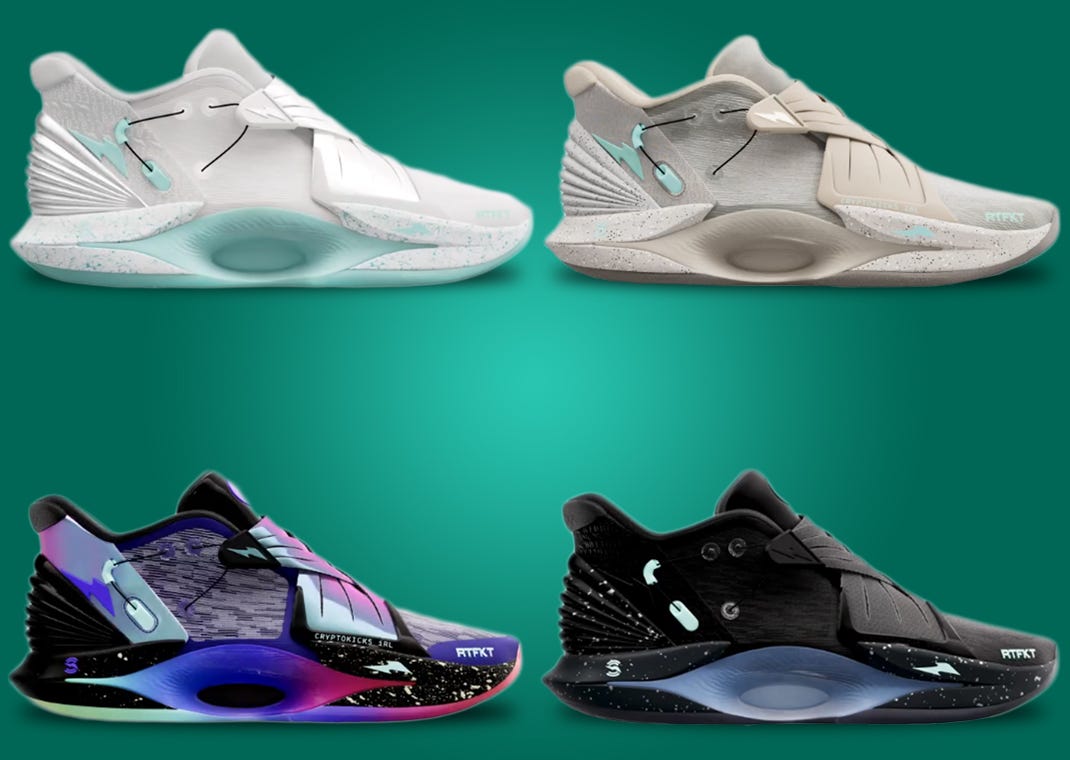 Nike's push into the web3 space is nothing new, but now Nike is bringing RTKT's sneaker NFTs to life - That's new!
Yes, Nike's web3 design studio RTKT is gearing up to take over the real world with the release of Cryptokicks iRL sneakers - 19,000 pairs of them.
Cryptokicks are customizable digital sneakers that live on the Ethereum blockchain. Each one is unique and can be purchased as a Non-Fungible Token (NFT).
RTFKT x Nike Cryptokicks iRL
Taking its inspiration from the iconic Nike Air Mag, this is RTFKT's first smart sneaker.

Lace Engine NFT holders can access the private mint on December 12th, 2022 beginning at 10:30 AM EST.

Non-NFT holders can enter a draw on RTFKT's Cryptokicks website from December 7-9.

If you own a pair, you'll be able to participate "iRL Quests," - a series of mechanics that utilizes the sneaker's "Move-To-Earn" component.
Major features:
The shoes have a futuristic basketball shoe design.

Available in four futuristic colourways: the Ice, Space Matter, Stone and Blackout.

The RTFKT logo replaces the signature Nike swoosh on the shoe.

The design include: auto-lacing technology, gesture control, walk detection, lighting segments, app connectivity, wireless charging, and more.
Nike bought RTFKT last year, and the design studio introduced the brand to the virtual world. Now, Nike is bringing these virtual creations into the real world. A match made in heaven!
Alchemy Releases Web3 App Store to Streamline Dapp Access
Web3 development platform Alchemy is launching a decentralized application (dapp) store. The marketplace intends to make it easier for consumers and developers to access decentralized applications.
Centralized organizations' recent interactions with Web3 technology have yet to prove fruitful. Apple's app store demanded 30% of the gas fees associated with transfers within the Coinbase app, which led to stopped allowing non-fungible token (NFT) transfers on mobile.
Alchemy claims the new Dapp store can be accessed freely by consumers and developers interested in Web3 keen to leverage their technologies for an audience.
"We are all about getting free resources to the community that we think can grow with it," said Shah. "Again, we've built ways into the system to have the community shape it."
Warner Music Group and Polygon to release music NFTs
Warner Music Group and polygon announced a multi-year cooperation that will let artists signed to its labels release music NFTs through the Polygon-based marketplace LGND Music.
LGND Music is an online store that will offer songs as NFTs, which fans may buy and listen to through the platform, along with other digital collectables from performers. It is scheduled to begin in January.
The new partnership is Warner Music Group's second foray into web3, following its agreement with OpenSea, a major marketplace player. The association was created to organize NFT drops for its artists. In recent months, WMG has also expanded its teams for its metaverse relationships.
"We've been working for over a year to deliver the best-in-class blockchain experience for passionate music lovers all over the world, and we look forward to innovative and unique content from all types of WMG artists," Michael Rockwell, CEO of LGND Music, said in a statement.