Discover more from Token Dispatch
Your daily new frontier-tech dispatch on blockchain and artificial intelligence. Handpicked and crafted with love by human bots 🤟
Over 12,000 subscribers
LooksRare Sells Over $100M in NFTs just after a day of launch.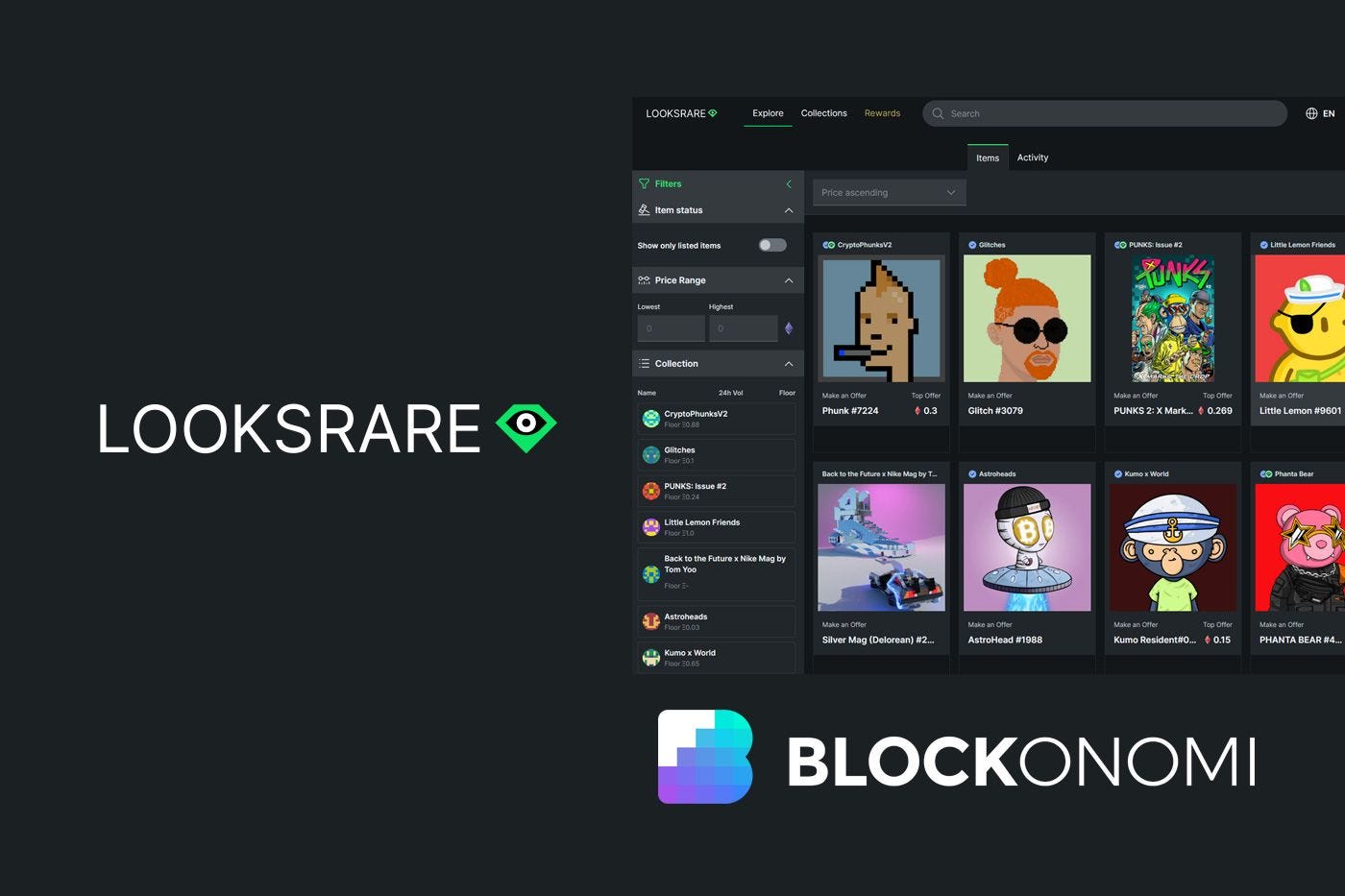 OpenSea is on track to break a new monthly record for Ethereum NFT trading volume, but the competition is heating up. LooksRare, a hot new rival, has already racked up more than $110 million in trading volume in just over a day.
LooksRare, which launched its own LOOKS coin, aims for OpenSea's clients. OpenSea users that transacted at least 3 ETH (approximately $9,630 as of today) on the marketplace between June 16 and December 16, 2021, will receive a free airdrop of LOOKS tokens from LooksRare.
It's a type of launch known as a "vampire assault", The goal is to entice users away from a popular platform by offering incentives in the form of tokens. SushiSwap started one in 2020 as part of its quest to dethrone Uniswap, the most prominent decentralised exchange, while NFT marketplace Infinite has done the same against OpenSea.
What makes you unique? All fees earned by LooksRare will be paid out to LOOKS holders who stake their tokens in the platform. OpenSea's 2.5 per cent transaction charge is higher than LookRare's 2 per cent. LooksRare has promised to distribute 100% of fees in Wrapped Ethereum to LOOKS token holders, whereas Opensea keeps it. Traders who purchase and sell NFTs in qualified, verified collections, which presently include the Bored Ape Yacht Club, Meebits, and others, can earn additional benefits on the marketplace.
Surprisingly, OpenSea's trade volume dropped yesterday after a recent surge. However, it will be interesting to watch if LooksRare trading volume continues to climb or remains stable in the days and weeks ahead and if OpenSea experiences a decline in engagement.
OpenSea has had some technical issues recently, including an "unacceptable" period of downtime on Sunday, according to CEO Devin Finzer. He stated that OpenSea would hire more engineers and customer support representatives.Despite this, OpenSea, which was recently valued at $13.3 billion, is on course to have its highest month in terms of Ethereum trading volume to date.