Discover more from Token Dispatch
Your daily new frontier-tech dispatch on blockchain and artificial intelligence. Handpicked and crafted with love by human bots 🤟
Over 12,000 subscribers
Opera browser makes a larger bet on Crypto and hackers steal $625M from the Ronin network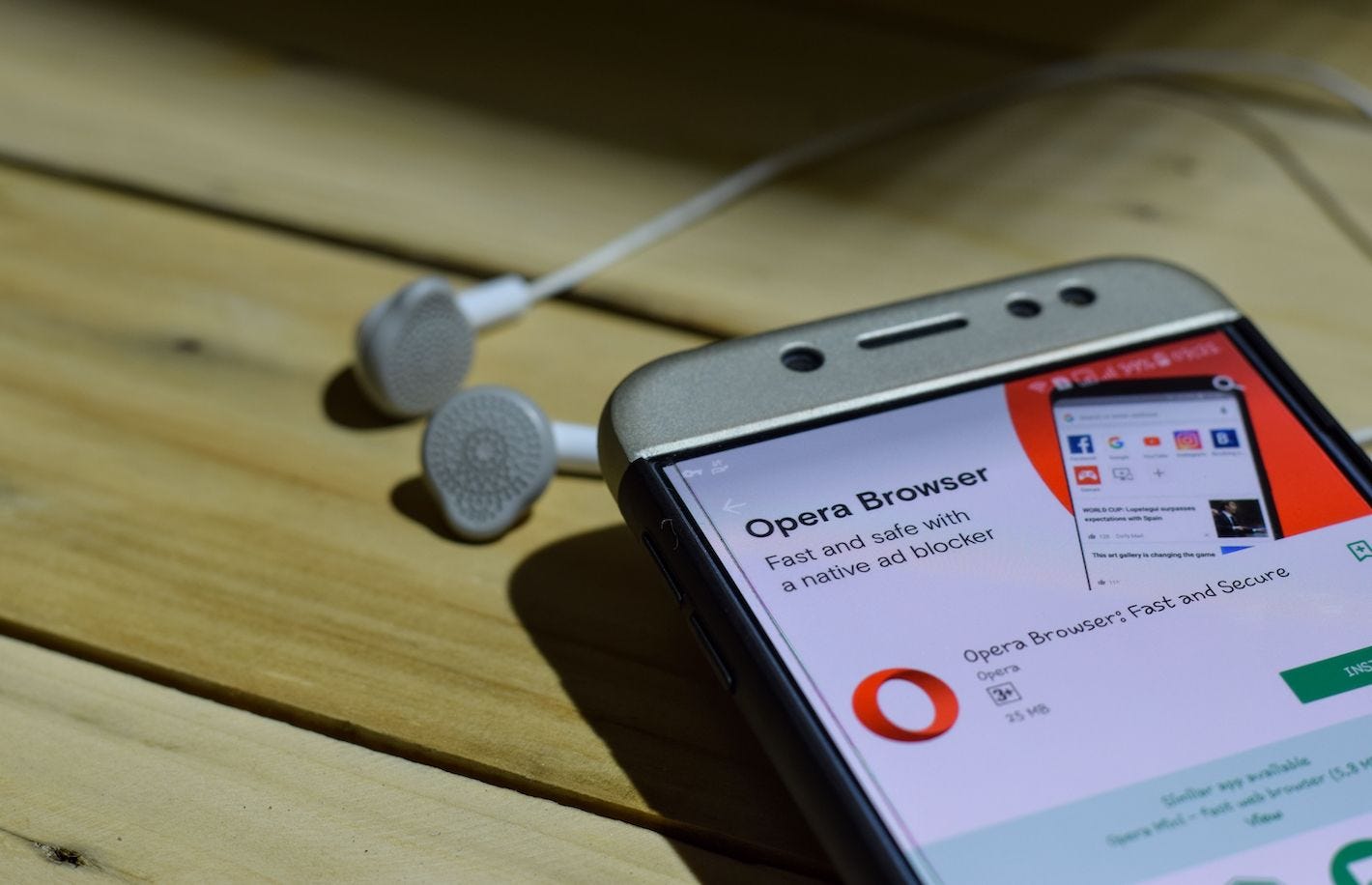 There is no doubt that decentralization has been an increasingly relevant aspect of the internet experience in recent years. As demand for a more decentralized web grows, web browsers will have to play a bigger part in determining how and what the future generation of the web will look like.
Very few of the web browsing experiences offered today have been built with the intention of building web3 the center stage and making blockchain technology understandable and easy to adapt.
The world of blockchain needs a fully dedicated browsing experience.
Crypto browsers bridge the gap between today's Web 2.0 experience and Web 3.0 enthusiasts' vision of a decentralized internet. Crypto browsers provide a crucial entryway to the decentralized ecosystem, especially for novices, by making decentralized protocols available through a familiar interface.
Almost all bitcoin browsers have an in-built wallet that allows you to buy, sell, and store your cryptocurrency. Some crypto browsers integrate marketplaces for decentralized applications (dApps) and also in-built VPN.
Opera, which has prioritized its Web 3 preparation since 2018, launched the opera crypto browser in January 2022 as a public beta. It's compatible with Windows, Mac, and Android.  iOS version is also on the way.
Solana, Polygon, StarkEx, Ronin, Celo, Nervos, IXO, and Bitcoin are now supported by Opera's crypto browser, the world's first native web3 browser with a built-in crypto wallet.
Within the eight separate blockchain ecosystems, the millions of active Opera users can benefit from blockchains, decentralized applications (DApps), and services. From now on, users get access to the vast ecosystem of Polygon or Solana dApps or the benefits of Layer 2 DeFi via StarkWare-powered DiversiFi. They can also tend to their Axies by accessing Ronin.
The Crypto Browser Project from Opera is a standalone browser with built-in dApp compatibility and a non-custodial crypto wallet. Crypto Corner, a hub for the latest crypto news, prices, gas fees, market sentiment, scheduled airdrops, educational content, and an events calendar, is also included.
Solana, StarkEx, Deversifi, IXO, Ronin, Nervos, Bitcoin, and Celo are presently exclusively available on Opera for Android but will be included in the Crypto Browser Project in the next months.
Layer-2 ecosystems, according to the company, is the crucial tactic in its quest to remain chain agnostic and enroll millions of customers to Web3. Using Polygon over Ethereum has highlighted the need for carbon-neutral solutions and reduced gas fees in transactions.
Solana, according to Opera, is a potential blockchain participant because it not only has tremendous scalability and extremely low transaction costs but it also has an energy-efficient consensus model.
Opera isn't the only crypto-focused browser anticipating a surge in Web 3 users. Brave, which was released for the first time in 2019, has emerged as a solid competitor to legacy browsers, has also now added a built-in cryptocurrency wallet, with hopes to add support for more blockchains in the future. These efforts would allow their customers to interact with a wider range of decentralized finance (DeFi) ecosystems, including layer 2 chains.
Now let's look at some other fascinating developments in the space:
Batman NFTs Coming to Ethereum With Planned Metaverse Perks
DC's engagement with Palm NFT Studio for the DC FanDome streaming event last fall was only the beginning of the comic book giant's NFT ambitions. Recently, the firms announced that Batman-themed NFTs would be released in April, with two years of promised advantages.
The Bat Cowl Collection, which will debut on April 26, will include 200,000 NFTs, each showing a 3D replica of the superhero's famous mask, or cowl. Each NFT will be one-of-a-kind, drawing inspiration from Batman's 83-year comic book history and showcasing a variety of colours, styles, and mask shapes. Each floor price of each NFT is $300.
The holders will gain access to a special fan forum on the DC Universe website and unique goods, fan events, and behind-the-scenes stuff. In addition, DC intends to add "metaverse integrations" and augmented reality experiences to the feature set.
Collectors who received the complimentary DC FanDome NFTs will be given early access to purchase the Bat Cowl NFTs. CEO Dan Heyman said that Palm NFT Studio distributed many hundred thousand free FanDome NFTs. According to a press release, DC wants to "integrate" the Bat Cowl NFTs into "future storylines."
Palm NFT Studio isn't the only big name on the Palm platform. Fanatics' Candy Digital, which specialises in sports NFTs and has licences with Major League Baseball and WWE and NFT startup Nifty's, used the Ethereum scaling solution to drop 100,000 NFTs based on The Matrix Resurrections.
Axie Infinity's Ronin Network Suffers $625M Exploit.
The gaming-focused Ronin Network reported a loss of more than $625 million in USDC and ether on Tuesday (ETH). The latest crypto hack might be the largest exploit in DeFi history.
The exploit targeted Ronin Network validator nodes for Sky Mavis, the developers of the popular Axie Infinity game, and the Axie DAO, according to a blog post published by the Ronin Network's official Substack.
According to Etherscan, an attacker "used hacked private keys to generate fake withdrawals" from the Ronin bridge over two transactions.
Even though the Ronin sidechain has nine validators that require five signatures for withdrawals, the blog post adds that "the attacker discovered a backdoor through our gas-free RPC node, which they utilised to steal the signature for the Axie DAO validator."
According to the blog post, the losses were estimated to be 173,600 ether and 25.5 million USDC, which is today worth over $625 million.
In August 2021, a hacker made off with $611 million thanks to an exploit of the Poly Network cross-chain decentralised finance (DeFi) protocol. The funds were refunded in large amounts.
Although 6,250 ETH has been transferred to other locations, most of the cash remains in the attacker's address. The price of RON, the native token of the Ronin network, is down 27% on the news, according to CoinGecko.
While investigations are ongoing, both the Ronin Bridge and the Katana automated market maker (AMM) have been suspended.
"We are working directly with various government agencies to ensure the criminals get brought to justice," the blog notes.