Discover more from Token Dispatch
Your daily new frontier-tech dispatch on blockchain and artificial intelligence. Handpicked and crafted with love by human bots 🤟
Over 12,000 subscribers
Opera launches a new crypto browser with a built-in crypto wallet, easy access to NFT platforms, and more.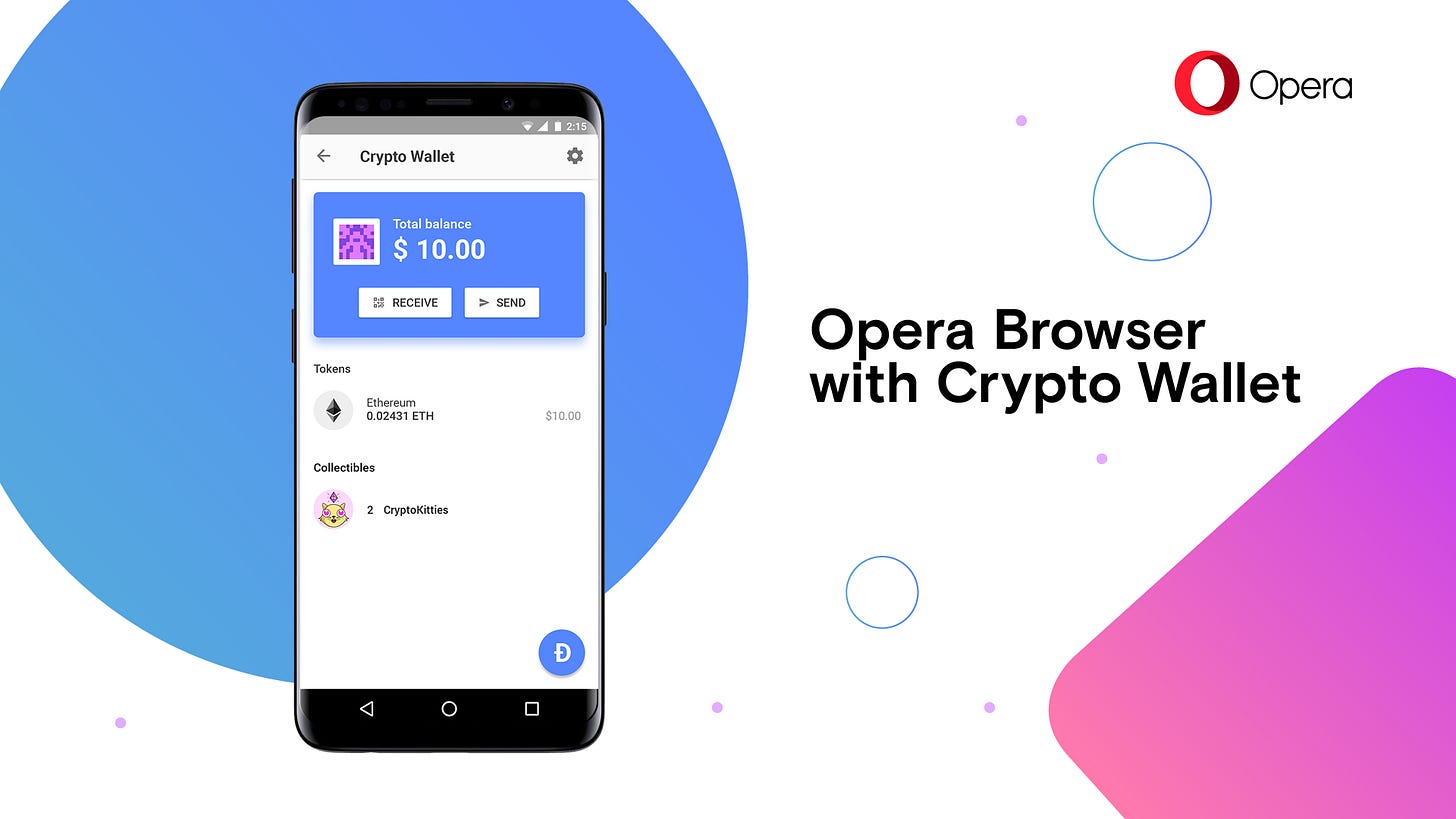 Opera is releasing a new browser that focuses on Web 3.0. Opera's Web 3.0 initiative is known as the "Crypto Project Browser." The newly unveiled web crawler has a built-in crypto wallet, "Crypto Corner," a crypto-focused news and data aggregator, direct access to decentralised crypto exchanges, and more.
It gathers all crypto and NFT news into one location. On top of that, there's a "Keep Digging" area with videos from prominent crypto YouTube creators. There's also an NFT gallery where you can browse the most popular projects, such as Bored Ape Yacht Club, The Sandbox (a virtual real estate marketplace), and CryptoPunks.
Opera wants to make it easy for crypto veterans and newcomers to browse decentralised apps (dApps), play blockchain games, and access metaverse portals across platforms and devices.
According to Statista, Google Chrome has a 60 per cent browser market share, but it's dragging its feet when it comes to embracing the inevitable advent of Web 3.0. As a result, Opera has released a new, future-proof browser (now in beta) that has a built-in cryptocurrency wallet and other features.
This isn't the first time Opera has dabbled in cryptography. Opera made history when it became the first web browser to include an integrated digital-asset wallet in 2018. the Norwegian tech giant had changed its ownership when it sold its web browser and consumer businesses and the Opera brand to a Chinese group of investors in 2016. With the deal completed in November of that year, it's now getting ahead of the Web 3.0 revolution with a new web crawler that makes surfing the crypto realm much easier.
According to some criticism, the integrated wallet doesn't play well with crypto from other blockchains (such as Solana); however, Opera could introduce support for more blockchains in the future.
The Opera Crypto browser is now available on Android, Windows or Mac.
Stay informed in just 5 minutes
Get a daily email that makes reading crypto news informative. Have fun keeping up and getting smarter.
The dispatch is sent in time zones at 8:30 am. Choose your preferenceEastern Time Zone (UTC-05:00)USTISTGMTSST
Subscribe
​