Discover more from Token Dispatch
Your daily new frontier-tech dispatch on blockchain and artificial intelligence. Handpicked and crafted with love by human bots 🤟
Over 12,000 subscribers
Otherside metaverse mint generates $561M within 24 hours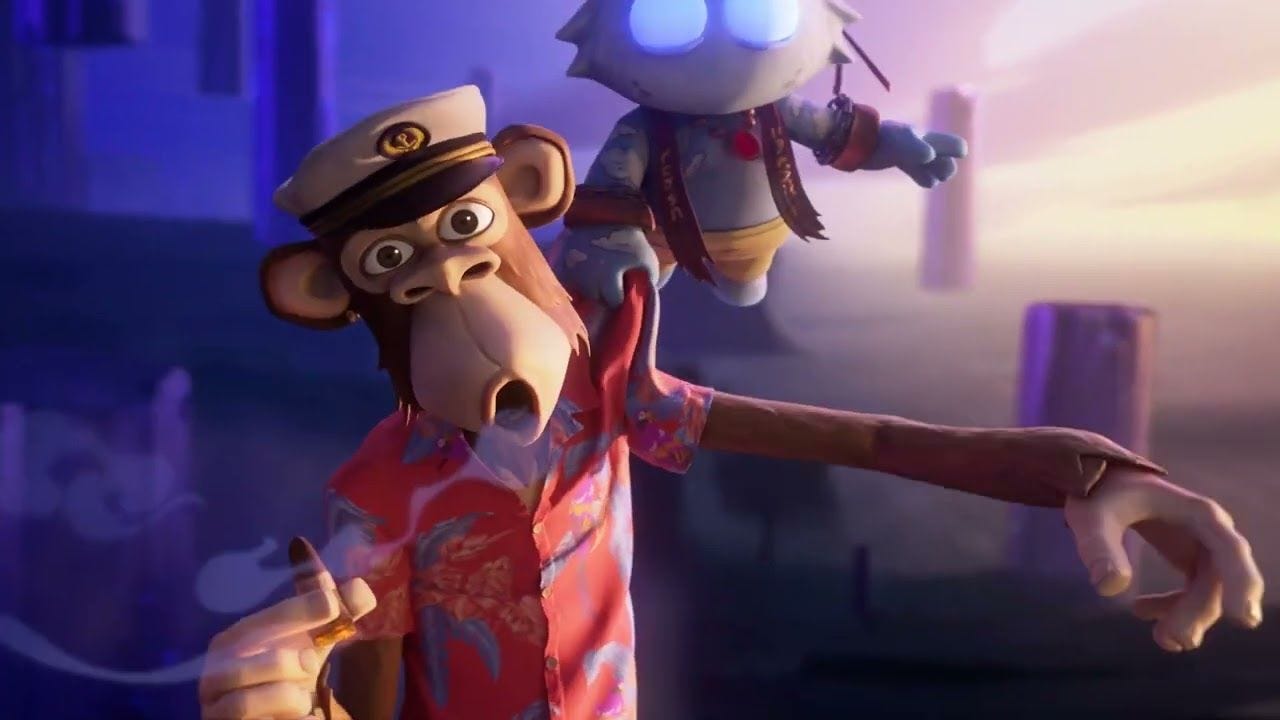 Here's another update from the world of the Bored Apes!
Yuga Labs had been working to create its own metaverse space and thereby attempting to transform BAYC into something that is indisputably more conventional than a collection of expensive JPEGs.
They publicly announced the project at the end of March, with a mysterious clip for what appears to be a 3D gaming/metaverse enhancement, along with the message, "See you on the other side in April." shortly after ApeCoin went live.
Yuga Labs also announced its intention to support the virtual space with APE infrastructure, effectively making ApeCoin the de-facto currency of what many suspects is a dominant metaverse.
APE prices really began to heat up in April after the company announced that it would hold a series of auctions for pieces of real estate in the Otherside space.
What's on the Otherside?
It is a metaverse game world that will bring together various NFT projects such as Apes, CryptoPunks, Meebits, Cool Cats, and many others. Yuga Labs is developing the experience in partnership with NFT game publisher Animoca Brands.
On Saturday, Yuga Labs launched "Otherdeed" NFTs for the game, which are believed to serve as a deed to some type of virtual land in the metaverse game, similar to such NFTs for The Sandbox and Decentraland. And to no one's surprise, Otherdeed's mint became the largest NFT mint event in history, generating over $561 million in sales within 24 hours.
However, the highly anticipated NFT release caused gas fees on the Ethereum blockchain to shoot up to 8000 GWEI. This was the outcome of a gas war, in which Etherscan received a lot of traffic and crashed, infuriating many users.
Oddly, this was the same reason Otherside cancelled the Dutch auction format for the Otherdeed NFT mint, but they still ended up with gas war troubles.
While some people were able to get their transactions approved in a short time for a few hundred dollars in gas costs, others claimed to have paid between $4000 and $10,000 for a single transaction.
BAYC holders had mixed feelings about the chaotic mint. Some blamed the Ethereum blockchain's high fees and slow transactions, while others blamed Yuga Labs' Otherdeed smart contract and mint policy.
Yuga Labs later expressed regrets for clogging the chain for a period. The team also stated that ApeCoin would need to relocate to its own chain to scale effectively and asked the DAO to think about this solution.
Yuga is currently working on refunding the gas fees for all Otherdeed NFT minters who had transactions fail. They'll transfer it back to the user wallet and inform you when it's done.
ApeCoin is down approximately 24 % in the last 24 hours and 12 % since the Otherdeed NFT mint began, according to CoinGecko data. However, none of this seemed to have any adverse effect on the hype surrounding the Otherside metaverse.
FTX's Mercedes F1 Ethereum NFTs Come With a Piece of the Actual Car
The inaugural Formula One Miami Grand Prix will take place next weekend, and considering Miami's growing crypto city status, and it's no surprise that NFTs will be engaged. The product isn't entirely digital in this case; certain NFTs also include a portion of an actual F1 car.
Today, cryptocurrency exchange FTX and Formula One team Mercedes-AMG Petronas announced that they would release a variety of NFT collectibles during the 2022 season, including at the Miami Grand Prix and other races. Last September, FTX and Mercedes-AMG Petronas announced a long-term partnership.
FTX will produce 1,000 "free-to-claim" limited edition NFT ticket stubs for the Miami Grand Prix and subsequent races this season, each of which will be minted on Solana and distributed through the FTX NFTs marketplace. For the Miami event, FTX and Mercedes-AMG Petronas have collaborated with renowned artist Mad Dog Jones to create ten limited edition pieces of Ethereum NFT artwork that will be auctioned.
Two of the limited-edition artwork NFTs will have an actual rear wing endplate from one of Mercedes' race cars, driven by Lewis Hamilton and George Russell, respectively. In reality, the matched Mad Dog Jones artwork will be visible on the track and featured on each rear wing.
The proceeds from the auction will go to Ignite, a nonprofit project co-founded by Mercedes-AMG Petronas and Hamilton's Mission44 foundation to encourage diversity in racing. FTX will begin accepting bids on the auctions on May 6, the first day of practice for the Miami Grand Prix, and will keep them available until May 13. At the event, the firm will also set up an actual NFT gallery so that attendees may see the artwork in person.
Telegram Users Can Now Send Crypto via the Messaging App
The Open Network (TON), a decentralised blockchain created by Telegram, said this week that it would introduce a bot that will allow Telegram's 550 million users to transfer cryptocurrency to others via chat. The "wallet" bot's initial release would enable users to send and receive Toncoins with no transaction costs.
Telegram has a long history of working with cryptocurrency. The US Securities and Exchange Commission filed a complaint against Telegram in October 2019 after the messaging service raised $1.7 billion in a private token sale. According to the SEC, Gram tokens are unregistered securities, and then Telegram agreed to refund $1.224 billion to investors as part of a June 2020 settlement.
Those who want to send Toncoin through the new wallet bot, which Over 800,000 accounts have used the Open Network already on Telegram since it was activated earlier this week, will need to download the current version of the Telegram app.
Telegram, like Discord, allows users (such as The Open Network) to construct bots to automate platform activity. While Telegram permits the wallet bot to operate, this does not imply that it approves it.
Lightning Labs, a firm working on the Bitcoin Lightning Network, created a comparable tool in 2019. Users could send small sums of Bitcoin, known as satoshis, via Twitter using the Lightning Torch. Twitter enabled Bitcoin tipping via the Lightning Network to its site in September 2021 and Ethereum addresses to its Tips feature in February.