Discover more from Token Dispatch
Your daily new frontier-tech dispatch on blockchain and artificial intelligence. Handpicked and crafted with love by human bots 🤟
Over 12,000 subscribers
Paris Fashion Week brings luxury brands into the metaverse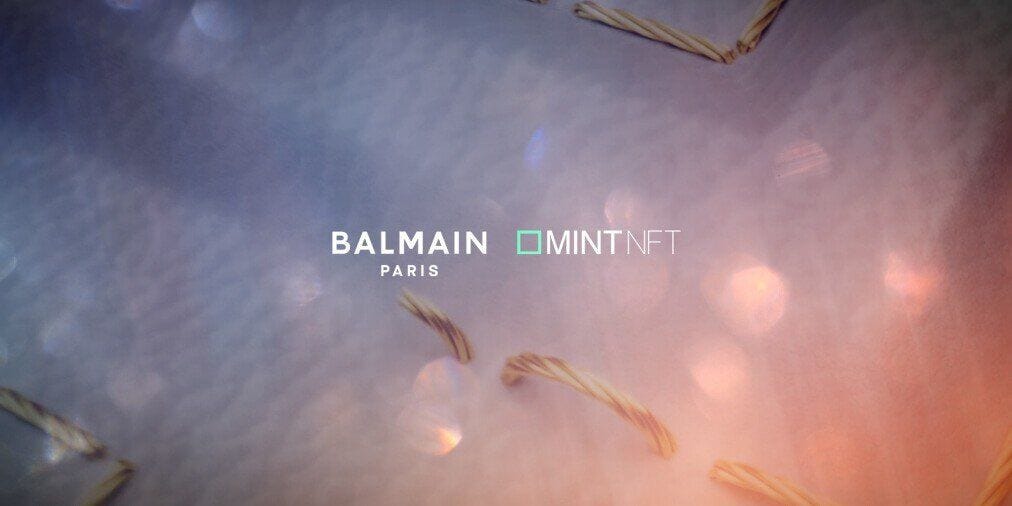 The fashion industry is already quite acquainted with the Web3 world. Puma recently announced the launch of its Black Station Metaverse experience, and Tommy Hilfiger revealed its Metaverse plans during New York Fashion Week. Even London Fashion Week showed signs of Web3 proliferation in the industry.
Now, what happened in the Paris Fashion week? We have some interesting updates:
The Balmain Thread
The "Balmain thread" made its debut on September 28 at the Balmain Festival during Paris Fashion Week. It's the French luxury fashion house Balmain's Web3 hub powered by the XRP Ledger that is designed to connect their community with NFT projects. The program is created by the premium NFT minting platform MintNFT.
When Balmain Festival attendees received their tickets, they were given the option to join the Balmain Thread community.
The festival's guest donations and profits from merchandise and food sales will benefit RED's work to end AIDS in Sub-Saharan Africa.
The Balmain Thread will launch Later this year for around 10,000 of the house's most loyal customers and fans. Members of the NFT programme who join the platform will have access to exclusive events and special house collections.
M3talove collection
Emerging fashion designer Victor Weinsanto released his debut digital collection, M3talove, right after his fashion show on September 26 - In collaboration with pop icons Lightsum and metaverse platform Brand New Vision.
The M3talove collection was showcased as 3D holograms within a series of glass cases housed in a dark room, equipped with bright lights and a DJ. They used NFTs TO "showcase a collaboration between music, the Metaverse and fashion."
Faith Tribe
Faith Connexion, a Paris-based fashion company, highlighted its Web3 platform, Faith Tribe, during the Paris Fashion Week.
Faith Tribe allows independent creators to design and customize digital and physical fashion assets that can then be minted into NFTs. Pretty cool!
Web3 and Metaverse is all about inclusion and democratization, and that's what these brands are putting forward with Web3 adoption. The future looks bright!
FTX to launch Visa debit card in 40 new countries
Nine months after debuting a Visa debit card in the United States, cryptocurrency exchange operator FTX is getting ready to roll it out in more than 40 more nations.
The firm's target markets for growth are Latin America, Europe, and Asia. Users of the FTX Card can make purchases using money straight from their FTX accounts without paying any processing or administrative costs. Any merchant that accepts Visa debit cards will accept the card.
Evolve Bank & Trust is the company that issues FTX's cards in the US. The cryptocurrency exchange withheld information about its financial partners for its ambitions to expand internationally.
Visa continues to expand its crypto partnerships and believes that "digital currencies will have a lasting impact on the future of financial services and money movement," according to Cuy Sheffield, head of the crypto at Visa.
Dapper Labs freezes funds in wallets with Russian ties following EU sanctions.
Dapper Labs, a leader in NFTs, has recently cut down payment services for holders of non-fungible tokens with connections to Russia, citing EU restrictions.
"The existing prohibitions on crypto assets have been tightened by banning all crypto-asset wallets, accounts, or custody services, irrespective of the amount of the wallet," the statement read.
Affected users can still view their NFTs, but they will be unable to move money, sell existing NFTs, or purchase new ones, according to Dapper. As part of a larger sanctions package, the EU prohibited crypto payments from Russian accounts this week.
The cryptocurrency exchange OKX also discontinued its operations there; as regulations get more stringent, other crypto products will probably do the same.