Discover more from Token Dispatch
Your daily new frontier-tech dispatch on blockchain and artificial intelligence. Handpicked and crafted with love by human bots 🤟
Over 12,000 subscribers
Payments giant American Express could be readying a metaverse entry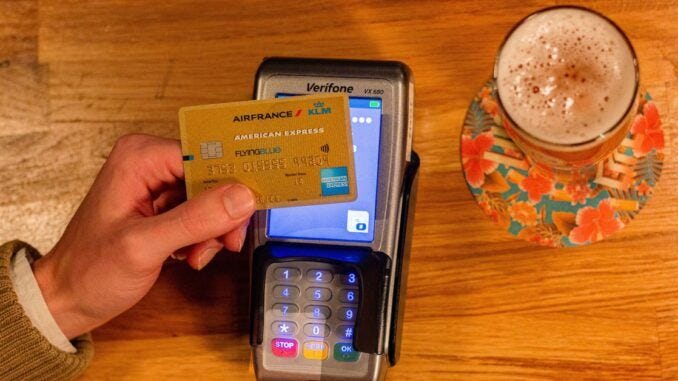 The rapid transition from real to virtual has piqued the interest of people all over the world. The metaverse, a virtual reality in which real-world actions may be carried out via virtual avatars, represents a huge financial opportunity, and businesses are eager to capitalize on it.
An umbrella term for immersive gaming, virtual reality, and entertainment, fuelled by commercial applications In various economic dimensions, Web3 and Decentralized Finance (DeFi) will have a game-changing impact on the world.
Financial behemoths are entering the metaverse one by one, recognizing the benefits of the metaverse and preparing for the virtual economy.
Recently, JPMorgan has created a Decentraland lounge and released a paper on how businesses might spot opportunities in the developing metaverse. IMA Financial Group, a large insurance brokerage and wealth management firm based in the United States, has also established a research and development centre in the Ethereum-based metaverse.
American Express is the latest to jump on board. Recent trademark registrations suggest that payments behemoth are planning a foray into the metaverse.
The corporation applied trademarks for its logos and products, such as the Centurion black card and the "Shop Small" initiative. The firm is also interested in virtual payments and electronic business transactions for digital media and NFTS. On Tuesday, March 15, licenced metaverse trademark attorney Michael Kondoudis revealed the development via Twitter.
The trademark applications encompass a wide range of digital assets as well as financial goods and services, including:
Banking services in the metaverse

Digital currency, cryptocurrency, virtual currency services, Virtual credit cards and concierge services

software for creating, distributing, and managing physical and virtual payment cards and card transactions

e-commerce software to allow users to perform electronic business transactions in the metaverse and other virtual worlds

NFTs featuring textual and graphic content
The trademark application indicates that AmEx may create its own cryptocurrency exchange in the future.
"American Express is a leading financial brand, and the value attached to the brand is significant," said Mr Kondoudis. "Clearly, American Express sees the potential of the Metaverse and is preparing its trademarks and brand for the virtual economy that will dominate it."
Web3 is equipped to revolutionize the world economy, among other things. With financial elites studying blockchain technology and the Metaverse, a lot of things might change for traditional banking, and the flaws in the current financial system could be rectified. We can anticipate increased transparency and robust security in the future financial system.
FTX granted crypto exchange license in Dubai
FTX Trading's European affiliate has been given licence to launch and operate its Virtual Asset (VA) Exchange and Clearing House services in Dubai, United Arab Emirates (UAE).
According to the firm's release, FTX Europe will be the first fully regulated VA Exchange to trial complex crypto derivatives aimed at professional, institutional investors in a reputable international jurisdiction.
"FTX is proud to be the first licensee under Dubai's prudential supervision regime. It's an honor to be one of the first approved applicants in such a specialised category and we are excited to be able to introduce complex crypto-derivatives products with centralised counterparty clearing to institutional markets. FTX receiving this approval is a continuation of our mission to be at the forefront of licensing and regulation around the world. We plan to continue playing a lead role in advancing the digital asset industry in countries that provide a robust regulatory framework, while also operating with the highest security, risk, and investor protection standards." said Sam Bankman-Fried, Chief Executive Officer at FTX
Binance has been given a crypto-asset service provider licence by Bahrain's central bank under the same programme.
EU Parliament votes against proof of work ban
Members of the European Parliament's Committee on Economic and Monetary Affairs voted earlier on Monday against Proof-of-Work ban in a version of the Markets in Crypto Assets (MiCA) bill.
The committee has also passed Article 2a to add digital currency mining to the European Union (EU) sustainable finance taxonomy.
Overall, 23 people voted in support of the POW prohibition amendment, 30 opposed it, and six abstained.  The final votes for the whole MiCA draught were 31 for, 4 against, and 23 abstentions.
"MiCA regulates financial instruments and financial service providers. It makes much more sense to address any concerns about the sustainability of mining technology separately," said Patrick Hansen, head of the strategy and business development at DeFi platform Unstoppable Finance
Proponents of cryptocurrency argue that the argument overlooks the fact, especially because Bitcoin is increasingly reliant on renewable energy sources. Even when compared to other industries, the carbon footprint of BTC mining in the EU is low. The vote against a ban comes as a massive relief to the cryptocurrency industry.