Discover more from Token Dispatch
Your daily new frontier-tech dispatch on blockchain and artificial intelligence. Handpicked and crafted with love by human bots 🤟
Over 12,000 subscribers
Polygon unveils ZkEVM, an Ethereum-compatible zero-knowledge scaling solution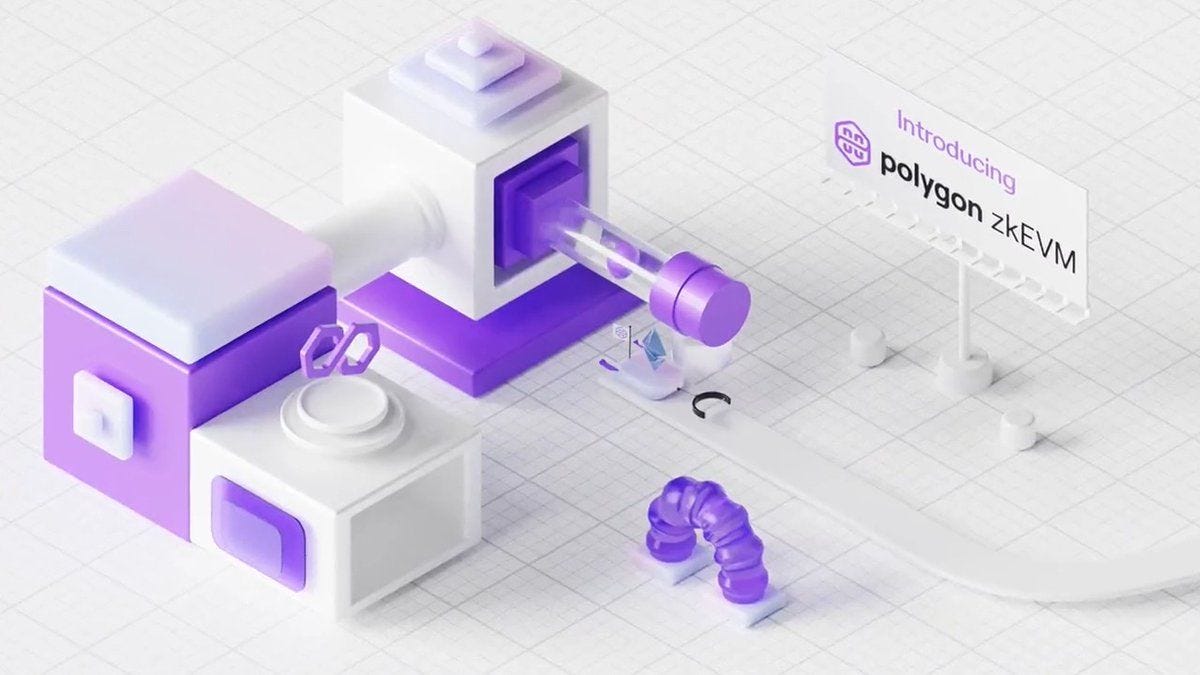 Ethereum scaling solution Polygon announced taking a major leap forward in the field of zero-knowledge (ZK) technology with the launch of Polygon zkEVM.
Polygon zkEVM is "equivalent" to the Ethereum Virtual Machine (EVM), the software platform that developers can use to create decentralized applications (dapps) on Ethereum. Because it reduces user friction and eliminates the need for any form of code modification or re-implementation, EVM equivalence differs from EVM compatibility.
What Is a Zero-Knowledge (ZK) Rollup?
Users must pay gas fees to operate on the Ethereum network depending on the transaction they are conducting. Gas prices increase each time a popular decentralized application (DApp) is in demand.
The Ethereum 2.0 network is expected to be the greatest scaling solution that's coming up. However, this will take some time, but Users demand instant finality for their transactions. Therefore, Developers created layer 2 blockchains, a secondary framework built on top of an existing blockchain to resolve this issue.
Zero-knowledge roll-ups are one such development that provides a scaling solution. We can combine hundreds or even thousands of token transfers into a single transaction using ZK-rollups, and this transaction is then recorded on the Ethereum public blockchain.
ZK-rollup is a layer 2 scalability solution that enables blockchains to validate transactions more quickly and at a cheaper rate. They use  Zero-Knowledge Proofs (ZKPs), a cryptographic proof technique to instantly prove the validity of transactions.
It combines on-chain and off-chain processes, outperforming the standard Ethereum Layer 1 blockchain in terms of performance.
The fees and computing power are shared among hundreds or thousands of users by condensing numerous transactions into one.
Starknet, dYdX, and ImmutableX are a few examples of Ethereum Layer 2 blockchains that use ZK-rollups for perpetual contracts. Zero-knowledge roll-ups are also used by protocols such as Loopring, zkSync, Yearn Finance, Zcash, FRAX, and Zerion.
Polygon is an interoperability and scaling protocol that is used for launching Ethereum-compatible blockchains. It is estimated that Polygon zkEVM will significantly reduce layer-1 Ethereum network costs by roughly 90% while vastly increasing throughput capacity and inheriting the Ethereum blockchain's security.
zkEVM would be the "first Ethereum-equivalent scaling solution that works seamlessly with all existing smart contracts, developer tools, and wallets, harnessing advanced cryptography called zero-knowledge proofs." Polygon said  In a press release.
The news on Wednesday comes about a year after Polygon paid $250 million to merge with Hermez, a business that specialized in ZK technology and created the foundation for a huge proportion of what eventually became Polygon PoS. Nailwal claims that Polygon invested about $1 billion in ZK-related projects last year.
Within two weeks, Polygon's zkEVM should have a closed testnet and, a few weeks after that, a public permissionless testnet. By year's end, the product is anticipated to be available on the Ethereum mainnet.
Major Web3 applications such as Uniswap are planning to deploy on zkEVM.
"A future configuration of off-chain data availability will be able to reduce the fees further," Polygon co-founder Mihailo Bjelic says.
Other projects, like Scroll and Matter Lab's zkSync, are focusing on EVM-compatible or EVM-equivalent zero-knowledge roll-ups, but Polygon has a big financial advantage because of its $450 million fundraising in February.
The security and censorship resistance of Polygon zkEVM, according to Polygon, make it a more desirable choice for DeFi developers compared to existing Layer-2 scaling solutions. According to them, it is perfectly suited for developing enterprise applications, innovative gaming technologies, and NFTs.
Scalability has historically been a major problem for the blockchain community. Zero-knowledge roll-ups' introduction paves the stage for more sophisticated developments in the field.
The FBI is warning crypto investors to be cautious of cyber crimes
The FBI warned crypto investors to be aware of fraudulent cryptocurrency apps. Since October last year, these services have stolen over $42 million from 244 customers.
In one instance, a company named YiBit duped victims out of $5.5 million. In a second instance, people impersonating an undisclosed but reputable US financial institution conned investors out of $3.7 million. Users were persuaded to download the YiBit app and deposit cryptocurrency. 17 victims received an email after these deposits informing them they had to pay taxes on their investments before withdrawing money. Four victims were unable to withdraw cash.
"The FBI has observed cybercriminals contacting US investors, fraudulently claiming to offer legitimate cryptocurrency investment services, and convincing investors to download fraudulent mobile apps, which the cybercriminals have used with increasing success over time to defraud the investors of their cryptocurrency," the warning, published on Monday, said.
The FBI claimed that another app, Supayos or Supay, requested deposits before freezing one user's funds and informed him that a minimum balance of $900,000 was needed.
The FBI recommended cryptocurrency investors review crypto service providers and confirm a company's identification before providing personal information. The reputation of the fragmented, largely unregulated crypto industry as a breeding ground for financial crime led the SEC to increase the size of its section investigating crypto and cyber crime earlier this year.
Colombia Advances Regulatory Framework for Local Crypto Industry
Several months after the South American country's regulatory project called "Sandbox"  was introduced, the government of Colombia has produced regulations for cryptocurrency businesses who wish to operate there.
By establishing a few cybersecurity best practices and providing methods to track cryptocurrency transactions used in money laundering and terrorism funding, the new regulations offer numerous strategies to reduce risk.
According to this approach, Colombia is quickly constructing a future that will allow the general people to purchase cryptocurrency using ordinary bank accounts. The Financial Superintendence of Colombia, the nation's financial regulator, has now opened the public comment period on the new legislation.
Colombia's "Sandbox" (also known as LaArenera) is a distinctive Latin American crypto experiment that got underway last year after receiving government approval in 2020. To enable citizens to purchase Bitcoin, Ethereum, or other digital assets, it allows Colombian banks to collaborate with prominent cryptocurrency exchanges like Binance and Bitso.
And in January, Davivienda, Colombia's third-largest bank, and Binance, the largest cryptocurrency exchange in the world, launched a test programme that allowed 5,000 Davivienda customers to purchase virtual assets.