Discover more from Token Dispatch
Your daily new frontier-tech dispatch on blockchain and artificial intelligence. Handpicked and crafted with love by human bots 🤟
Over 12,000 subscribers
Pudgy penguins NFT project expels its founders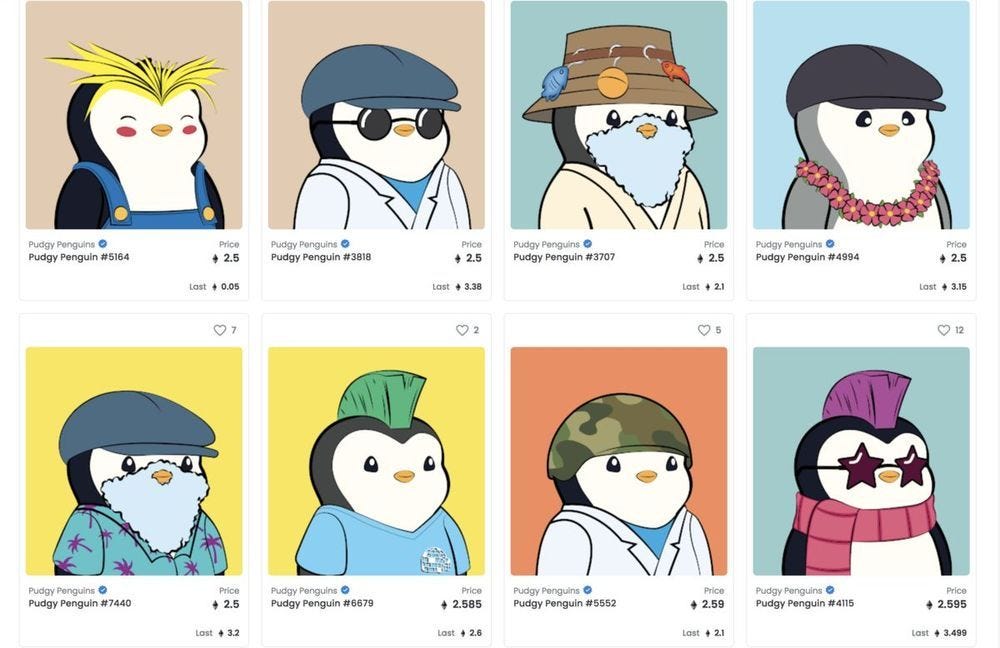 On Thursday, the founders of the beloved NFT project Pudgy Penguins were voted out after they reportedly failed to meet stated goals and depleted the treasury of funds. Now, at least one splinter group is proposing that the entire project be decentralised, which could be a first in the industry.
What Penguins? Pudgy penguins is an NFT project with 8,888 unique collectable Penguins with proof of ownership stored on the Ethereum blockchain. All of them were unique by donning accessories such as baseball caps and fishing rods. They were available to mint last July for 0.03 ETH(That's about $140 million in today's ether (ETH) prices) and sold out in less than 20 minutes.
A Twitter user 9x9x9, who has spent 600 ETH on the collection and holds 242 Pudgy Penguins NFTs and one rare "banana" penguin, purchased for 100 ETH reported that the Pudgy Penguins founders were considering abandoning the project and offered to sell him the project's shell for 888 ETH (about $2.8 million), which he declined.
The floor price of a Pudgy Penguin has risen from roughly 0.6 ETH ($1,860) on Wednesday evening to 1.7 ETH ($5,270) as of press time, owing to the tweets.  Now, the project has received buyout offers as high as 750 ETH ($2.3 million) from other prominent individuals in the NFT market, including Mintable co-founder Zach Burks, NFT collector @beaniemax and Netz Capital's Luca Netz.
NFT hedge fund Starry Night Capital's @Vince_Van_Dough and eGirl Capital's @loomdart, other prominent stakeholders in the project have floated the idea of migrating the community to a new project called Wrapped Penguins.
The Solution? Wrapped Penguins, offered as a free mint on the NFT platform Metadrop for current Penguin holders, would cut all links with the original founding team in the hopes of forming an alternative community managed by a decentralised autonomous organisation (DAO) structure.
Using this method, the Pudgy Penguins NFT holder may also hold an identical "wrapped" penguin. The Wrapped Penguins project claims that the token holder will be able to "unwrap" their token at any time and return to the original NFT.
"In real life, stakeholders can use the board to dump a poorly performing CEO. This is the first attempt I've seen in crypto to do in essence the same thing," tweeted Jordi Alexander, chief investment officer of Selini Capital. "The community forks everything out without the baggage of the CEO."