Discover more from Token Dispatch
Your daily new frontier-tech dispatch on blockchain and artificial intelligence. Handpicked and crafted with love by human bots 🤟
Over 12,000 subscribers
Filmmaker Quentin Tarantino settles NFT lawsuit with Miramax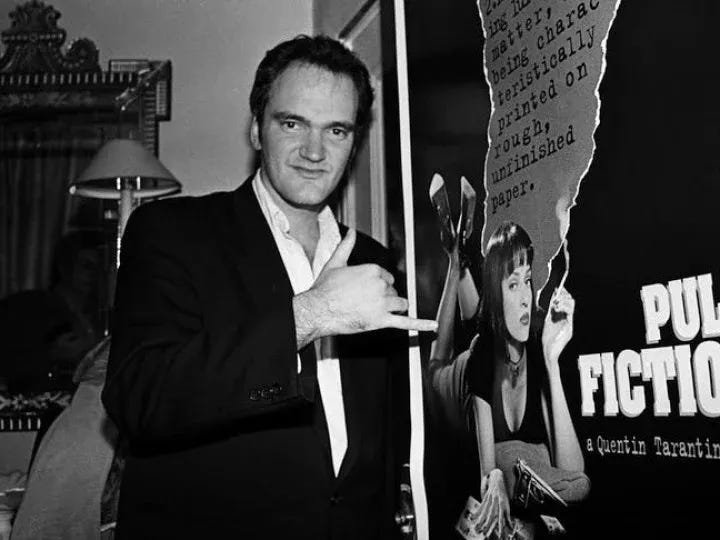 Filmmaker Quentin Tarantino and movie studio Miramax have finally settled the long-standing NFT lawsuit.
Quentin Tarantino, the cinematic Mastermind, is celebrated for his brilliant filmmaking and distinctive approach to storytelling.
The director's each movie release is more anticipated than the previous one, and so were his "pulp fiction" NFTs.
In November, Tarantino, with SCRT labs, announced the planned launch of NFTs based on his acclaimed 1994 film "Pulp Fiction."
SCRT Labs: The primary contributor to Secret Network and represents the network's founders.
Like his movies, the NFTs also promised to stand out from the pack by incorporating exclusive, never-before-seen script material that only the NFT's holder could see using Secret Network's privacy-focused Secret NFTs technology.
However, the film studio Miramax suddenly filed a lawsuit against Tarantino and SCRT, claiming that the director didn't have the right to do any of that.
In January, the first NFT from Tarantino's collection sold for over $1 million at auction.
"Whatever limited rights Mr. Tarantino has to screenplay publication, they do not permit the minting of unique NFTs associated with Miramax's intellectual property," wrote Miramax's attorneys in January.
However, the auctions for six additional "Pulp Fiction" NFTs were postponed due to the volatile market conditions.
Both parties have now agreed to drop the lawsuit. Miramax's attorneys filed a brief statement in court on Thursday, saying, "The parties have settled this case and expect to file their dismissal papers within two weeks."
Now that everything is settled between Miramax and Tarantino, Could there be an NFT collaboration? Nothing is revealed as of now, but there has to be! And we can't wait anymore for the subsequent six NFT auctions, as promised.
UK May Become' Country of Choice' for Crypto Space, says Economic Secretary.
The UK government wants it to be the "dominant global centre for crypto technologies," according to Economic Secretary of the Treasury, Richard Fuller.
Fuller spoke for "strong" applications of cryptocurrency and blockchain technology, such as employing distributed ledger technology for customs and global trade and keeping medical records on the blockchain, during a parliamentary discussion on crypto asset legislation in the UK on Wednesday.
"We want to become the country of choice for those looking to create, innovate and build in the crypto space," said MP Richard Fuller.
He also said that The United Kingdom has two options: either they become the world leader in developing and scaling crypto technologies, or they can watch as this technology transforms various facets of life. He also recommended The Economic Crime (Transparency and Enforcement) Act, which would provide law enforcement "to confiscate and recover crypto assets,".
Revolving Games to build web3 games with $25M seed funding
Revolving Games, a publisher of free-to-play mobile games, has switched to Web3. According to a press statement, Revolving Games, created by the three brothers Saad, Ammar, and Shayan Zaeem, would use the funds to produce "decentralised" games.
There are already two verified games being developed by Revolving Games. The first is a "Battlestar Galactica" 4X strategic MMO blockchain game that Gala Games and NBCUniversal are working on together. The second is "Skyborne Legacy," a cooperative RPG on Polygon.
"Our vision is clear: to build AAA quality games that turn heads amongst the best launches at the top gaming forums like Gamescom and E3!" said Revolving Games co-CEO Saad Zaeem.
The Zaeem brothers aim to provide AAA titles with less commitment required from gamers rather than requiring upfront purchases or "scholar" systems.