Discover more from Token Dispatch
Your daily new frontier-tech dispatch on blockchain and artificial intelligence. Handpicked and crafted with love by human bots 🤟
Over 12,000 subscribers
Rare David Bowie NFT sells for $127,000 in a highly anticipated auction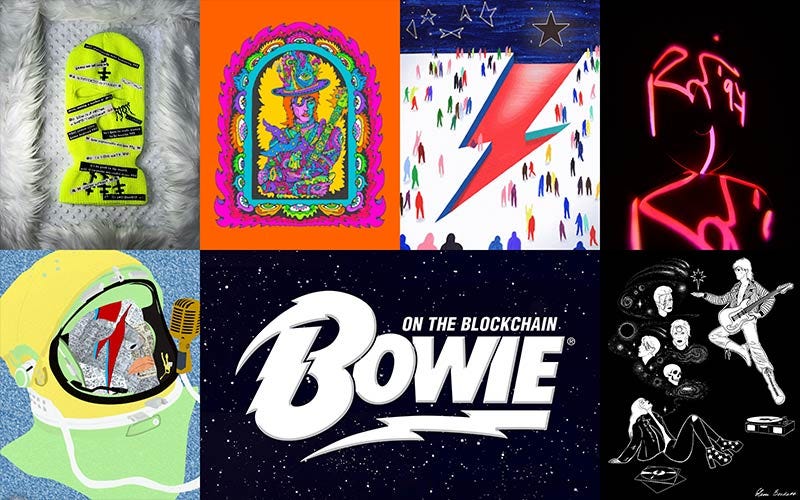 The late musician David Bowie made his debut on the blockchain.
The rare David Bowie NFT collaboration with renowned 19-year-old artist FEWOCiOUS sells for a whopping $127,000 OpenSea.
David Bowie experimented with music, identity, and technology throughout his career and also, if you remember, he predicted the Internet's "unimaginable" impact in 1999.
Bowie on the Blockchain
It's a 15-piece NFT collection honouring the legend and the vibrant patterns he used throughout his career.
This NFT from The Bowie Estate's exclusive collection combines an animated video clip with a physical seven-foot-tall sculpture of Bowie wearing one of his custom suits from his archive.
The collection was first listed on the marketplace on September 30 - includes works by nine different NFT artists.
"I thought it was so cool that he always was what he wanted to be. And created a world he wanted to live in. That's really the feeling I try to capture in my art." says FEWOCiOUS.
It Became A Myth Land
It Became A Myth Land is the NFT that fetched the second-highest price.
Created by NFT artist Defaced, this unique NFT artwork runs on a 12-hour clock that spans six different segments of Bowie's life and career. Also includes an Atomic Form digital frame to display the work.
The auction for NFT in this collection began on September 30 and will end on November 3. After all collection sales are completed, 100% of the profits will be donated to CARE, an organisation dedicated to ending global poverty and hunger.
Well, other NFTs in the collection sold between 3 ETH ($4,000) to 7.5 ETH ($9,800).
Sometimes it gets hard to keep up with these prices, right?
What if a smart assistant monitored the price movement of your NFT Collections?
Introducing Watson, a smart asset tracking & alerts assistant for your NFT Portfolio.
The best part - you can get updates right in your Mail Inbox and Telegram.
Would love for you folks to try it and share any feedback!
Now moving on,
Mastercard launches new crypto fraud protection tool
Payments giant Mastercard is introducing Crypto Secure, intended to assist banks and other card issuers in identifying and blocking fraudulent transactions via cryptocurrency exchanges.
Why is this crucial? For crypto's widespread adoption, trust has been a significant problem. Mastercard, which already uses a comparable system for its fiat transactions, has devised a solution for this problem and is actively expanding the technology to include Bitcoin and other notable cryptocurrencies.
The platform provides a dashboard with colour-coded ratings for the likelihood of suspicious activity, with the level of danger ranging from red for "high" to green for "low."
"The idea is that the kind of trust we provide for digital commerce transactions, we want to be able to provide the same kind of trust to digital asset transactions for consumers, banks and merchants," said Ajay Bhalla, The president of cyber and intelligence business for Mastercard.
Hugo Boss Partners Imaginary Ones for NFT Collection, Metaverse Expansion
One of the largest German clothing companies, Hugo Boss, announced that it would collaborate with Web 3.0 company Imaginary Ones to develop its first-ever NFT collection and a 360-degree Metaverse Experience.
Embrace Your Emotions (EYE) will be the title of the NFT collection, which debuts in early November and consists of 1,001 three-dimensional animations, with 100% of the proceeds donated to Youth Aware of Mental Health (YAM).
All the NFT holders will have access to the staking environment of Imaginary Ones and also to a unique selection of Hugo x IO goods, experiences, and content, including digital wearables.
"The aim of the collection is to encourage everyone to connect with their emotions and to share a message that all feelings – positive and negative – are valid and should be embraced, as the freedom to feel and express can significantly improve mental health and overall well-being," Imaginary Ones explained in a release.