Discover more from Token Dispatch
Your daily new frontier-tech dispatch on blockchain and artificial intelligence. Handpicked and crafted with love by human bots 🤟
Over 12,000 subscribers
Ready for the McMetaverse?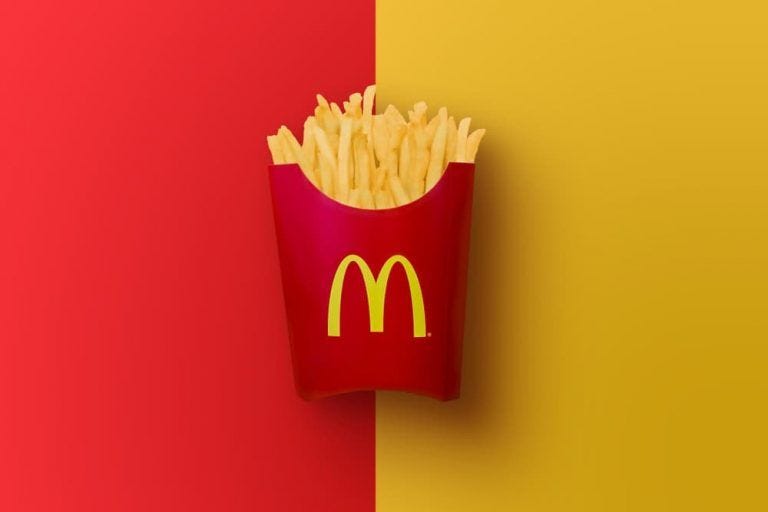 Metaverse is believed to be the next version of the internet, in which users use their virtual identities to explore the worlds of virtual reality and augmented reality, as well as digital assets. The virtual marketplace is coming together piece by piece to form a whole.
We've seen fashion designers and brands immerse themselves in the metaverse to work out what to wear in virtual reality, Music NFTs are also gaining traction, and there's virtual land ownership getting real. Gaming platforms and social media firms are also making smart moves in the space to make it as exciting as it sounds.
Now, we know where and how do we find food in the metaverse.
McDonald's has filed trademarks for a virtual restaurant in metaverse that will deliver food online and in person—thinking how the virtual fries would taste like? Same.
Trademark attorney Josh Gerben noted the file, tweeting that McDonald's had submitted the trademark applications on February 4th. The US Patent and Trademark Office will likely approve the trademarks, though the review process often takes eight to nine months, Gerben told Forbes.
The 10 trademarks the restaurant giant filed covered services including:
virtual food and beverage products

downloadable multimedia files containing artwork, text, audio and video files and non-fungible tokens

operating a virtual restaurant online featuring home delivery

online actual and virtual concerts
McDonald's did not overlook the McCafe brand when filing its metaverse trademark application. The trademark registration for online actual and virtual concerts and other virtual events creates quiet intrigue. It bypasses many barriers, increasing the likelihood of reaching a larger population, and the lines between reality and virtual reality become increasingly blurred.
Now, As these digital worlds evolve, large corporations such as McDonald's will be seen making use of advertising and virtual sales potential, among other aspects.
Let's see what else we got:
Valkyrie Capital Bitcoin Mining ETF to Debut on Nasdaq
Corporate interest in cryptocurrency appears to be on the rise. Valkyrie's Bitcoin Mining ETF is the most recent in many cryptocurrency ETFs. This month, Grayscale introduced its "Future of Finance" ETF focused on crypto and fintech companies. The ETF trend isn't stopping yet, and major companies are trying their luck to get SEC permission to list their ETFs. Just last month, SEC rejected applications from Fidelity and First Trust Advisors and Skybridge for spot market Bitcoin ETFs.

The US Securities and Exchange Commission(SEC) has recently approved Valkyrie Capital's Bitcoin Mining ETF centred on renewable energy, and it will begin trading on the Nasdaq on Tuesday under the ticker "WGMI"—a crypto community acronym for "We're going to make it."
The Valkyrie Bitcoin Mining ETF focuses on businesses that use at least 77 per cent renewable energy. According to the application submitted at the end of January, the ETF's assets are concentrated in companies that make at least 50% of their overall profits from Bitcoin mining.
The Valkyrie Bitcoin Mining ETF's most significant holdings are Argo Blockchain, Bitfarms, Cleanspark, Hive Blockchain, and Stronghold Digital Mining.
Valkyrie Capital CEO Leah Wald said investors have "an increased focus and desire to gain exposure to Bitcoin miners."
UN to mark International Women's Day With Boss Beauties Ethereum NFTs

The Ethereum NFT collection for women On March 8, International Women's Day, Boss Beauties will unveil a one-of-a-kind collection named Boss Beauty Role Models in New York City, the first entire NFT collection ever presented at UN headquarters.
The current floor price or minimum "Buy Now" price on OpenSea for the original Boss Beauties NFT collection of 10,000 assets is 2.3 Ethereum or nearly $7,000 per asset. Based on secondary volume trading sales, the project, which began in September, is currently ranked 123rd on OpenSea's top NFT collections of all time.
Last year, the United Nations-sponsored a competition called DigitalArt4Climate. Artists were encouraged to create various climate change-themed NFTs, with the top artworks being presented during the Climate Change Conference in Scotland.
While the Role Models will not be the first NFTs to be displayed by the UN, they will be the first female-focused collection to do so and will almost certainly get significant attention for works drawn by female artists. According to a November analysis from ArtTactic, an art market analytics firm, female artists accounted for only 5% of all NFT sales from February 2020 to November 2021, even though women account for 16% of all NFT artists.