Discover more from Token Dispatch
Your daily new frontier-tech dispatch on blockchain and artificial intelligence. Handpicked and crafted with love by human bots 🤟
Over 12,000 subscribers
Russia is legalising crypto for cross-border payments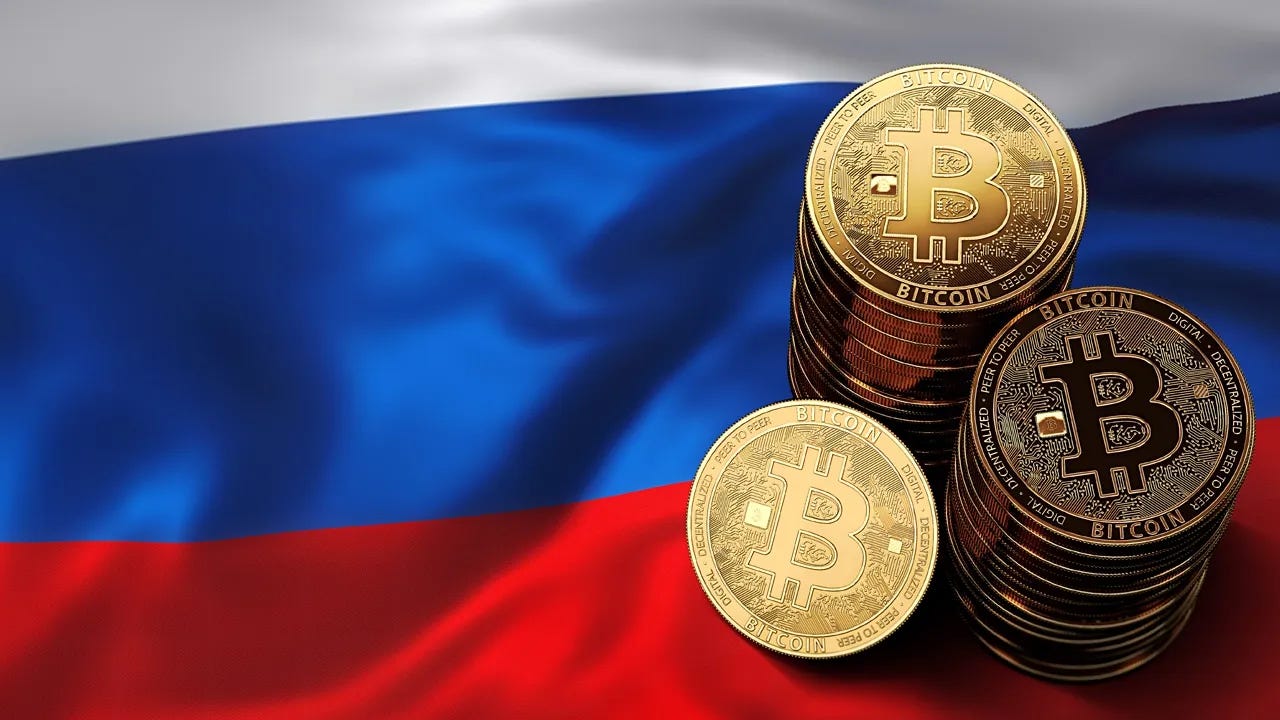 Now that citizens are opening crypto wallets outside the country, the Russian Federation wants to make it possible to do so within the country.
The Russian central bank and finance ministry have finally agreed to allow cross-border crypto payments after the long debate on what to do with cryptocurrencies.
Deputy Finance Minister Alexei Moiseev revealed that the central bank has been rethinking the approach to regulating crypto and agreed with the finance ministry to legalize crypto for cross-border payments.
Russian regulators had a very complicated relationship with crypto. Let's look at the past:
2020:Russia adopted a major crypto law, prohibiting the use for payment purposes

2021: Putin says that it's "still premature" to use cryptocurrencies

2022 January: President Putin expressed enthusiasm for Bitcoin mining, claiming that Russia had "certain competitive advantages."

February: Russia's Finance Ministry proposed crypto regulations that allow for investing in digital assets but not crypto payments.

May: Central bank reportedly stated that the threat of crypto to the country's finances had diminished.

May: The Minister of Industry and Trade declared hints that Russia would legalize crypto payments soon.

July: Putin signed a bill amending the country's existing ban on cryptocurrency payments to specify additional types of tokens.
"Now people open crypto wallets outside the Russian Federation. It is necessary that this can be done in Russia, that this is done by entities supervised by the Central Bank, which are required to comply with the requirements of anti-money laundering legislation, and first of all, of course, to know their client," Moiseev explained.
As a possible catalyst to this new movement, Russian Prime Minister Mikhail Mishustin stated just a week ago that cryptocurrencies are a "safe alternative" for cross-border payments.
This year, Russia has come under fire for allegedly using cryptocurrencies to mitigate sanctions following its invasion of Ukraine.
LG Electronics launches NFT platform with Hedera blockchain.
All US LG television users running webOS 5.0 will now have access to LG Art Lab, a new NFT platform from Seoul-based LG Electronics.
From the comfort of their homes, users can buy, sell, and trade non-fungible tokens (NFTs) using the marketplace. It also has a feature that provides artist profiles, previews of their upcoming work, and a countdown to impending NFT "drops.
Wallypto, LG's in-app cryptocurrency wallet created by the Hedera network last September, manages transactions on LG Art Lab. Btw, LG is not the first Korean TV maker to integrate NFT trading into the viewing experience.
To develop a new NFT marketplace for owners of Samsung TVs, Samsung announced a partnership with NFT marketplace Nifty Gateway in March of this year.
Nigeria Plans to Create a Virtual Free Zone With Binance Crypto Exchange
The Nigerian Export Processing Zones Authority (NEPZA) talks with cryptocurrency exchange Binance about creating a virtual free zone that focuses on blockchain and the digital economy to encourage a variety of crypto enterprises and long-term economic growth.
The proposal comes after the debut of the second-ever central bank digital currency (CBDC) in the world after the Bahamas' sand dollar by Nigeria's central bank in October last year. The eNaira has been utilised for transactions totalling 4 billion nairas ($9.2 million) by the end of August.
NEPZA , which helps regulate and operate free zones in the country wants the outcome to be similar to Dubai's virtual free zone.